While life may be returning back to normal following the 2011 Crucible experience, in an attempt to cling on to the experience of the last fortnight, here are a few of my photos from the second half of the tournament. Click here to see my previous gallery…
The Crucible
The arena ahead of another session of snooker
The Crucible Big Screen
Best seat in the house?
The BBC Studio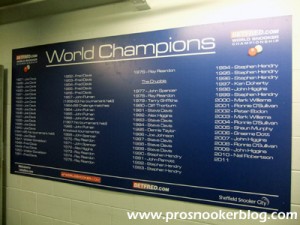 Roll of Honour
Ever noticed this?
The referee's cloth is wetter than it looks!
The People
Stephen Hendry and Hazel Irvine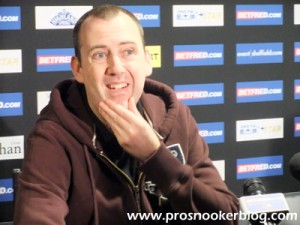 Mark Williams following defeat to John Higgins in the semi-finals
Steve Davis considers the future of Stephen Hendry with Hazel Irvine
Ding Junhui
Judd Trump addresses the media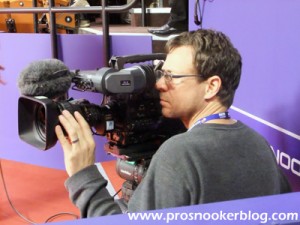 One of the cameraman providing you with the pictures at home
John Higgins watches a bit of Street Snooker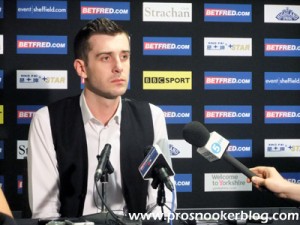 A disappointed Mark Selby answers questions following defeat to Ding Junhui
Duncan the cameraman gets a grilling from MC Rob Walker on his birthday
Judd Trump salutes the crowd following his semi-final victory against Ding Junhui
Alain Robidoux
John Higgins
Ken Doherty, Steve Davis
Eirian Williams
Mark Selby and Stephen Hendry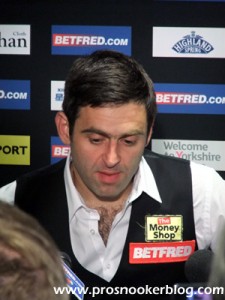 Ronnie O'Sullivan following defeat to John Higgins
Behind The Scenes
View from the photo booth!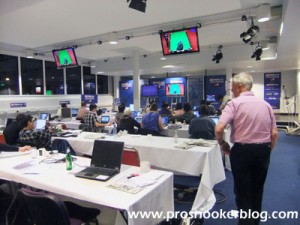 Snooker's finest journos at work in the media room
View from the commentary box
And from the other side with the iconic twinkle lights shining
The scene of the press conferences
Press Room Fun
The Final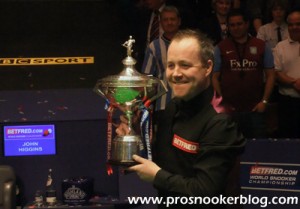 John poses with the trophy
Higgins addresses the crowd
And is overcome with emotion as Hazel mentions his dad
John kisses the trophy
Barry Hearn gives Judd Trump his silver medal
Hoover anyone?
A final pose