Little over a week ago John Higgins was lifting his fourth world title at the Crucible as the 2010/11 season drew to a thrilling conclusion but such is the pace of the game now, the next event begins tomorrow with the first event of the new Q School. Click below for a look at the draw for the Event One…
To access the draw in pdf format, please click here.
Check out my players page here to get some background on some of the competitors
Ok the boring stuff, contrary to what is visible in the draw, Luca Brecel, Sam Baird and James Wattana will NOT be competing, all having received nominations to the tour, either by a wildcard or other means (see here).
To sum up the format in a nutshell, there will be three events staged during the next three weeks, each using a 128 man draw which will see four players come through to secure a main tour place. With 12 spots up for grabs in total therefore, there is all to play for although the field is formidable to say the least. Let's have a look at the draw for the first event…
Section 1
With at least six former professionals relegated from the tour in either 2009 or 2010 situated in this section, the field is already a strong one before even coming to consider the amateurs involved! And they can certainly not be ignored as with the likes of the highly rated Chen Ze (who takes on Twitterer Ben Harrison) and On Q Promotions player and occasional PSB blogger Michael Wasley, the section looks to be wide open.
Who are the names to look out for? The one to jump off the page to the more casual observers will likely be former ranking event winner David Gray who will be looking to reclaim his place on the tour following a year away. While David has clearly got the talent, with him it is a matter of whether he has applied himself in the build-up to the tournament and put in the practice required to be able to compete. In his favour is the fact that he has got recent experience of playing competitive snooker on the Star match tables having competed in the World Championship qualifiers at the same venue, but on that occasion he was comprehensively defeated by Chinese youngster Liu Chuang.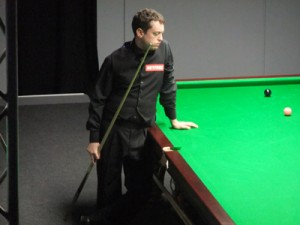 Will it be a Gray day?
Other names here that I fancy to go well are James McBain and Andrew Norman. Despite just having been relegated from the circuit, James did enjoy a reasonable season on the circuit as he defeated Anthony Hamilton and Mark Allen to qualify for the TV stages of the World Open, as well as reaching the third qualifying round of the China Open and World Championship.
Andrew meanwhile fell off the tour back in 2010 but this season demonstrated impressive form during the EPTC4 event by defeating the likes of Ding Junhui and Mark Allen before losing out narrowly to Stephen Lee.
Simon Bedford too is another capable player appearing in this section of the draw, indeed but for his lack of points from the PTC events last season he may not have been relegated from the tour in the first place.
Section 2
For me however it is the second section of the draw where things really get interesting, indeed the section is littered with standout names and several players who in my opinion are more than good enough to survive on the main tour.
One of which is Kyren Wilson who despite being relegated from the tour following his first season in 2010/11, produced some excellent results including an impressive victory against Joe Swail that I saw at the Academy back in March.
The section also plays host to a round one battle of the youngsters between Thanawat Thirapongpaiboon and Jak Jones, while Chinese duo Zhang Anda and blog favourite Li Hang are also well capable of coming through here. Zhang you will likely remember most for his storming World Championship run to the Crucible where he came so close to defeating Scottish legend Stephen Hendry while Li Hang recently defeated both Ken Doherty and Graeme Dott as a wildcard during the China Open.
Zhang Anda
Another man I have been known to talk up on the blog is Geordie youngster Stephen Craigie who will be hoping to join his younger brother Sam on the main tour after a couple of years away. He opens up against 2008 IBSF World Champion Thepchaiya Un-Nooh in another mouthwatering early tie.
Other names to keep an eye on here include Adam Duffy, Mei Xiwen, Jamie O'Neill, David Grace and Robbie Williams, while Vinnie Calabrese will be hoping to join Neil Robertson as the second Australian player on the main tour.
Pick a winner from that lot!
Section 3
The third section of the draw does not contain quite as many big names as the previous section and if the rumours that Tian Pengfei and Aditya Mehta have been given their tickets already are correct then it may be even more wide open than it first appears.
Chris Norbury
One player hoping to go well will be Chris Norbury, a professional two years ago and friend of Stuart Pettman as detailed during the Stuart's recent book. Lee Page too is another who was relegated at the end of what was a difficult six-event season.
Michael Leslie and Adam Wicheard are other names who could be ones to watch, Wicheard in particular having just dropped off the main tour following a heavy defeat to Michael White, while the Albino Assassin Allan Taylor will be hoping to Scouserbacker aka Snookerbacker proud.
Section 4
While either player will do well to qualify via the main tour via this section, the clash between Mike Hallett and Tony Knowles is the one that will most likely catch the eye of many snooker fans checking out the livescores throughout the course of this week.
For me however there are a number of other players to look out for within this group, not least David Gilbert who having won three matches to reach the last 48 of the World Championship recently before losing out to eventual finalist Judd Trump, has on occasion this season displayed some of the form that took him to the Crucible back in 2007. As with someone like David Gray, Gilbert has the talent but is his head in the right place for this? If it is I think that he is a decent bet to come through.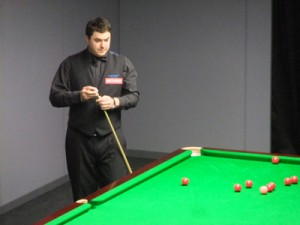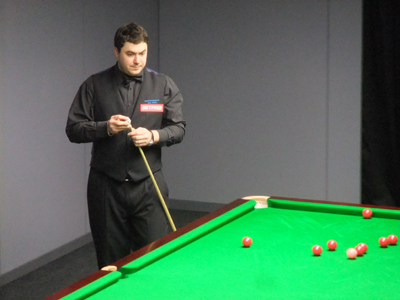 Kurt Maflin
In with equally as strong a chance for me though is Craig Steadman who was unfortunate to be relegated from the tour last summer having run into the inspired Zhang Anda during the 2010 World Championship qualifiers. A strong amateur player for a number of years, under the new system Craig is a player that I would fancy to do reasonably well on the professional circuit if he could qualify there again.
That said, Craig has one of the toughest opening round matches he could have asked for having drawn Norway's Kurt Maflin who finished the season in absolutely inspired form, not only qualifying for the China Open but also coming close to a shock victory against Chinese hero Ding Junhui.
Elsewhere Robin Hull is another former professional of some quality in the section while the likes of Bobby Cruickshanks and Sean O'Sullivan will be flying the flags for those on Twitter.
Reanne Evans also returns as she hopes to qualify for a second successive season on the professional circuit having been relegated without having won a single match previously.
Who are your tips?