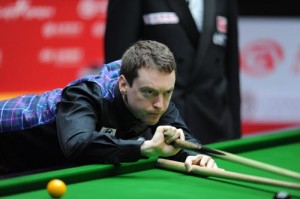 Day one of the first event of this season's Q School is now well underway, click below for a few news lines as the action progresses. Alternatively click here to view the latest from today over at the excellent WWW Snooker site…
Morning Session round-up
Stephen Groves 1-4 Andrew Norman
James McBain 3-4 Lee Spick
Robert James 2-4 Luke Simmonds
Michael Wild 4-0 Hans Blanckaert
Stephen Ormerod 3-4 Lee Walker
Stephen Rowlings 3-4 Ian Glover
Wasting little time in coming through this morning was former professional Andrew Norman who recorded a relatively low-scoring victory against Stephen Groves. Not so fortunate however was another professional relegated at the end of the 2009/10 season as snooker coach and full-time estate agent Stephen Rowlings lost out in a decider to Ian Glover having at one stage led the match 3-1.
Elsewhere it was a bad morning for Scot James McBain who lost out to Lee Spick in a tight match despite having at one stage led 3-1. I had tipped McBain as one to watch this week but Lee is a capable player also, indeed I remember his run during the 2009 World Championship qualifiers well as he swept aside Stephen Craigie, Barry Pinches and Adrian Gunnell to reach the final round before losing a tight match against Steve Davis. Next up for him will be Luke Simmonds who came through against Robert James.
Another name that might ring a few bells is former World Championship quarter-finalist Lee Walker who was last relegated from the tour following the 2007/8 season. Today he came through a tight match with Stephen Ormerod to progress to the second round. There he will face the star of the morning session Michael Wild who was able to restrict opponent Hans Blanckaert to just 48 points in completing a 4-0 victory.
Afternoon Session round-up
Simon Bedford 4-1 Shaun Wilkes
David Gray 4-2 David Singh
Sam Harvey w/o Luca Brecel
Mitchell Mann 4-2 Zak Surety
Jamie Clarke 1-4 Ian Burns
James Silverwood 1-4 Stuart Carrington
The afternoon session saw many of the matches go to form as David Gray, Simon Bedford and Mitchell Mann amongst others won their opening round matches to progress to the second round.
While they are the most easily recognisable names from this section however, the most impressive performances came from Ian Burns and Stuart Carrington who were also winners. In defeating James Silverwood, Carrington knocked in breaks of 92, 61, 47, 37 and 37 to set up a clash with Charlie Walters.
Ian Burns meanwhile hit runs of 76, 69, 46, 46 and 44 in coming through against Welsh youngster Jamie Clarke. Next up for him will be 19-year-old Birmingham based player Mitchell Mann in what could be a high-quality contest.
For anyone still wondering, Luca Brecel withdrew from the event as it appears as though he has been given a wildcard onto the professional circuit for next season.
4pm Session
Oliver Brown 1-4 Charlie Walters
Ben Harrison 1-4 Chen Zhe
Lucky Vatnani w/o Michael Wasley
Nick Jennings w/o Yu DeLu
Only four matches were scheduled for this session and in fact only two were played following walkovers given to Michael Wasley and Nick Jennings following the withdrawals of Lucky Vatnani and Yu Delu. Have they been given wildcards onto the tour or is there another reason for their non-appearances?
Of the two matches played, highly rated Chinese youngster Chen Ze who is one of the many players currently based at the Grove came through a 4-1 winner against one of the players tweeting from the event, Ben Harrison. Next up for Chen will be On Q player Michael Wasley.
Charlie Walters meanwhile came through against Oliver Brown by the same scoreline to set up that tie with Stuart Carrington.
Evening Session
Vinnie Calabrese 4-0 James Hill
Jak Jones 4-2 Thanawat Thirapongpaiboon
Saquib Nasir 2-4 Kyren Wilson
David Portman w/o Sam Baird
From these four matches there is another withdrawal, although this time it can be easily explained as Sam Baird has already received a nomination onto the main tour having topped the Pro Ticket Tour rankings following the last event of the season. Still, David Portman will not be complaining having received a bye through to the next round.
First man to win through this evening was Australia's Vinnie Calabrese who began his quest to join countryman Neil Robertson on the professional circuit with a 4-0 victory against James Hill. Next up for him will be Nick Jennings who will be making his first appearance in the competition following his walkover against Yu Delu. Could this be a disadvantage?
Congratulations meanwhile to Welsh youngster Jak Jones who came back from 2-0 down to defeat talented Thai player Thanawat Thirapongpaiboon this evening. While Jak struggled on the main tour last season, certainly more than his opponent today did, he remains a highly rated player.
Next up for him however will be an even tougher test in the form of Kyren Wilson, another promising young player who was narrowly relegated from the circuit at the end of the 2010/11 season. Kyren did not have it all his own way this evening as he was given a stern test by opponent Saquib Nasir before eventually coming through 4-2.