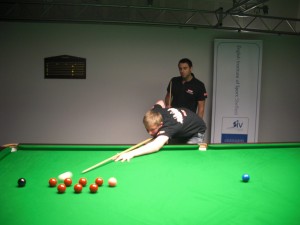 Day two from the first Q School event of 2011 and having seen no century breaks recorded yesterday, at the time of writing there have been five today as the opening round continues. Click below for a summary of the day's events so far…
Morning Session round-up
Zhang Anda 4-1 Alex Taubman
Thepchaiya Un-Nooh 4-2 Stephen Craigie
Joel Walker 4-3 Li Hang
Lasse Munstermann 3-4 Mitchell Travis
David Grace 4-3 Gareth Allen
Robbie Williams 4-1 Adam Duffy
There were contrasting fortunes for two young Chinese players this morning as Zhang Anda hit a top break of 116 in the final frame of his 4-1 victory against Alex Taubman, while Li Hang  lost out in a decider to Joel Walker. Some of you may remember Joel as the Sheffield youngster who won the inaugural Rileys Futurestars event last summer and he delivered on that promise this morning by defeating the man who recently shocked Ken Doherty and Graeme Dott in the recent China Open.
As impressive a victory as it was for Joel however, his next match will not be any easier as he will meet former IBSF World Champion Thepchaiya Un-Nooh after the Thai player recorded a 4-2 victory against another talented youngster Stephen Craigie this morning. It was a high quality match, Craigie notching breaks of 52, 51 and 52 while Un-Nooh hit 88, 70 and 61 en route to a good win.
Elsewhere German hope Lasse Munstermann who UK readers may have seen recently during the BBC's coverage of the World Championship lost out in a close match to Mitchell Travis who saved his two highest breaks for the deciding frame.
Leeds youngster meanwhile also came through in a decider against Welshman Gareth Allen as he looks to get back onto the main tour for the first time since the 2008/9 season while Robbie Williams saw off former Paul Hunter Scholar Adam Duffy to book his place in the second round. It could have been an even bigger story as his break reached 96 in frame five with a possible 147 on the table but it was not to be and he had to settle for a 4-1 victory.
Afternoon Session round-up
Ryan Causton 3-4 Sydney Wilson
Li Yan 2-4 Mei Xiwen
Gareth Coates w/o Kishan Hirani
Rune Kampe 0-4 Jamie O'Neill
Duane Jones 3-4 Alex Davies
Alex O'Donoghue 0-4 Tian Pengfei
The day's second session meanwhile was headlined by the much talked about Chinese youngster Tian Pengfei who hit breaks of 118, 66 and 60 en route to a comprehensive 4-0 victory against Alex O'Donaghue. Also advancing without too much trouble was 2010/11 professional Jamie O'Neill who notched runs of 118, 51 and 50 against Danish hope Rune Kampe to set up a tie with Ross Jones.
The day was not so straightforward for Sydney Wilson and Alex Davies however as the English duo both came back from 3-1 down to edge through tight matches against Ryan Causton and Duane Jones respectively. Particularly impressive was Davies who having scored little of note previously, hit breaks of 58, 52, 50 and 50 in the last three frames to set up an interesting match with talented Irishman David Morris in the second round.
4pm Session
Lee Page 4-2 David McLellan
John Astley w/o Aditya Mehta
Shahram Changezi 4-1 Marc Harman
Michael Leslie 4-0 Simon Bevz
Adam Wicheard 4-1 Tony Else
James Burrett 1-4 Bash Maqsood
Session three saw many of the matches go to form as former professionals Lee Page and Adam Wicheard came through their matches with David McLellan and Tony Else to progress to the second round.
Most impressive however was Scottish youngster Michael Leslie who hit a break of 108 en route to a 4-0 success against Simon Bevz.
For anyone wondering it appears as though Aditya Mehta has been nominated for the main tour as Asia's third player which is why John Astley has received a wildcard through to the second round.
Evening Session
Bhavesh Sodha 0-4 Fraser Patrick
Augusto Ruckauf 0-4 Christopher Norbury
Robert Valiant 4-0 Matthew Simpson
Ben Judge 1-4 Jamie Walker
Lyndon Gordon 0-4 Liam Monk
Jason Tart 2-4 James Loft
Through first this evening without too much trouble were former professionals Chris Norbury and Fraser Patrick who were last on the tour during 2010 and 2008 respectively. Neither dropped a frame tonight against opponents who admittedly I have not come across before, Fraser making the fifth century break of the day during his victory.
Next up for Norbury will be Robert Valiant who also recorded a comfortable victory tonight and who also showed last season that he compete with the professionals, taking both Liu Chuang and Joe Perry to deciding frames during the PTC series.
Other winners were Liam Monk and James Loft while Jamie Walker eventually came through a long match with Ben Judge to win by a 4-1 scoreline.