As some of you who follow the likes of Stuart Bingham on Alfie Burden may be aware, this week sees the latest event of the 2011 Thailand ranking circuit take place and for more insight as well as news from the latest matches, please click below to continue reading…
The fourth event on the 2011 Thailand Ranking Circuit is now under way at the Royal Paradise Hotel in Phuket, with sixteen qualifiers from Thailand's top 64 being joined by wildcards Alfie Burden, Stuart Bingham and James Wattana.
For those who may be wondering why PSB's coverage begins in event four, I should explain that the Thai snooker magazine, Cue Thong, has just set up a new website www.cuethong.com which promises to provide up-to-date coverage of all Thai tournaments. Lack of reliable information has previously been quite a barrier as far as passing on news is concerned, but if the new site is able to overcome this problem then we can expect PSB to cover the Thai circuit in more depth. The website is currently only available in Thai however, which will in all honesty not be all that accessible to UK readers.
As for the tournament format itself – the six events are open to the top 64 players in Thailand, who face three days of qualifying in Bangkok in order to make the venue stage.
Round 1 has players 33-48 playing against 49-64. Numbers 17-32 enter on day two, and the winners face a match against 1-16 in the final qualifying round. Three or four wildcards are then invited to join the tournament at the venue.
The final stages are played over a period of six days, with all games taking place in a one table arena set-up. The final is shown on Thai terrestrial TV, and some other matches are shown on local cable channels. Players losing in the last 16 will earn about £350 for their trouble, while the winner picks up a little over £2000. All events carry ranking points.
In Monday's wildcard round, where the lowest-ranked qualifiers face the invitees, Alfie Burden had a relatively comfortable 4-1 victory over Thanawat Tirapongpaiboon, while James Wattana included breaks of 53, 53 and 119 in a 4-1 win over Nakhon Chapol. The highlight however was Bingham's 4-0 rout of former Asian under-21 champion Pramual Jantad. The Englishman knocked in consecutive breaks of 104, 136, 86 and 59 to keep his Thai opponent in his seat.
When the last sixteen round began on Tuesday, several of Thailand's recent main tour players were in action, with the current IBSF world champion Dechawat Poomjaeng rounding off the day's matches by winning a decider in one visit to seal a narrow victory over Sarawut Chububpa – a player in his debut season on the Thailand Circuit. Sarawut had earlier rolled in breaks of 68, 70 and 70 to give his opponent cause for alarm.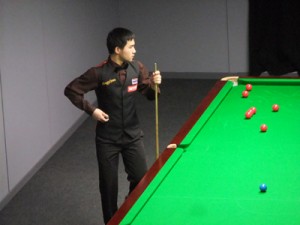 In other matches, Noppadol Saengnil included a century in beating Praprut Chaitanasakul (Rom Surin) 4-2, James Wattana beat Supoj Saenla 4-2 and Thepchaiya Un-Nooh beat Phaitoon Phonbun 4-0.
On Wednesday, Alfie Burden was up first against Poramin Danjirakul – a player who has represented Thailand at under 21 level though with only modest success. Burden made two centuries, including an attempt at a maximum which broke down on the fourteenth black, but otherwise made little impression on the match as Poramin made a hundred of his own and came through 4-2.
Stuart Bingham had less trouble with his next Thai opponent however, as his scoring spree continued with 137, 58, 81 and 56 in a 4-1 win over Chuchart Trairattanapradit (Tai Pichit) whose contribution was limited to a 71 in frame four. Reigning Asian champion Passakorn Suwannawat needed a decider to overcome Worawit Suriyasriwan, which he took with a cool 88, while Issara Kachaiwong coasted past Surathep Poochalaem 4-1.
The quarter finals take place on Thursday:
Thepchaiya Un-Nooh v Dechawat Poomjaeng
James Wattana v Noppadol Saengnil
Poramin Danjirakul v Issara Kachaiwong
Passakorn Suwannawat v Stuart Bingham