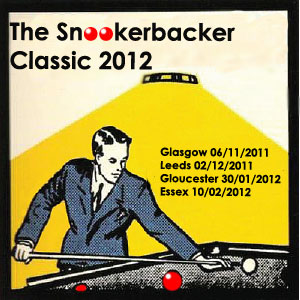 As discussed recently during my look at Snooker on the Internet, there are a number of excellent snooker websites on the internet these days and jostling for position close to the front of the queue is Snookerbacker's site as I am sure many of you are aware.
Rather impressively however, Snookerbacker has now taken things a…well, several steps further and devised way to provide a helping hand for amateur players out there hoping to gain a place on the main tour next season. Ladies and gentleman SB presents The Snookerbacker Classic…
So what is The Snookerbacker Classic about and what is on offer?
All of the important links and tournament information can be found by clicking here to view the relevant page on SB's blog.
In summary however, the event is one that will offer amateur players during the 2011/12 season the chance to compete for the top prize of fully paid entry to the 2012 Q School as well as fully paid entry for four PTC events during the 2012/13 season. The runner-up meanwhile will also receive entry to the 2012 Q School.
Format
The SC will begin with four regional qualifiers, from which two players will emerge from each to make it through to finals day next February. Each regional event will be played under a knockout format until the final and will be played over the best of 7 frames (except for the Southern England matches which could be played as best of 5's should there be in excess of 32 players).
Each player making it through to finals day will be refunded their tournament entry fee and will have two more matches to win in order to make it through to the overall final and secure their paid entry to the Q School.
Venues and Dates
Regional Events:
6th November 2011 – Scotland,  The Lucky Break Snooker Centre, Glasgow
2nd December 2011 – Northern England, The Northern Snooker Centre, Leeds
30th January 2012 – South West of England, The South West Snooker Academy, Gloucester
10th February 2012 – Southern England, Chelmsford Snooker Club, Chelmsford
Finals Day:
24th February 2012 –  The South West Snooker Academy, Gloucester
Entry Fee and Closing Dates
The entry fee for each regional qualifier stands at £50.00 and is non-refundable after the closing date for entries.
The closing dates for entries are as follows:
Scotland – Tuesday 1st November – or when entry level reaches 32 players
Northern England – Tuesday 29th November – or when entry level reaches 32 players
Wales and the South West  – Thursday 26th January – or when entry level reaches 32 players
Southern England – Tuesday 7th February – or when entry level reaches 64 players
How do I enter?
To enter one or more of the regional events you will be required to complete the tournament appication form which you can access by clicking here.
Further details on entry and the payment of tournament entry fees please visit SB's website here.
My View
So that's the nitty gritty out of the way, but what do I really think of the event?
As regular readers and indeed followers on Twitter will be aware, there is an ever-increasing community of bloggers and other 'online' personalities such as Snookerbacker, Snooker Island and I would like to think this website who at the moment are doing what we can in order to help bring the sport closer to the fans, each in our own different ways.
In doing so I think that all of us have realised if we hadn't already that as well as the professionals at the top of the game, there are just so many really impressive amateur players out there who are all fighting hard to elevate themselves up onto the main tour over the course of the next few seasons. It is easy to say and we have all heard the quotes from players talking about the depth in the game, but when you go to an amateur event and see it for yourself then it does hit home in a different way.
With the expanding calendar however come increasing costs and expenses and so I think that it is fantastic to see someone like SB (or indeed whoever), doing something to give these players a leg up onto the tour and who knows, potentially greater things.
Any initiatives like this therefore are welcomed by this site and I would like to take this opportunity to wish SB and everyone else involved with the tournament the best of luck with making this a success.