Today saw the start of the first round of the Shanghai Masters qualifiers and not only that, but there was also a surprise in store as snooker fans woke to find that two matches were being streamed this morning over the internet! Click below for more…
Live Streaming!
For several years now snooker fans have cried out for a way to watch qualifying tournaments but aside from a brief foray back in 2009 by 110sport, such coverage has not been forthcoming.
That is however until now as without warning it has now been confirmed that there will be live streaming for the rest of this season from both the qualifying tournaments as well as the various PTC events. Details remain sketchy, World Snooker having opted for a low key (well, about as low as it gets to be fair), start but this week at least there will be two matches broadcast per session from the Academy in Sheffield.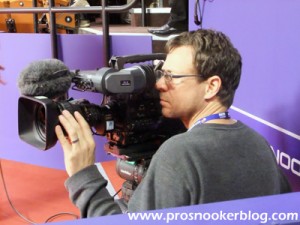 So how do you watch? A free stream will be provided on betting sites including bet365 and Betfair, while a better quality feed is also available at World Snooker priced at £29.99 for a year's subscription in the UK and Europe (or £2.99 a month), or £39.99 (or £3.99 a month) further afield.
While I remain unconvinced that introducing the service without telling anyone was the best way that they could have done it, this is excellent news for all snooker fans and something that can only help to boost the profile of those players ranked a little further down the rankings. The acid test for World Snooker will be viewing figures and just how many people are prepared to pay for the service rather than acquire free streams via other means, but hopefully the coverage will be here to stay.
Day One So Far
Day One Results
David Hogan w/o Bjorn Haneveer
Aditya Mehta 5-0 Stuart Carrington
Michael White 5-1 Simon Bedford
James Wattana 5-1 Matt Couch
Tian Pengfei 5-3 Dechawat Poomjaeng
Li Yan 5-2 Paul Davison
Andrew Norman 5-0 Kacper Filipiak
Adam Wicheard 5-0 Scott MacKenzie
David Grace 5-1 Daniel Wells
Robin Hull 5-3 Andrew Pagett
Passakorn Suwannawat 5-2 Adam Duffy
On the table meanwhile it has been a rather one-sided day so far with three whitewashes and a further three 5-2 scorelines from the first couple of sessions.
Among them were On Q duo Andrew Norman and Adam Wicheard who saw off Kacper Filipiak and Scott MacKenzie respectively, the size of Wicheard's win in particular proving somewhat surprising given Scott's recent run to the fourth qualifying round of the Australian Open qualifiers.
For Kacper further questions will be raised about the 15-year old who aside from his impressive displays at last month's World Cup has so far lost 14 of the 15 frames that he has played during his fledgling professional career. Is it too soon for the young Polish player? To survive on the tour probably, the likes of Andrew Norman while not household names, are very capable players and with so much more experience will prove tough to overcome. On the other hand though Kacper has earned his place and it will all be good experience for him in the future.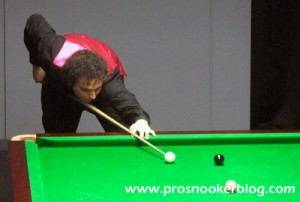 Another tour newcomer who has got off to a difficult start is Grimsby's Stuart Carrington who suffered a 5-0 defeat to India's Aditya Mehta this morning. James Wattana meanwhile atoned for his defeat to Matt Couch at the recent Australian Open qualifiers by recorded a 5-1 win against the same opponent today, while David Grace recorded an excellent win against Welsh talent Daniel Wells.
One player who will be enjoying the week so far will be Ireland's David Hogan who is now through to the second round having received two walkovers. Having presumably moved into the first round following continued visa problems experienced by Lucky Vatnani, David today received a second bye as Bjorn Haneveer withdrew from the tournament due to a shoulder injury. Unfortunately for the Belgian number one it has also been announced that he will not be able to compete in the PTC2, 3 and 4 tournaments which I fear could deal a major blow to his hopes of remaining on the main tour for next season. Time will tell on that.
The last batch of matches get underway at 7pm.