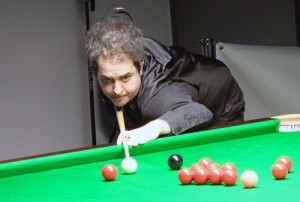 Ronnie O'Sullivan was much fancied to make it out of the top quarter here in Shanghai but he was upset today by a great performance from Anthony Hamilton who made it through to the last eight. Otherwise though it was a day for the top seeds as five of the provisional top six joined him in the quarters…
Having scored four centuries in the tournament prior to today's match with Ronnie O'Sullivan including three on Tuesday against Stephen Maguire, Nottingham's Anthony Hamilton added another to his tally today en route to a 5-3 victory against the 2009 champion.
Coming into the match trailing Ronnie 8-1 on the overall head to head list, the odds looked to be against Anthony today but the match was close throughout as they remained locked at 3-3 after the first six frames. It was Hamilton though who finished the stronger and but for an early concession from his opponent he could have finished with his second ton of the match following an earlier 107.
For Anthony it goes without saying that this is a fantastic result and one that sees him through to his first ranking event quarter-final since the 2009 Welsh Open as well as lifting him up to 34th position in the latest projected seedings. Taking into account the neck problems that have forced him to change his stance during the past three years Anthony's efforts this week have been commendable and who is to say that he cannot now go further in this tournament?
As for Ronnie meanwhile it is a disappointing defeat and one that means that his top 16 status at the next cut-off remains slightly uncertain, though I think that it will take a strange set of circumstances to see him toppled by PTC6.
One man who might have something to say about that however is Mark King who despite letting slip an early three frame lead today against Irishman Fergal O'Brien was able to take the last two frames to secure a 5-3 win. Mark is himself through to his first-quarter final since this tournament a year ago and will be keen to reach his first semi-final since the 2006 Grand Prix.
Elsewhere it was a good day for the leading lights as five of the provisional top six, including top trio Mark Selby, Mark Wiliams and John Higgins who booked their last eight spots. Many had been predicting an upset in the contest between Higgins and Australian Open champion Stuart Bingham but as I said on Twitter yesterday, you can never write off the Scot who is simply the best player in the world at winning when not at his best right now. Stuart though was clearly frustrated on Twitter:
"What a load of POO! Concentration span of a goldfish today. Suppose you get that when you had an hours sleep! :-((( What a golden chance!!!!"
Elsewhere Shaun Murphy defied my Twitter jinx (I tipped him to do well this season much to his understandable displeasure given my tipping ability), to squeeze through against Mark Allen, his second great escape of the week, while Neil Robertson progressed to his first career quarter-final in China with a solid performance against qualifier Michael Holt.
Who wins from here?