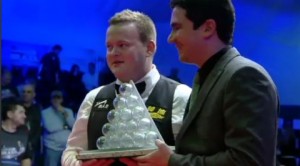 Shaun Murphy tonight became the inaugural winner of the Brazil Masters following a sublime performance to dispatch Graeme Dott 5-0 in a one-sided final. Indeed it was a good day all-round for Murphy as earlier in the day he dropped just one frame against Stephen Hendry in his semi-final…
Coming into the final against Graeme Dott as the favourite with the bookmakers following a series of excellent performances in the tournament leading up to the final, former world champion Shaun Murphy wasted little time in justifying that status by taking the opening frame with a run of 81.
Frame two looked like it might prove to be a more protracted affair as a missed black from Graeme hung in a corner pocket but an errant safety from the Scot a few shots later was to leave Murphy a chance a long red to end the potential statemate. While he could not win the frame in one-visit, he duly took the frame on the colours before again getting in first with a good chance in frame three.
Though he faltered, Graeme was to make just 21 with the reds well spread and an increasingly confident Murphy did not look like he was in the mood to let him off the hook a second time and made it 3-0 in little over 50 minutes. A break of 79 in the fourth only strengthened his position further ahead of the interval before he sealed victory with a stunning 139 in the final frame, depriving local favourite Igor Figueiredo of the high break prize in the process.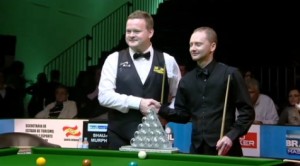 Congratulations to Shaun who both during the final and during his earlier 5-1 victory against Stephen Hendry oozed confidence and importantly put his opponents under extreme pressure by clearing clinically when given the opportunity to do so. I have always viewed Shaun as a particularly dangerous player when playing overseas and now with victories in Brazil, Malta, China, Ireland and Germany on his CV it is not difficult to see why. His long game was close to faultless today and when he plays like this he is up there with the very best in the game to watch.
Overall then a positive climax to a tournament which saw after a tricky start with just a handful of people in attendance for the opening match between Mark Selby and Stuart Bingham, finished with a more respectable crowd in attendance and a good reception for the players involved. Whether or not snooker returns to Brazil next season remains to be seen but with tweaks I think that there is a space for snooker in the country. Certainly judging by messages that I have had on Twitter from Brazilian snooker fans there is interest over there and the only way to fuel that is by staging a professional tournament there as has been the case with Germany in recent years.
Time will tell but for the time being, the snooker circus rolls onto Sheffield this weekend for the PTC5 event, the penultimate event before the first mid-season seedings revision and later today I will have an article flagging up who needs to do what between now and that October cut-off…