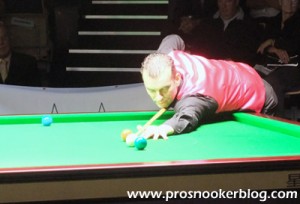 With just two PTC events to come before the first mid-season seedings revision, here is my guide to which players need results if they are to either retain their current seeding or advance into the next tier come October 3rd…
Battle for No.1
The battle to be the world number one at the next seedings revision has already been won by Mark Selby as he leads nearest challenger Mark Williams by 3,845 points with just 2,000 to play for at the PTC5 event. The following PTC from Poland does come before the cut-off however both Selby and Williams have declined to enter that particular event.
Indeed the top three are now set in stone come the next cut-off while fourth placed Ding Junhui holds a 1,960 point lead over Neil Robertson, though Neil unlike Ding has entered the PTC6 event.
Battle for the top eight
The battle for the top eight sees a four-way fight between Ali Carter, Stephen Maguire, Judd Trump and Graeme Dott who are currently separated by 3,275 points with a potential 4,000 to play for.
Best placed is Carter who currently sits 1,855 clear of ninth placed Trump, though having already seen Judd take one PTC title this season it is not inconceivable that he could be caught by this year's world finalist. In the two upcoming events Ali is poised to play Aditya Mehta and a qualifier early on while Judd has drawn Marco Fu and a qualifier.
Can Trump Crack The Top 8?
Stephen Maguire however looks to be most vulnerable as having lost his opening matches in both Australia and Shanghai, the Scot's top eight position that he has held since 2008/9 now looks precarious as he sits just 315 points clear of Trump. He has been handed a tough draw for PTC5 also against Peter Ebdon who comes into the tournament on the back of an improved run in Brazil with possibly Joe Perry to follow.
Graeme Dott is a further 1,420 points behind Trump but notably of the four players here has earned the most points from the four previous PTC events this season. He will begin both tournaments with a match against an amateur qualifier so has every chance of adding to his tally.
Prediction: I think that Ali should be in a strong enough position to retain his place in the top eight but that there is little to choose between Maguire and Trump who both head into PTC5 on the back of early defeats in Shanghai. Looking at their draws however I am going to give Judd the edge.
The Battle for the Top 16
The first really important cut-off here, those who finish inside the top 16 will not only be spared the challenge of having to qualify for the UK Championship but will also earn a place at the prestigious Masters tournament at the Alexandra Palace this season.
Mathematically the fight would on the face of it appear to go all the way up to 11th placed Stuart Bingham but in reality he will be safe as of course only one of the players behind him can actually secure the maximum 4,000 points available from the next two PTC events and it is inevitable that those below him will take points from each other.
On the same basis I think that Stuart's rival Mark Allen can also sleep easily while Ronnie O'Sullivan does hold a 1,850 point lead over 17th placed Martin Gould.
That said, while I think that Ronnie will finish inside the top 16, the fact that he has elected not to enter the PTC6 event and has also drawn former world number one Mark Williams in the first round of the PTC5 event means that he is not quite safe just yet.
Next up is Welshman Matthew Stevens who gave his chances of retaining his top 16 place a significant boost in Shanghai by making it through to the quarter-final stages. With opening round ties to come against tour newcomer Stuart Carrington and an amateur qualifier in the next two PTC events I would fancy him to add to his points tally further.
Right in the thick of it is Stephen Lee who is currently attempting to reclaim a place inside the top 16 for the first time since the 2007/8 season and currently in 15th place looks on course to do so. He does however hold a slender 660 point lead over 17th placed Martin Gould with Mark Davis just 610 points behind.
Looking at their respective draws, none stand out as being notably easier or more difficult than the others so it will be interesting to see who will be able to make the tournaments count.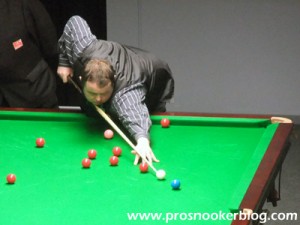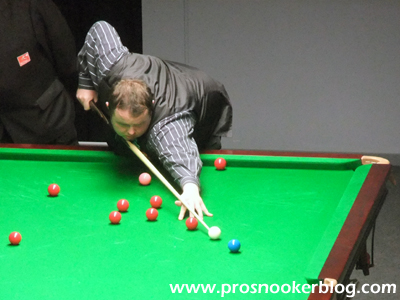 Further down the list Jamie Cope currently lies 1,400 adrift of 16th placed Davis so will probably need to come close to winning at least one of the upcoming to PTC events to lift himself back into contention while 20th placed Peter Ebdon currently 2,820 points behind is in need of a miracle.
Stephen Hendry for those of you wondering is actually above Ebdon in the list but having not entered PTC6 cannot now breach the gap between himself and Mark Davis at PTC5.
Prediction: To all intents and purposes I think that this is going to come down to being two from the three of Lee, Davis and Gould, though others could be dragged into it with early defeats. Based on their consistency at the start of the season I am going to tip Lee and Davis to just about edge it though with 50 points separating Mark and Martin, it is little more than a coin toss.
The Battle for the Top 32
Moving on, the battle for the top 32 is incredibly tight with just 1,520 points between 27th placed Joe Perry and Rory McLeod in 33rd.
While any of these players could easily slip out of the top 32 with a couple of defeats, those particularly in the mix look to be Ryan Day, Fergal O'Brien, Ken Doherty and Tom Ford, assuming that Rory can win a couple of matches during the next two events.
The player most in need of a good run at PTC5 is Ken Doherty who is the only player in this area of the rankings not to have entered the PTC6 event in Poland. With a potential second round clash against John Higgins in Sheffield too the draw could have been a little kinder for the Irishman.
Fergal O'Brien meanwhile is currently in good form and will fancy his chances of securing a return to the top 32 while Ryan Day has also made a reasonable start to the season. That said with opening matches against Kurt Maflin and Alfie Burden to come, Ryan has not been given the easiest draws in the world either.
Could anyone else gatecrash the fight for the top 32? Anthony Hamilton is not out of it but 2,050 behind 32nd placed Tom Ford it would take some run of victories for him to close the gap in time for October, notwithstanding his Shanghai success.
Prediction: A couple of wins for Rory McLeod and almost anything could happen in this section, it is really that close. For that reason I fear that for Ken Doherty the decision to skip the PTC6 event could prove costly and that he could be the one to miss out.
Battle for the Top 48
If the race for the top 32 looks open however, the battle for the top 48 is something else as just 3,120 points separate 41st placed Jamie Jones and 58th placed Jimmy Robertson!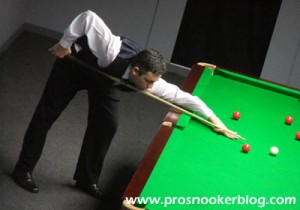 Most immediately the battle involves those from 44th placed Jack Lisowski to 49th placed Alan McManus who are separated by just 430 points, or in other words two PTC victories. Further down come the likes of Dave Harold, Tony Drago and Jimmy White, though the latter is another who has opted out of PTC6 so will be struggling to crack the top 48 at this particular cut-off.
To give you an idea of who has the best opportunity to get some points on the board during the next couple of events, here are the fixtures of those currently involved in the race for the top 48:
Jack Lisowski: Andy Hicks, Kyren Wilson
Barry Pinches: Simon Bedford, Mark King
Mark Joyce: Qualifier, Tian Pengfei
Joe Jogia: Robin Hull, Sam Harvey
Steve Davis: Qualifier, Qualifier
Alan McManus: Alfie Burden, Rod Lawler
Dave Harold: Qualifier, Qualifier
Tony Drago: Liu Chuang, Grzegorz Biernadski
Jimmy White: Andrew Pagett, n/a
Prediction: With so many players separated by so few points, again almost anything can happen here so I will take the easy option and tip it to remain as it stands at the moment. I get the feeling that Alan McManus is perhaps playing better than he has for some time but both of his draws look far from straightforward.
Battle for the Top 64
The final battle of significance here is that for the top 64 spots which will be so important at the end of the season as the tour cards for 2012/13 are handed out.
Realistically speaking the battle here will probably range from 59th placed Adrian Gunnell to 68th placed Ian McCulloch, though with the form that the likes of Passakorn Suwannawat and Yu Delu have shown in the PTCs so far they should not be discounted either.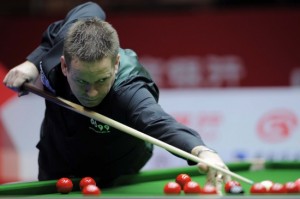 There are a real mix of players involved here ranging from the young such as Liam Highfield, Michael White and Liu Chaung, to older players such as Gunnell, McCulloch, Rod Lawler and Joe Swail who are battling to hang on to their tour status at the end of the season.
Those who look to be in particular difficulty are McCulloch who not only lies 890 points behind 64th placed Joe Swail but has not entered PTC6, while Joe Swail has won just two matches this season and looks to be in freefall. Rod Lawler too is struggling in 67th while young Liam Highfield after an excellent start to the season has lost a couple of matches recently.
Again here are their opening round matches:
Adrian Gunnell: Mark King, Craig Steadman
Andy Hicks: Jack Lisowski, Qualifier
Alfie Burden: Alan McManus, Ryan Day
Liu Chuang: Tony Drago, Martin Gould
Liu Song: Yu Delu, Mike Dunn (though Mike has been advised not to travel)
Joe Swail: Dominic Dale, Robbie Williams
Michael White: Qualifier, Qualifier
Liam Highfield: Qualifier, Anthony Hamilton
Rod Lawler: Rory McLeod, Alan McManus
Ian McCulloch: Marcus Campbell, n/a
Bjorn Haneveer: n/a, n/a
Passakorn Suwannawat: Paul Davison, Peter Ebdon
Yu Delu: Liu Song, Qualifier
Prediction: Again everything is up for grabs here though looking at their draws I do not fancy the chances of McCulloch or Lawler while Bjorn Haneveer will not be involved in either event due to his ongoing shoulder problem. I fancy both Michael White and Liam Highfield to do enough to break into the top 64 but at whose expense?