Today saw the professionals enter the action at PTC5 in Sheffield as the top half of the draw was played through to the last 16. Click below for updates on a day which at the time of writing has already seen six members of the world's projected top 16 tumble out of the tournament…
While as ever there were a number of intriguing first round matches in prospect this morning, the standout fixture was without question that which was Ronnie O'Sullivan take on Mark Williams and as has been the way between those two in recent years it was Ronnie who came out on top a 4-1 winner. Having already claimed one PTC title at the Sheffield venue this season no doubt O'Sullivan's odds will have come in at this point but he was however to suffer a surprise 4-2 reverse at the hands of Leeds' veteran Peter Lines in his second match, Peter having already come past amateur player Sam Harvey in his opener.
Importantly for Ronnie though, a combination of his first-round win and defeats for those immediately below him in the rankings today all-but-confirmed that he will remain ranked inside the top 16 at the October seedings revision and thus will be at the Masters in January.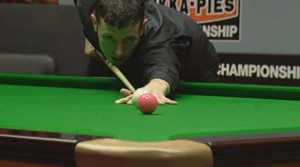 Peter meanwhile was also to fall in his next match, in his case to young Jack Lisowski who has surely done enough now to secure a place inside the top 48 for the first-time at the next revision with victories against Andy Hicks and Andrew Norman already before seeing off Peter. A key moment in the match came in frame four as Jack managed to draw level at 2-2 on a re-spotted black following a series of misses by both players beforehand.
Elsewhere the day also saw improvement for David Gilbert who after a strong start to the season has struggled for results during the past couple of months. Today however he became the first man through to the last 16 with victories against Mike Hallett, Ding Junhui and Ian Burns. With a top break of 141 already behind him he could take some stopping ton Sunday and will in fact meet Jack Lisowski at 10am.
While Ding Junhui lost in the second round having been involved in the Premier League last night, Shaun Murphy today demonstrated exceptional stamina to emerge victorious against amateur duo Gary Wilson and Thanawat Tirapongpaiboon, both in a deciding frame. Shaun now plays Anthony Hamilton who has kept his outside chances of a return to the top 32 at the next cut-off alive with victories against Simon Bedford and the struggling Stephen Hendry.
There were also potentially costly first-round defeats for Mark Joyce and Barry Pinches in this section of the draw as both lost ground in the fight for top 48 places.
Stephen Maguire is a player who has not shone recently and his chances of remaining inside the top 8 at the next cut-off were dealt a blow by Peter Ebdon this morning as the Force gained his first ranking victory of the season. Notably Stephen conceded the final frame with ten reds still remaining on the table as he let his frustration at the state of the table get the better of him.
Ebdon though was not to win another frame as he suffered a whitewash at the hands of PTC1 finalist Joe Perry in his second round match. Next up for Joe will be Ricky Walden who had previously defeated Welsh amateur Duane Jones and Gerard Greene in his previous matches. (edit: Joe would win this match 4-3).
Others to do well today include Graeme Dott and Dave Harold, though not without a fight as both were taken to deciders by Joe Jogia and Stephen Lee respectively. Dave would eventually come through to the last 16 to bring himself firmly back into contention for a top 48 place at the next revision.
PTC3 winner Ben Woollaston has also recorded victories today against Patrick Wallace and Liu Song while there has been a welcome return to form for Twitter's newest recruit Ian McCulloch who has seen off Nigel Bond, Marcus Campbell and Tom Ford to reach the last 16.