A day that began at 9am for Sheffield continues to unfold as due to a couple of long matches combined with a spot of strange scheduling, at the time of writing (2:05am), there are two matches yet to reach a conclusion. Click below for a review of the day so far…
Quite remarkably, yesterday saw no members of the world's top 16 make it through to the last 16 stage but 2010 world champion Neil Robertson today became one player to buck that trend as he won his three matches to maintain his impressive form of late.
Little over 24 hours after his Premier League success in Motherwell on Thursday evening, Neil began his PTC5 campaign with a whitewash of Scotland's Eden Sharav this morning before seeing off the challenge of India's Aditya Mehta in a deciding frame in his second match. His final win of the day was to come against another Scot, Scott MacKenzie shortly after 1am, though his opponent fought hard from 3-0 down to at one stage close to 2-3.
Next up for Neil will be China's Li Yan who recorded impressive victories against Kacper Filipiak, Liu Chuang and notably PTC2 winner Judd Trump. Li is a player who I have not seen a great deal of thus far in 2011 but his record on paper is a strong one and though Judd did not look to be fully focused as the clock approached midnight, he nevertheless deserved the victory. There was a strange moment in the third frame I think it was as while I had the live stream minimised, I had a clatter from my PC speakers and the sound of the referee apparently warning somebody as Li stepped up to the table.
On that note there was also an apparent moment of controversy in the match between Jimmy White and Matt Couch but as I was to learn later in the evening, in fact this proved to be something of a non-story. Trailing Matt 3-0 in the second round it was reported on Twitter that Jimmy had thrown his cue to the floor following an altercation with a spectator in the crowd.
Having this evening spoken to Jimmy however he has explained that this was not the case at all. He explained that he had attempted to place his cue on the table but with adrenaline running high, the cue hit the cushion and bounced onto the floor. There was no more to it than that and in fact Jimmy was just relieved not to have damaged his cue in any way.
That relief however was to prove somewhat shortlived as having come back to defeat Matt in a deciding frame, he then moved on to a third round tie with Martin Gould only to miscue on an early brown and split his tip in the process. While on paper the match always had the look of a tough one for Jimmy, particularly given how Martin had played earlier in the day, this could not have helped Jimmy's cause as Martin raced to a 4-0 victory.
With that result following an impressive display against Luca Brecel and a strong comeback from 2-0 down against amateur player Ashley Wright, Martin has given his chances of earning a spot at the Masters a significant boost today and will be hoping to add more points to his tally tomorrow.
Next up for Martin will be Michael Holt who despite his loathing of the Sheffield venue, recorded victories against Christopher Keogan, Robert Milkins (who earlier in the day saw off world number one Mark Selby), and Steve Davis.
Elsewhere it was also a good day for world champion John Higgins as he reached the last 16 of a PTC event for only the second time this season. While first-round opponent David Grace was not at his best this afternoon, Higgins looked to be playing as well as I had seen him so far this season but in the second round he was to be handed a far sterner test as Michael Wasley moved into an early 2-0 lead with a chance to go further ahead.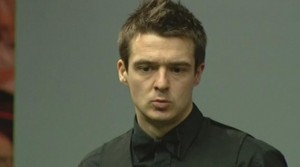 Unfortunately for Michael though a missed red on 47 proved to be the turning point in the match as Higgins subsequently clinched the frame to move just one behind at 1-2 and from there came an inescapable feeling that Wasley's chance had gone. So it proved and a further 4-1 victory against old friend Alan McManus having dropped the opening frame was enough to see the world's best player through to tomorrow. In winning two matches however Alan has given his chances of a return to the top 48 at the next cut-off a boost.
Next up for Higgins though will be a clash with Welshman Ryan Day who continued his improved run with wins against Kurt Maflin, Kyren Wilson and Rod Lawler for the loss of just one frame. In adding another 760 points to his tally, Ryan has all but secured his place among the top 32 at October's seedings revision.
Finally at the time of writing (now beyond 2am!), Stuart Bingham are locked at 3-3 in their last 32 match, while Michael White leads Dechawat Poomjaeng 3-0 in the 1am start. Earlier in the day Michael White was able to come through a tight opening match against John Sutton on the black, while Liam Highfield was not to be so fortunate in losing on the final ball to Mitchell Travis, putting a serious dent into his chances of a spot in the top 64 at the next cut-off.
Overall then a long day, in part caused by a marathon morning match between Rory McLeod and Rod Lawler, but more to the point caused by the fact that there are no spare tables at the Sheffield venue to move matches to in the event of a significant overrun as was the case today. It also did not help that the TV tables were designated to certain matches, meaning that at times they were sat without play for some length of time as the backlog continued to grow.