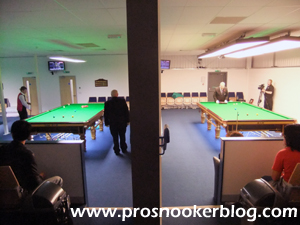 Day two from the UK Championship qualifiers in Gloucester and the action is due to get underway in little over an hour. Click below for my updates throughout the course of the day…
Click here to view the tournament drawsheet
Click here to view the latest scores
Click here to view the latest projected seedings
10:38: An hour to go to the start of play at the South West Snooker Academy and already a lot of the players including Tony Drago, Dominic Dale, Sam Craigie and Ian McCulloch are at the venue. It's good to catch up with Tony Drago having got to know him a little at the World Championship qualifiers earlier this year. He says that his form will be good, though he is understandably a little tired having arrived from the World Seniors Championship in Peterborough in the early hours.
11:59: Just been having a good chat with Rod Lawler who was telling me that prior to the last PTC in Killarney he took the decision to change his cue in a bid to kickstart his season. Since then he has added another inch and a half to the cue so that it is the same length as his previous one and while he will not yet be fully comfortable with it, he was happy with how he played during his 6-2 win against Simon Bedford yesterday evening.
Ben Woollaston
Also hanging around is Ben Woollaston ahead of his match with Sam Craigie which is about to get underway. Ben is here with his wife Tatiana who will be watching the match on the television from the media centre.
12:13: Good start for Woollaston as he takes the opener against Craigie in fairly quick time. Sam had a chance in the frame only to knock a red in when going into the pack from the blue at an early stage paving the way for Ben to clear. Elsewhere Adam Wicheard has made an excellent start, a break of 117 putting him 1-0 up against Xiao Guodong.
Time to have a wander…
13:07: Back from watching what was a very tight second frame between Ian McCulloch and James Wattana, eventually won by the Thai number one after Ian got what is referred to by commentators as 'the dreaded double kiss' on the final red when attempting to play safe.
James Wattana
With that frame Wattana moved into a 2-0 lead while on the next table Alfie Burden and Adam Duffy are level at 1-1. It has been a good start for Tian Pengfei and Jimmy Robertson, both leading 3-0 in under an hour in their matches while Xiao Guodong and Cao Yupeng are also ahead at 2-1…
Just having an interesting chat with Dominic Dale about PTCs, ranking systems and money lists, always enjoy talking to him about such things. Perhaps there is a blog article in that at some point in the future…
14:11: Tian Pengfei stretches his lead to 5-0 against Liu Chuang, though frame five could have gone either way following a long safety duel on first the final red and then the yellow. It was one of those frames where every time they got their opponent in trouble, they seemed to fluke a snooker back and both were smiling at each other at various points. It was however Tian who had the last laugh and now needs just one more for victory.
Jimmy Robertson
Elsewhere Kurt Maflin now leads Jimmy Robertson 4-0 on the arena table having trailed 3-0 in the early stages, while Alfie Burden has taken two in a row to draw level with Adam Duffy at 3-3. Adam Wicheard and Xiao Guodong are also level after six frames while Woollaston and Craigie have just reached their interval at 2-2. Cao Yupeng leads Liu Song 4-2 while Michael White is 3-1 ahead of Barry Pinches at the interval.
14:26: Tian Pengfei is the first man through this morning having completed a 6-0 victory against Liu Chuang in what prior to the session I had expected to be the closest match of the session! Having made it back onto the tour having established himself as one of China's most talented players in recent seasons, Tian has taken his time to make an impact this season but perhaps this will be the result that will see him kick on now and push for a place inside the top 64. Next up for him tomorrow will be former world finalist Nigel Bond however in what promises to be another good match.
15:41: Back out from the final three frames of the arena clash between Jimmy Robertson and Kurt Maflin and Jimmy has survived the fightback to edge through 6-5. Having lost four frames in a row to trail 4-3, things were not looking too good for the PTC7 semi-finalist but thanks to two scoring visits in the decider he was eventually to come through and book his place in the next round.
Jimmy said after the match:
"I got off to a 3-0 headstart and was playing really well but then he came back at me. I should have won the frame to go four-nil which would have been a big frame but I didn't let it affect me. He came out though and he played pretty well, he had a couple of breaks and it was 4-3 but then I had a break to go 4-4, could have won 6-4 but got over the line 6-0 and I was happy to get through."
Looking ahead to his next match against fellow On Q Promotions player Gerard Greene, Jimmy added:
"I think I have played him once at a pro-am, I've definitely not played him on the tour so it should be a good game, we will see what happens."
I will post more from Jimmy on his season so far, the PTCs and his thoughts on the World Championship qualifiers being moved so close to the Crucible this season in a separate post shortly…
Jimmy Robertson
17:40: Wow, what a dramatic afternoon here in Gloucester, so much so that I have hardly had the opportunity to update the site here. Having had a chat with Jimmy Robertson (quotes to follow), I got word that Ian McCulloch had completed his second comeback in as many days to defeat Thailand's James Wattana in a deciding frame. Shortly afterwards I had a brief chat with Ian who was in good form, though perhaps unsurprisingly given his exertions this week, a little sore. More quotes will again follow.
Having spoken to Ian I headed on upstairs to catch the closing moments of the match between Xiao Guodong and Adam Wicheard which again had come down to a decider. Ahead in the scoreline it was Wicheard who looked a narrow favourite but having been given a chance to pot the brown could not get position on the blue, instead electing to play the snooker behind the pink. A terrific bout of safety then ensued for over five minutes between the two players, neither having a shot at the blue until Xiao was given a half chance with the cue ball close to the yellow spot and the object ball at the other end of the table. Under the circumstances therefore it was to be a terrific pot and with pink and black waiting, a match-winner as he booked his place in the third round.
Xiao Guodong
Soon afterwards I had a brief chat with Xiao about his thoughts on the match, his targets for the rest of the season and also his break-building which regular readers will know I regard very highly. There was a nice moment because while his English is not fluent, when I mentioned to him that I had been at his incredible World Championship qualifier against Kurt Maflin earlier in the year, I could see his eyes light up and he enjoyed talking about that. Next up for him tomorrow will be a clash with Redcar's Twitter comedian Mike Dunn.
As if there had not been enough deciders in the session there was to be a final nerve-wracking finish as Ben Woollaston had come back from 3-5 down to level with Sam Craigie in the final match of the day, the second decider in a row for young Craigie. The first chance fell to Ben who opened up a 30 point lead only for Sam to respond well with 52 of his own. Eventually though Ben was to get in and find himself needing to the pink to win. There was to be drama however as with the yellow slightly off its spot and with distance between the cue ball and the yellow, Ben explained to me after the match that he was conscious of leaving himself snookered on the green by the brown.
Adam Duffy
That being the case and with the mini-extension on his cue, Ben got into the cue ball too much and it zipped back, leaving him very awkward on the green. He was though to pot it, followed by a tricky brown which left him the wrong side of the blue. One more good shot however saw him come in and out of baulk and as he said post-match, he liked the pink that he had left himself for the victory.
The overwhelming emotion from him post-match was understandably one of relief, remember the winners today are not only ensuring a ranking points boost but also securing prize money of £2,300 subject to World Snooker levies and so on. For Sam meanwhile it will be a disappointing blow but having come through his opener yesterday he was at least able to secure an important ranking boost.
In the other matches to finish, Adam Duffy took the last three frames to complete a fine 6-3 victory against Alfie Burden while Cao Yupeng and Michael White also progressed.
20:21: Many of the evening sessions are now reaching their mid-session intervals and so far it looks like being another tight evening in prospect with three of four the matches to have completed four frames level at 2-2. The exception is that involving Jimmy White, the Whirlwind currently 3-1 ahead against Passakorn Suwannawat. Having just had a food break, I think that I will go up and see how Tony Drago is playing following the resumption of play on that table…
Rod Lawler
A mention meanwhile to Barry Pratt, a fan here who I understand has travelled over from Canada for the event and who believe it or not reads this humble website regularly. It was nice to meet him and hopefully he will enjoy the rest of his trip here.
21:57: Two matches down and it will come as not surprise that Jimmy White and Tony Drago are the first two men through to the last 64 this evening. For Jimmy it was a relatively straight-forward 6-2 victory against Thailand's Passakron Suwannawat while Tony Drago saw off fellow On Q player Andrew Norman 6-3.
As is to be expected, Tony made a quick start by taking the opening two frames before Andrew pegged him back to 2-2 at the interval. From there Tony again stretched clear, moving 5-2 ahead by taking a number of frames on the colours before Andrew pulled one back. The final frame saw Tony get Andrew in a fiendish snooker in behind the brown and not only did he earn around 30 penalty points from it, but when Andrew eventually did successfully escape it was to prove his last shot as Drago dished in little over a couple of minutes!
Tony Drago
An important win for Tony, he now moves up to 52nd place in my latest projected seedings list while there is even better news for Jimmy White who now moves up into the top 48, temporarily at least…
Close of Play: Apologies for the lack of updates in the evening, unfortunately the Academy shut up shop straight after Mark Joyce's 6-5 victory against Rod Lawler at approximately 0:30 in the morning!
After watching Tony Drago's win I stayed to catch frame five of Mark Joyce v Rod Lawler which ultimately would prove to be a significant point of the match. The initial chance fell to Rod who looked to be going well only to miss a red when in prime position. Mark then made a well-constructed break only to miss the black following the penultimate red, no doubt due to the fact that he had to play a precise positional shot to finish on the last red.
There was though to be a final twist as from the following black, Rod could only watch as the cue ball went in-off into the right-centre, allowing Mark to clear up and close the gap to 3-2.
The winning snooker for Tony Drago
Elsewhere, Peter Lines was able to secure a 6-4 win against Robin Hull, a huge result given the fact that Peter has a significant amount of points to defend at the next cut-off following his quarter-final run in this tournament back in 2009. I spoke to Peter after the match and he was clearly relieved, said that Robin played very well and was unfortunate not to win, but that he did went for his shots in the last couple of frames and fortunately it paid off.
On another note we spoke about the Paul Hunter English Open tournament which is staged at Peter's club the Northern Snooker Centre and that I was very fortunate to attend back in 2009. I had noticed that the tournament was not in its usual August slot this season but Peter explained that due to the number of PTCs early in the season they have decided to put it back until early 2012. I was pleased to hear though that it has not been cancelled and look forward to its return next year.
Following this I decided to catch the end of the match between Adrian Gunnell and David Grace, Gunnell leading 5-4 at the time and as it would transpire, about to start his match-winning break. Rather typically, the first 30-40 points of his break proved to be hard-fought, the pressure and importance evident with every shot. Once over the winning line however it was like watching a different player as he was able to loosen up and make far harder shots look easier than they were. It just proved the old cliché that the game is so much easier when the frame is won.
Mark Joyce, Olivier Marteel
Following that I decided to head on over to the match between Andy Hicks and Li Yan, which at the time was led 5-4 by the man from China. Eventually Andy was to take a scrappy tenth frame to force a decider, though at times he appeared to be doing he best to lose it! Deciders are often tight affairs as we had seen already today but on this occasion we were to see it won in one-visit as Li made an excellent 70 to move into the third round. He was rarely in position, overrunning position on the blue to finish on baulk with regularity but to his credit the balls kept dropping in and under the circumstances it was an impressive way to clinch victory.
It was the first time that I had seen Li up close and it was good to get a feel of his game, and note how often he wipes his cue down, almost as much as his countryman Liang Wenbo, if not more in that decider!
Soon after that match we saw the conclusion of the Joyce/Lawler match, Mark relieved to have got over the line to keep himself in the hunt to get back into the top 48 at the next cut-off.
Also through in the evening session was Anthony McGill, a 6-2 winner against Sam Baird.