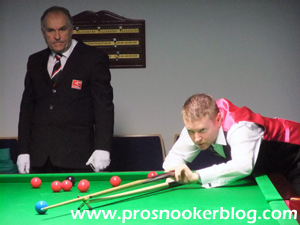 Day three from the UK Championship qualifiers and today sees the entrance of Steve Davis as the six-time former champion looks to qualify for the event once again. Click below for the day's updates…
Click here to view the tournament drawsheet
Click here to view the latest scores
Click here to view the latest projected seedings
11:30: Good morning everyone, back again for day three of four as the big names really start to come into the competition. Ben Woollaston is here in the tournament office with his wife Tatiana who is celebrating her birthday today at the South West Snooker Academy. Tony Drago just gave her a choc-ice but what she will really want is another win for Ben who takes on Michael Holt today having survived a real scare against Sam Craigie yesterday.
Meanwhile Steve Davis is also in the building talking seniors, snooker apps and more. He has also described my tweeting as relentless, but said that addictions are good because that is how he got into the game! While he was here I also asked him about my recent article about him and specifically which option he would have voted for. Steve said that he would go for the 1997 Masters which gave him as much pleasure as any of his achievements in the 1980's and more than for example winning a round.
12:59: Steve takes a 50-minute opener against Ian McCulloch on the arena while Xiao Guodong has already raced into a 3-0 lead against Redcar's Mike Dunn. Ben Woollaston has come through a long battle on green and brown against Michael Holt to take the opener.
Tian Pengfei
13:10: Amusing moment in the tournament office as Matt Selt asks me to look after his cue during his interval before Dominic Dale comes along to have a nosey. Cue a discussion about the re-splicing of cues! Matt said that he's had his cue since he was 15 and today it has helped him to 2-2 at the mid-session interval with Cao Yupeng.
13:16: Got a discussion here in the media centre about who we would like to interview post-match (if they win), I've asked for Nigel Bond, Steve Davis, Gerard Greene and Matt Selt so far. Anything that anyone would like me to ask?
13:56: Xiao Guodong is the first man through to the final qualifying round with a terrific 6-0 win against Mike Dunn in little over 90 minutes play. The Chinese youngster told me yesterday that his immediate target is to crack the top 48 in the rankings and this is another result that will help him to achieve that target. Next up for him tomorrow will be a clash with Tom Ford for a place in York.
15:06: Joining Xiao in the last 48 is Gerard Greene, through a 6-2 winner against Jimmy Robertson to book a tie in the next round against Stephen Hendry. One not to be missed.
Tony Drago
Also through is Matt Selt, a 6-3 winner against Cao Yupeng to set up a local derby with Mark King tomorrow. Now that is not one to be missed!
Apologies for the lack of updates recently, Tony Drago has been dishing out choc-ices in the media office as well as discussing venues of yesteryear, rankings and the season ahead. Jimmy White has also popped his head around to check on his ranking while Xiao Guodong is also having a looking, noting that it is very close!
Meanwhile Michael White has got over the line a 6-2 winner against Liang Wenbo, a fine result for a player who having taken some time to establish himself on the tour is now really starting to make an impact. Can he now go on to book his place at a venue? Mark Davis is the man standing in his way.
Michael Holt is hanging in there against Ben Woollaston, taking frame eight on the colours to reduce the gap to 3-5.
Rory McLeod
15:30: A dramatic finish to the match between Ben Woollaston and Michael Holt, the crucial shot being an attempted pot on the blue by Ben which having wobbled, eventually came on and off a cushion and sunk via a flick on the black. He then potted a good pink into the yellow pocket to come back down for the black which cueing from the cushion was not straightforward. He made it look easy however to progress to the final qualifying round and a tie with Scotland's Marcus Campbell tomorrow.
15:42: Ian McCulloch compiles his 100th career century break to close the gap against Steve Davis but the Nugget has stretched his lead to 5-2 again by taking  frame seven.
Just had a chat with Ben Woollaston who said that the pink into the yellow pocket was probably the best shot he's ever played. It was a cracker to be fair, pink close to the cushion near the baulk line, cue ball at the other end of the table and not only did he pot it, but he also gave himself a shot at the black.
16:59: Steve Davis is through to the final qualifying round following a 6-2 win against Ian McCulloch. There was drama at the end as clearing the colours for victory, Steve snookered himself from yellow to green to give Ian a lifeline. Though he could pot green and brown though, he left himself a tough blue which having missed up into the green pocket Steve could duly pot to secure an important win.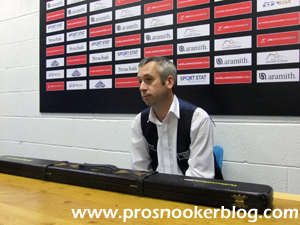 Nigel Bond
Elsewhere Nigel Bond has defeated Tian Pengfei 6-4 to secure a very creditable win and set-up a tie with On Q player Dominic Dale tomorrow. Following the match he came through for what was a very interesting press conference talking about the recent seniors tournament, the Shootout and particularly the PTC events and his views on those. That will follow on PSB at some point…
17:06: One match remains today and in it Rory McLeod and Adam Duffy are locked at 4-4 as the match time ticks over five hours. Will Rory prevail or can Adam come through to book a tie with Barry Hawkins tomorrow?
Nigel's thoughts on his win:
"To start off with, obviously not having had a lot of table time while he has had a couple of games, to be fair the first two frames I was in first time in the balls and only made 20-odd each time and he scored heavy from those mistakes. Then I went three-nil down and although it was an uphill battle, I just dug in there really and felt that I was starting to cue the ball alright."
"I had played awful at the weekend at the Seniors, I had a chat with Del but I've not had chance to see him. I feel like I need an MOT! He just said to try a couple of things and thankfully it has worked."
Was it hard to come back into this with the disruption of the seniors…
"Probably a little bit yeah, esepcially having got beat. If I had done alright and come in confident it would have been a little bit easier but there was absolutely…very little confidence there so I went home from the seniors on Sunday afternoon and then worked on a few things yesterday morning before I came down here and then just carried on. I got an hour and twenty minutes on the practice table and again just worked on a few things and thankfully it has all kicked in again."
On the Shootout draw:
"A repeat of last year's final! Both me and Rob spoke about it last night and it's quite funny really. I don't think that there will be any extra pressure coming into that tournament as defending champion. If anyone wins that tournament two years on the trot then they should keep the cup because the with the format of that event absolutely anybody can win it."
Nigel Bond
On Ronnie not entering the Shootout:
"It's surprising, he tried really hard last year and he seemed to really enjoy it. Surprising when he said that he doesn't feel like he is getting rewarded for playing in the PTCs with the top prize but then he doesn't enter a tournament with a £32,000 top prize."
Advice to newcomers to the Shootout:
"If you see the balls, just go for it, just hopefully the balls will go in! I felt quite confident going into it last season but there were a couple of matches against Rory McLeod and Mark where I was never really in the frame to be honest but I've dug out some great pots you know and managed to get through and that's what happens with the format in that event."
On the format change of this event:
"I think that if you ask most of the players we would all prefer to play more than the best of 11 frames. I thought for the UK that they might have put a curtain down for each table but the powers that be have decided the format and we have to abide by that and it's the same for everybody."
On his season so far and the PTC tournaments:
"I'm happy so far that I qualified for Australia and Shanghai to get the points in the bag but I haven't done myself justice at the venues. The PTC's I have just been nicking a few points, nothing special.
I do find it hard to get up for the PTCs to be fair, they are not like other ranking events. For me they are a glorified pro-am but they are for ranking points so the mentality has got to change, but I do find it difficult"
Tony Drago and Janie Watkins
"I think if you are playing well it's great. If you are playing well one week and then you are up to the next you are buzzing. If you are struggling a little bit then sometimes you are going out on the Thursday, you are back on the Monday and the next thing you know you are back out again on the Thursday and you haven't really had time to practice if you are struggling a little bit.
"Obviously it is better than six ranking events but sometimes I think that instead of putting money into the PTCs, why don't we have nine or ten other ranking events every two or three weeks. Also with all the PTCs, 20-odd events, snooker now is not geared up if you are a family man. If you are single then it is great but otherwise I don't see the kids or whatever.
I would defintely prefer to see more mid-week PTCs but obviously in places like Warsaw people want to come and watch then they finish work for the weekends. It doesn't matter so much with the PTCs in Sheffield because nobody can watch them anyway. The only purpose it serves at Sheffield is practice for the players, it doesn't serve any other purpose at all because nobody can watch behind closed doors. It's just good practice for the players."
On his current target:
"To get back into the top 32 but to do that, I need to have a run in a tournament, you need to hit a semi. The game is tough, it's getting harder with so many good players."
On a potential switch to a money list instead of a points based ranking system:
"To be honest I don't think it really matters, so long as you are winning matches you are up there in the rankings. At the end of the day you have got to pot balls and if you don't pot balls it doesn't matter what ranking system you use."
17:49: Rory McLeod gets over the line a 6-4 winner against Adam Duffy in a marathon match to bring the play to a close in the afternoon session.
Peter Lines with his frame ball black for 3-1
21:17: Just back from watching a marathon frame between Peter Lines and Alan McManus ahead of the mid-session interval which lasted over 40 minutes, half of which must have been spent battling over the colours. Eventually it looked like Lines would take it courtesy of a free ball on the blue which gave him a shot at an easy pink, only to be denied by a horrendous kick which looked to have cost him the frame.
There was however to be another twist as after a brief safety exchange on the black, Alan missed it into the right-centre, leaving Peter with the easiest black to move two clear at 3-1.
Elsewhere after moving 2-0 up, Jack Lisowski has seen his opponent Li Yan take five in a row to lead 5-2 while Tony Drago is on the comeback trail against Jamie Burnett, from 4-0 down to trail just 3-4 now.
Also hats off to Jamie Jones who has just made a break of 130 against Jimmy White to lead 4-3 having trailed 3-0 at the interval…
21:43: Li Yan comes into the tournament office with Xiao Guodong after his 6-2 win, pretty happy as you would expect! Stephen Hendry is also in the building, think he is having a practice upstairs at the moment. There was an amusing moment as he watched Matt Selt typing on a computer and jokingly offered him a job as his PA!
Jamie Jones, Jimmy White
22:24: Just been into the arena for frame nine of Jimmy White against Jamie Jones. both had their chances and Jimmy looked frustrated early in the frame, but full credit to him for what was a good clearance in the circumstances to close to 4-5. Both players leave the arena and it will be interesting now to see if he cane hang on…
Meanwhile Tony Drago's fightback has come to an end, losing 6-3 following what I hear was a nasty miscue on the blue in the final frame to hand Jamie Burnett the win. Tony was also distracted by what turned out to be a friend in the gallery, but post-match he was in relatively good sports as he watched Jimmy White on the monitor here in the media centre.
Two frames in a row for David Gilbert to force a decider with Robert Milkins…
Weds: Another frantic finish to last night meant that I did not have time to update the blog before the close of play but better late than never!
Robert Milkins was to win his decider with David Gilbert in one scoring visit, making 84 before inadvertently knocking in the pink to bring the break to an end. Post-match reaction from him will follow but next up will be a clash with Peter Ebdon, the 2002 world champion back in the qualifiers after a difficult start to the season.
Anthony McGill
Also through was Jamie Jones who after a real wobble at 5-3 pulled out a good break in the decider to send Jimmy White out of the tournament. I spoke to Jamie post-match (quotes to follow), and he spoke well about the match and how there is always added pressure with a place at a venue at stake. In fact the press conference proved to be an entertaining affair as part-way through, Robert Milkins came in for his chat while Tony Drago made it something of a forum!
Shortly afterwards Peter Lines was to emerge a 6-4 winner against Alan McManus and again he stopped by for a post-match chat and on an interesting tangent, a discussion about his 16-year-old son Oliver who is a handy player himself and whether or not Peter would be happy for him to enter this season's Q School. Watch this space for a blog on that over the next week.
After this I went up to watch what would prove to be a tense decider between Anthony McGill and Joe Jogia in one of the two remaining matches in-play. The early exchanges saw a missed red from Anthony before Joe missed a black off the spot having been given a chance. McGill then had a chance to score but when attempting to go into the bunch, missed the reds and instead glanced off the pink and could only watch the white drift into baulk.
Robert Milkins
Following this Joe had a chance to score and with the pink and play out of commission for much of the break, made a good break of 48 before tucking Anthony in behind the green. This would prove to be decisive as Anthony failed to escape from the snooker on at least five occasions, eventually leaving him with snookers required by hitting the blue at pace. Though he had a chance to play for those, a missed black soon brought about the concession and saw Joe Jogia progress to a tie with Jamie Cope tomorrow.
There was something of an unfortunate moment that followed as Mark Joyce walked by and Tony Drago asked Janie Watkins who had won the match. Janie attempted to stop him with hand signals because it had been Anthony Hamilton who had emerged victorious against Mark, though when he came back through Joyce explained that he had been given a 'million' chances but missed a few pressure balls that he needed to make.
Overall though another excellent day both on and off the table which sets things up nicely for what should be a blockbuster final qualifying round on Wednesday.