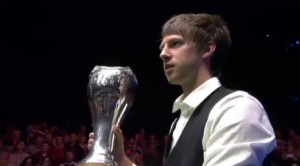 My final post looking back at 2011, today I bring you the results so far of my three 'best of' polls and perhaps unsurprisingly, it is a clean sweep for Judd Trump…
The first of my 'best of' polls posed the question of which was the best match seen in 2011, and with numerous to choose from I was interested to see how this one would turn out. Slightly surprisingly to me, the leading choices so far are:
Judd Trump 4-3 Ronnie O'Sullivan (2011 PTC9 Final) – 29.17%
Judd Trump 17-15 Ding Junhui (2011 World Championship SF) – 17.5%
Judd Trump 10-8 Mark Allen (2011 UK Championship F) – 16.25%
While my personal vote went to the match in second place on the list as Judd and Ding played out what proved to a classic Crucible semi-final, it is the thrilling recent PTC9 final between Judd and Ronnie O'Sullivan that has taken top spot as your match of 2011. One of the most exciting best of 7 matches of all-time, the reaction from the snooker community on Twitter as the final unfolded told a story.
As a matter of interest, aside from my nominations there were a number of votes for the German Masters final between Mark Williams and Mark Selby, while others mentioned include Graeme Dott's victory against Ali Carter at the Crucible, Tom Ford's 4-3 win against Martin Gould at the most recent PTC, Shaun Murphy's 6-4 win against Martin at the UK Championship and most amusingly, Ronnie O'Sullivan's 4-0 victory against Ali Kirim at PTC4.
Meanwhile, my second poll looked at the matter of who was the best player of 2011 and the results were far more emphatic as Judd Trump swept the board with 56.67% of the vote, his nearest challengers being John Higgins and Mark Selby with 12.86% and 11.9% respectively. Other nominations included Ronnie O'Sullivan, Li Yan, Michael White, Stephen Hendry, Mark Allen, Stuart Bingham Shaun Murphy, Ali Carter, Passakorn Suwannawat and Steve Davis.
There was to be a similar result in my search for the most-improved player of 2011 as Judd Trump again took more than half of the vote with a share of 51.72%, with the most-improved player of 2010 Martin Gould the only other name to make it into double figures with 15.86%.
So far there have been fewer other suggestions in this category, Tom Ford, Fergal O'Brien, Mark Williams, Steve Davis and Duane Jones the players to receive votes outside of my suggested nominees.
And that wraps up my review articles of what was 2011. Let us all hope that 2012 will be just as good, if not better.