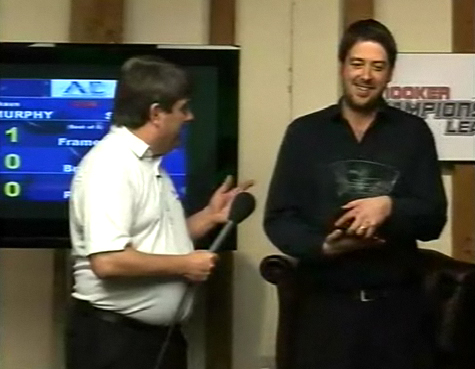 While the first snooker of 2012 will come in Munich as the PTC12 event draws to a conclusion, hot on its heels comes the return of the Matchroom Championship League, back for its fifth outing as the players bid for a place in next season's Premier League. Read on for the dates and format details…
The Event
First staged in 2008, the Championship League as staged once again at Crondon Park acts as a qualifying event for the long-standing Premier League tournament.
When?
The dates in full are as follows:
Group 1 – Monday, January 9, and Tuesday, January10
Group 2 – Wednesday, January 11 and Thursday, January 12
Group 3 – Monday, January 23 and Tuesday, January 24
Group 4 – Wednesday, January 25 and Thursday, January 26
Group 5 – Monday, February 6 and Tuesday, February 7
Group 6 – Wednesday, February 8 and Thursday, February 9
Group 7 – Monday, March 19 and Tuesday, March 20
Winners' Group – Wednesday, March 21 and Thursday, March 22
Who?
The groups are as follows:
Group One
Ali Carter
Matthew Stevens
Mark Davis
Andrew Higginson
Shaun Murphy
Mark Selby
Judd Trump
Group Two
Four players from Group One and…
Mark Williams
Neil Robertson
Stuart Bingham
Group Three
Four players from Group Two and…
Martin Gould
Jamie Cope
Stephen Hendry
Group Four
Four players from Group Three and…
Stephen Lee
Mark Allen
Peter Ebdon
Group Five
Four players from Group Four and…
Mark King
Barry Hawkins
Ricky Walden
Group Six
Four players from Group Five and…
Marcus Campbell
Dominic Dale
Joe Perry
Group Seven
Four players from Group Six and…
Ding Junhui
Marco Fu
Ryan Day
Format
As stated on the tournament's official website:
Seven groups of seven players produce seven winners who play in one further group where the eventual winner plays in the 2012 Premier League Snooker.
In each group every player will play each other once in a best of 5 frame match (21 matches) after which the top four players will contest in the play offs – semi finals and final over the best of 5 frames.
Players will be awarded 1 point for each match won, then most frames won and the least frames lost in the league series will determine their position in the league table. Dead frames will not be played in either the league or knock-out stages.
The play-off winner will progress to the final league of the Championship League Snooker while the players coming sixth and seventh in the group will be relegated and will not feature in any further group matches.
Therefore after the group has played its total 24 matches (21 League matches plus play offs semi finals and final) three players will leave and be replaced by a further three players.
Prize money – group phase
£3,000 Winner of each final. £2,000 runner-up in final. £1,000 losing semi-finalists. £100 per frame won.
Prize money – winners group.
£10,000 overall champion. £5,000 overall runner-up. £3,000 losing semi-finalists. £300 per frame won.
Total prize fund – £200,500.
How to watch
While spectators will not be able to watch the event at the venue, as in previous years the the action will be streamed online by various betting sites. In 2011 the relevant sites were as follows:
Unibet
Sportingbet
William Hill
Digibet
Stan James
Bet365
Paddy Power
Betclick
Expekt
Bet-at-home
IBC Bet
Betfair
For the first time you will also be able to watch via liveworldsnooker.tv
Note that you do NOT have to actually bet on the matches to be able to view them, you just need to register with any of the above websites.
Roll of Honour
2008 – Joe Perry
2009 – Judd Trump
2010 – Marco Fu
2011 – Matthew Stevens