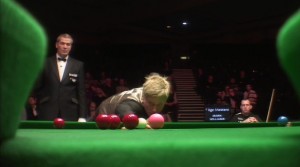 Following victories yesterday for Judd Trump and John Higgins, today saw their opponents confirmed as both Neil Robertson and Shaun Murphy progressed to the semi-finals of the 2012 Masters today. Click below for a summary…
Judd Trump and Neil Robertson will meet tomorrow for the third consecutive time at a BBC tournament after the Australian came through a hard-fought match against former champion Mark Williams this afternoon.
Having snatched a marathon opening frame with a clearance to the black, the next two frames were to be shared before Neil moved two clear at the interval with a break of 95. From there the frames were to be split, a top run of 119 enough to keep Neil in front while breaks of  68 and 78 were enough to keep Williams in the match.
Ultimately though it was not to be Mark's day and despite experiencing serious problems with his tip during the match, it was Robertson who managed to get over the line a 6-4 winner with a well constructed 57 break.
Following defeats to Judd at the Crucible and in York, Neil will be hoping that tomorrow will be third time lucky for him, but admitted post-match that much will depend on how well he can adapt to a new tip, an enforced change following the damage sustained to his previous one:
"My tip is gone and it's going to have to come straight off. It's the worst possible thing that can happen. I just tried to get through the match. It was flaring up all over the shop, I was playing shots and I could see bits over-hanging. I'm going to have to take it off tonight and play a new one in.
"Hopefully it can be ok for tomorrow, but usually it takes four or five days to get used to a new tip, and that's just on a practice table. Playing on a TV table with the cloths the way they are, it's going to be very difficult.
"All I can do is go out there and see what happens. The tip is going to play a big part in how I play tomorrow, if I'm comfortable with it I can play a lot of shots, if not I'm going to have to graft and grind!"
Tip permitting, I expect another close match between arguably the two form players of the 2011/12 season so far in London as they both bid to make it through to the final of the Masters for the first time in their careers to date. There is little left to say about Judd who during the past nine months has achieved so much since his maiden success in Beijing.
As for Neil, having already broken new ground at both the Shanghai Masters and UK Championship tournaments already this season, he is now through to the last four of this tournament for the first time at his seventh attempt. It is probably fair to say that he is currently playing better than when he won the World Championship back in 2010 and will push Judd all the way tomorrow.
Also through to the semi-finals of the Masters for the first time is Shaun Murphy who today defeated two-time Masters champion Mark Selby in a surprisingly one-sided second match at the Alexandra Palace.
Having taken the opener, Selby had chances to double his advantage early on as a tight second frame came down to the colours, only to lose position from pink to black and then hand his opponent the frame with a poor safety shot.
From there however Murphy, as during his opening match against Martin Gould, grew stronger and with breaks of 88, 65 and 52, despite a maximum attempt from Selby in frame seven, soon got over the line a 6-2 winner in the next.
A fine win for Shaun, he now moves on to face John Higgins next in a repeat of the 2009 World Championship final and while John will start as favourite, it should not be forgotten that Shaun was one of the few people last season to defeat Higgins during his incredible finish to the 2010/11 season.
Tomorrow's first semi-final between Judd and Neil will begin at 1pm GMT while the second gets underway at 7pm.
Who is your money on?