Following Peter Ebdon's victory at the 2012 China Open, there is just one tournament remaining of the 2011/12 season – the World Championship. While all eyes will be on the Crucible Theatre as the sport's latest world champion is crowned, there are also a number of important ranking issues to be decided, particularly at the qualifiers as we will learn who will remain on tour next season…
The 2011/12 end of season rankings will be used to determine the seedings for the first three full-ranking events of 2012/13, namely the Wuxi Classic, the Australian Goldfields Open and the Shanghai Masters, as well as the first two PTC events of the season and the 6-Red World Championship.
Battle for No.1
Following Judd Trump's quarter-final defeat to Stephen Lee in Bejing, this particular end of season battle is simple. Mark Selby is now assured of finishing the 2011/12 campaign as world number one, unless Judd Trump can win the World Championship, with Selby losing in the opening round.
If Selby is able to reach the last 16, he will be assured of retaining his top ranking regardless of what anyone else can do.
The Top Eight
While it is harder to be too in-depth about this bracket with the sheer amount of points available to play for in Sheffield, what can be said is that nobody currently lower than 12th placed Matthew Stevens can mathematically finish inside the top eight after the World Championship.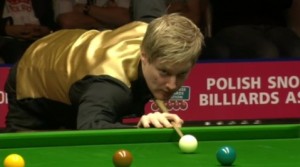 Defending Points – Neil Robertson
Stevens would need to at least win the title if he is to stand any chance, while Graeme Dott and Mark Allen would need to make the final.
Somewhat bizarrely, a run to the quarter-finals from Ding Junhui would see him finish the season level on points with current eighth placed man Neil Robertson, if the latter were to lose his opening round match for the second successive year. If that were to happen though, Neil would hang on to his place due to having gained more points during this season.
The Top 16
While everyone below Graeme Dott is not yet mathematically certain of retaining a place in the top 16 of the rankings at the end of the season, the distance between 16th placed Ronnie O'Sullivan and 17th placed Andrew Higginson means that the latter would have to reach the semi-finals in order to stand any chance of moving into the elite bracket. If O'Sullivan is able to win his first match, Andrew would then require a semi-final run to put himself into contention.
Realistically speaking, Matthew Stevens is as safe as he could possibly be, without quite being mathematically so as it would take a combination of results such as Andrew Higginson defeating Ronnie O'Sullivan in the Crucible final, with Stuart Bingham, Ricky Walden and Martin Gould also winning matches in order to put his place under threat.
Set to drop – Ali Carter
It would take a similar combination to knock out Gould, while Bingham will be safe unless for example Ronnie O'Sullivan wins his first match, with either Andrew Higginson, Mark Davis or Ali Carter reaching the final.
Chances are that unless Ali Carter can repeat his heroics of 2008 when he made it all the way to the final, there will not be any changes to this bracket from the current standings.
The Top 32
Compared to the above brackets, the race for the final places inside the top 32 is wide open, with several players capable of making the rise with a good run at the World Championship qualifiers.
To narrow it down, I will assume that everyone from 28th placed Marco Fu upwards will remain safe, so the first man under consideration will be Mark King. That said, Mark is reasonably well placed and if he can qualify for the Crucible should be more than safe, particularly as he is set to play the man closest to him on the projected list, Michael Holt. If Mark does lose that one, it would take an opening round victory for Fergal O'Brien, as well as last 16 runs by the likes of Anthony Hamilton and Ryan Day in order to usurp him.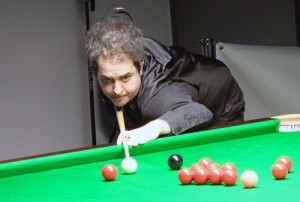 On the rise – Anthony Hamilton
As for Holt himself, he currently lies 30th on the latest projected seedings list and is looking to return to the top 32 for the first time since 2010. While he currently has a little breathing space, if he were to lose his opener in qualifying, he would miss out if Fergal O'Brien, Anthony Hamilton and Ryan Day are able to win theirs, or the likes of Jamie Jones or Ken Doherty are able to win a couple of matches.
Turning to Fergal O'Brien, he is another who will probably be safe if he can win the one match required in order to qualify for the Crucible, but if not will be very vulnerable to those behind him, while 32nd placed Anthony Hamilton will be even more so.
As for those chasers, Ryan Day, Jamie Jones and Ken Doherty are all within a single win of Hamilton, while Rory McLeod and Robert Milkins would each need to win two to reach the Crucible to stand any chance of threatening the 32.
The Top 48
As is often the case when I compile these particular blog posts, the battle for the top 48 looks to be the tightest of all with barely 2,500 points separating around a dozen players. With one win for example, Steve Davis could rise four places from outside of the top 48, to 45th, while another would see him up another couple. Indeed on paper, the three players behind him would all gain enough points from one win to leapfrog 48th placed Mike Dunn were he to slip up in his opener.
Top 48 Fight – Steve Davis
Realistically speaking, I would go as far to say that anyone down as far as Anthony McGill in 54th has a decent chance of cracking the top 48 with a good run, while at least those around Nigel Bond in 43rd will be keen to secure at least one win in order to make sure of their position.
In reality, this is just one scrap to sit back and watch unfold as the qualifiers run into the night…
The Top 64
At this particular stage of the season, the fight for the top 64 is the most intriguing of all, with tour places up for grabs, not just for those able to stay inside the top 64, but for the impact that this could have on those vying to stay on the tour via the PTC Order of Merit.
In brief
As far as the battle for the top 64 places is concerned, there is a case to argue that anyone down from around Yu Delu in 58th place, to Li Yan in 71st, has every chance of finishing inside of the bracket, for example a round one win for Li would in isolation put him up to 64th place ahead of David Gilbert, while another win would move him above Andy Hicks to 60th.
Of course in reality more will be required as numerous players are going to be winning matches, but the opportunities are there for the like of even Kurt Maflin and Sam Craigie lower down the list, who by making it to the Crucible could play themselves into contention.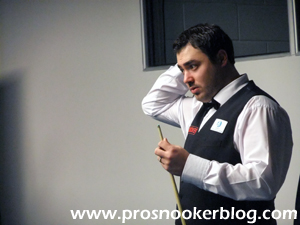 Outside chance – Kurt Maflin
For some, the battle is less important than others, as for example David Gilbert is certain to retain his main tour status for next season either by finishing inside the top 64 as he is now, or via the PTC list if he does not.
For others however, notably all of the players currently lying between 59-63, the World Championship will be crucial as they must finish inside the top 64 if they are to avoid having to come through the Q School in order to remain a professional for next season.
In detail
Let's take a look at the key area in this particular battle:
58. Yu Delu – 21115
59. Alfie Burden – 21110
60. Andy Hicks – 20665
61. Barry Pinches – 20495
62. Tony Drago – 20475
63. Liu Song – 20390
64. David Gilbert – 20020
————————————-
65. Joe Swail – 19660
66. Adrian Gunnell – 19600
67. Liam Highfield – 19570
68. Adam Duffy – 19465
69. James Wattana – 19460
70. Ian McCulloch – 19325
71. Li Yan – 19315
The players highlighted in green will be assured of their tour place regardless of whether they finish inside the top 64, those in red must finish inside the top 64 to survive. For those in orange, their fate will depend on who is able to finish inside the top 64.
What does that mean?
As is apparent, Barry Pinches, Tony Drago and Liu Song in all likelihood will at least need to win at least their openers in the World Championship qualifiers, while Alfie Burden will feel a lot better if he can come through against either Sam Baird or David Grace in his.
Needing a win – Tony Drago
Looking at those currently outside the important cut-off, Joe Swail must at least defeat Daniel Wells if he is to stand a chance of extending his long professional career by another season, while I suspect he may well have to defeat Ben Woollaston in his second match to make sure. It is a similar story for Adrian Gunnell who begins his campaign a round later than Swail, as is also the case with James Wattana.
One player in a particularly interesting position is Stoke's Liam Highfield, who like those mentioned must win at least one match, probably two if he is to regain a place inside the top 64.
For Liam however there is another possible avenue to tour survival, one entirely out of his own hands which is better explained with reference to the eight players who are currently poised to retain their tour cards due to their performances during the PTC events earlier this season:
Li Yan (4,400)
Adam Duffy (4,000)
Passakorn Suwannawat (3,700)
Simon Bedford (3,400)
Dechawat Poomjaeng (3,400)
Craig Steadman (3,400)
Kurt Maflin (3,200)
David Grace (3,000)
If Liam cannot finish inside the top 64 himself, then he might be spared if for example either Adam Duffy or Li Yan were to finish there, at the expense of a player who did not perform strongly during the PTC events.
For example if Adam Duffy were to win a couple of matches and crack the top 64 at the expense of Liu Song, there would be another space freed up for the PTC list due to Liu's poor performances in the competition, which would then go to Liam.
Funnily enough though, Adam and Li could actually be better off finishing outside of the top 64 as if he does, he will be assured of a two-year tour card, while those inside the top 64 will only be safe for one.
In the balance – Liam Highfield
On the other hand, it is also possible that it could go the other way, at the expense firstly of David Grace, currently the final player set to hang on to a tour place via the PTC list.
For David to miss out, it would take a player who has earned fewer points on the PTC Order of Merit than him, moving into the top 64 on the two-year projected seedings list, at the expense of a player higher on the PTC list than Grace.
For example, if Joe Swail (who has earned just 2,200 points on the PTC list), were to move up into the top 64 with a good run at the World Championship, and David Gilbert were to fall out of that bracket, Gilbert with 4,400 on the PTC list would survive at the expense of Grace.
Summary
As is evident, the various battles are, as ever, set to be intense throughout the rankings and will no doubt involve a late finish or two at the English Institute of Sport next week ahead of the curtain call at the Crucible Theatre later in the month.
For all of the latest news on the movers and shakers as the World Championship unfolds, keep checking back here for the latest projected seedings updates…