Well what about that for an opening day at the 2012 World Championship? John Higgins has survived a real scare from Chinese number two Liang Wenbo, but unquestionably the highlight had to be Stephen Hendry's 11th career maximum break which came during his match against Stuart Bingham this afternoon. Click below to read the first instalment of my daily blog from the Crucible Theatre in Sheffield…
Day one began with a bus ride and a train journey for me, before arriving at the Crucible shortly ahead of the morning session which saw defending champion John Higgins get his title defence underway against Liang Wenbo, while Martin Gould began his first World Championship as a top 16 player against qualifier David Gilbert.
My eighth time successive year at the Crucible, the venue never fails to amaze me (even though I was here for the Legends last week), and courtesy of World Snooker I have been allowed backstage access to the media centre as I was last year so I can bring you all the latest news from on and off the baize.
Having met up with fellow blogger Snookerbacker and dispensed with my suitcase in the Media Centre (not accepted at the cloakroom some of you might want to bear in mind!), we opted to head into the arena and I decided to take in the first session of the Higgins/Liang match, one that I expected John to come through, despite his recent form which has been far from noteworthy heading into the tournament.
Taking residence in the media seating, it is always a strange feeling as with the crowd surrounding you, it is as if everyone is looking at you, when in reality most of them probably couldn't care less! It is a great vantage point though, about as close as you could wish to be to the table and unlike on the front row of the audience seating, raised to give a better view of the table.
It is also fascinating because you notice so many silly things that would not be evident from watching on television, for example that John Higgins is wearing noticeably less squeaky shoes than a year ago, while Liang was seemingly struggling to acclimatise to the confined surroundings, walking into the dividing curtain, the other arena barrier and also referee Michaela Tabb at one point!
The first frame of the match proved to be a lengthy one, Higgins looking particularly nervy to me, his positional shots rarely coming off and the Scot looking noticeably frustrated even at that early stage. I have rarely seen Higgins shaking his head so much at a snooker table and it was noticeable that he was not as sharp as at this stage a year ago.
Typically for John however, he was to produce a trademark 'Higgins' clearance in the second to double his lead, before securing a 3-1 lead at the interval, despite Liang drawing two fouls on the colours, the second a particularly impressive shot to snooker John on the pink.
Meanwhile, over on table two, David Gilbert was in the process of racing to a 3-0 lead against Martin Gould, despite an errant break-off shot in the first frame of the match. In particular a clearance of 72 in the second frame from 65 down (I think anyway!), demonstrating his confidence at the moment, having qualified for the tournament with four wins at the EIS last week.
While Martin struggled to rein his opponent in during the remainder of the session, importantly he was able to take the last of the session to keep in touch at 6-3, though he will need to get off to a fast start tomorrow if he is to turn the match around.
Back on table one, there was a bizarre moment at one stage as the sound that you hear on your computer when you add/remove a device was randomly aired in the arena mid-frame, while Liang won three on the spin to move 4-3 ahead of an increasingly out of sorts Higgins.
Importantly however, when in the balls during frame eight, Liang failed to develop the reds as he had intended and having gone in-off from his next shot, could do nothing as Higgins produced an exceptional clearance to level at 4-4, before adding the last of the session to come out with a 5-4 lead.
Following the morning action we headed out for a walk around the venue, checking out the BBC studio in situ at the Winter Gardens for a third successive year, while noting the absence of Street Snooker in 2012, which had helped contribute to the carnival atmosphere of a year ago.
Heading back in I elected sit in on the opening session of the match between Stuart Bingham and Stephen Hendry, which would prove to be an inspired decision in spite of a protracted opening frame, eventually won by the Scot after a failed attempt to play for snookers by Bingham.
There was however early drama on table two as Ken Doherty embarked upon a maximum attempt, which would end with a missed red on 104, though it was Robertson who from there would take command of the session, finishing with three consecutive century breaks for a 7-2 overnight lead.
The story of the day however would come in the match between Stephen Hendry and Stuart Bingham, as following the slow start, Hendry began to move through the gears, a century break of exactly 100 followed by a break of 89 for 3-0.
Though Bingham was able to get his side of the scoreboard up and running ahead of the mid-session interval, Hendry had a certain swagger about him on their resumption and soon added the next three with further breaks of 78 and 61.
The best however was still to come in frame seven however as Hendry set off in pursuit of his 11th maximum break, what would be his third at the Crucible. Following the split on the reds early in the break, the balls were generally well placed and with a couple of reds remaining, play stopped on the other table as Hendry closed in on yet another Crucible landmark.
At this stage everyone in the crowd knew what was at stake, I could see Eirian Williams (who was refereeing on the other side of the curtain), looking at my face to gauge to how the balls were, while Brendan Moore was peeking through the side curtain as the final balls were potted. There was also a nice moment as Hendry potted the yellow and referee Zhu Ying walked towards me and raised her eyebrows at marker Olivier Marteel, an expression that perfectly summed up what was happening!
With the colours on their spots, Hendry was to make no mistake, celebrating the final black with a clenched fist, demonstrating just what the maximum break meant to him. You can read the various stats relating to the break here on my separate article.
On a personal level, the max was the second that I have ever seen live at an event, the first being Mark Williams' 147 against Robert Milkins back in 2005, but this one was something else given how close to the action I was. In addition, Hendry has always been a favourite of mine so to see him achieve snooker perfection from the best possible vantage point as I did today, has to be my favourite moment of watching snooker to date.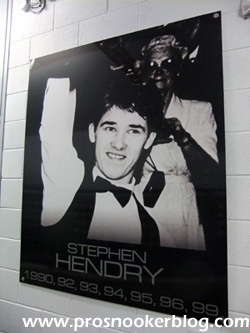 Even just watching, I could feel my heart pounding for the next two frames so it said a lot for Stephen's performance that he was able to remain composed enough to win the final two frames of the session to secure a surely unassailable 8-1 lead overnight. It was the most dominant session of snooker that Hendry has produced in Sheffield in many a year and while Bingham was not at his best, it was hard for him as the session unfolded, as a confident Hendry froze him out of the action.
As the crowd and spectators around the venue took in the news, the evening session was soon to get underway and it was Cao Yupeng who made a fast start, winning the first three frames against the much fancied Mark Allen to gain the upper hand. To his credit, Allen did what he had to do, limiting the damage to trail just 5-4 overnight and keep himself very much in contention.
There was a real story developing on table one however as John Higgins dropped three of the first four frames of the session to trail Liang Wenbo 7-6, before the Chinese number two added the next to open up a two frame lead.
A key turning point however was to come in frame 16 as having seen his opponent miss on the yellow, Liang himself soon missed it from its spot, playing the shot at pace to come round for the green. As to be expected, Higgins punished him by clearing for 8-8, before adding the next two to stand just one frame from a place in the second round.
Liang to his credit won the next to force what would be a dramatic decider, the Scot having the first chance following a moment of great sportsmanship from Liang as he owned up to a foul, before Higgins missed a red to the right-centre when leading by 44 points. Liang, brave as ever, then produced an outrageous plant to the left-centre, but could not clinch it in one visit and eventually it was to be John who would prevail.
Shortly after his win, John told the assembled press:
"I'm just drained really. When I went 8-6 behind I was trying not to give in, but I was thinking that I had nothing left and Liang was playing great. I thought that the writing was on the wall and that he was closing me out. I don't know how I have won it really, I probably didn't deserve to win it, I didn't play anywhere near well enough to merit winning that game, I can't believe I have won."
"The red I missed, the white was covered and I'd had a couple of kicks previous to that, I was thinking of getting the white cleaned, but I thought just stay in the rhythm and get it over as quickly as possible and it took a little kick into the middle of the bag and I fancied Liang to clear up…but luckily for me he didn't."
"I don't know how many times I have come here and had a scrappy game first session, I was lucky to be 5-4. But I felt good tonight, won a good frame for 6-4 and felt really good, but then the wheels came off and when Liang went in front I just didn't really have anything left. I have been struggling really badly this year and I didn't think there was anything there that I could trouble him with, but I made a good break from his break-off for 8-7 which was important."
"I'm just delighted to win and it looks as if I could be playing Stephen Hendry which would be great because I've never played him here. I had a feeling I was going to draw him in the first round but he drew Stuart. I watched him today and he looked as if he was back to his best, legends can do that. When he turns it on, he has got a chance of winning this event, definitely."
As he indicates, during his press conference John was visibly shattered. As he acknowledged however, so long as his name remains in the draw, he can win the tournament and with no match until Friday now, has time to work on his game between now and that possible meeting with Stephen Hendry.
Incredibly Stephen and John have never met here at the Crucible, though they have had a couple of near-misses in the past, 1999 and 2008 springing to mind when they were a match away only for one to fail to make it through.
All in all then, a spectacular opening day, perhaps the best at the Crucible in the many years that it has staged the tournament?
Tomorrow it all begins again with the finish to the match between Martin Gould and David Gilbert, where Martin will be hoping to win at least three of the first opening frames to bring himself back into contention. Over on table one though, Stephen Maguire will begin his quest for that elusive world crown with an intriguing tie against young Belgian sensation Luca Brecel. Having seen Luca perform so strongly to qualify last week, it will be fascinating for me to see how he handles the Crucible stage.
Until tomorrow…