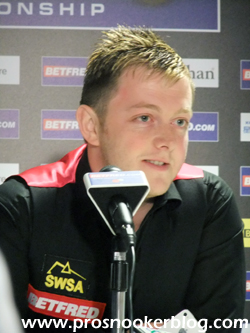 Day two from Sheffield and already it has been a great one for David Gilbert who survived a real scare from Martin Gould win his first match at the venue. Click below for my updates as the day unfolds…
Arriving at the Crucible shortly after 9am, I headed into the media room to finish up my blog piece from last night, before going back into the arena to watch the second session of the match between Martin Gould and David Gilbert.
Trailing 6-3 overnight, the first frame of the session was always going to be a significant one and eventually it was David who was able to take it, potting blue to black to open up a four frame advantage. As David would later admit after the match, he has not always had the best attitude in the game and for this reason I felt that it was important for him to maintain his advantage and as the first four frames were shared ahead of the interval, this is exactly what happened.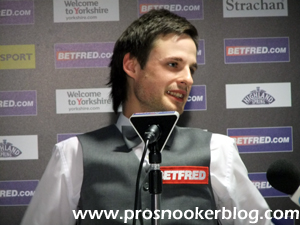 Having seen his opponent move one away from victory at 9-5 however, Martin Gould was to show that he was far from out of the match yet, a total clearance of 136 followed by a break of 109 reducing the gap to just three frames. As he added the next to close to 8-9, I headed back into the arena for the closing exchanges, as the curtain was raised following the conclusion of play on table one.
Though he had a couple of chances and fought hard for snookers, Martin's Crucible dream was soon to be over for another year and Gilbert held his nerve with a solid half-century under the circumstances to book his place in the last 16 of the World Championship for the first time.
David told us shortly after his match:
"It was a massive result. At 9-5 up obviously I just wanted the match over as quick as possible and Martin just started to play brilliantly. At 9-8 I think he was favourite the way he was playing but I made a good 50 in the last."
" I just want to apologise to Martin for giving it the big fist-pump when I fluked the last red, but it was just a massive relief and a massive game for me."
"I felt fine yesterday, I had no great expectations, I knew if I could play alright I could compete. I started well and just carried it on. It was a bit of a struggle today but that is to be expected, not being used to playing here and all that, but I got over the line."
"I think I've got a chance against anybody, I think I can beat anybody but I know I can lose to anyone as well, whether its the first round of the qualifiers or anywhere else. I fancied if I could play well that I would stand a chance."
"After Q School last year it might never have been so it has been a massive turnaround for me, I'm delighted."
"It doesn't matter who I play [next], I know I'm a massive underdog whoever I play against. It will be great to play in the three sessions, [I will] just try my best, that's all I can do. If Robertson isn't the best player at the minute he's certainly one of them."
A far more talented player than his ranking would suggest, it has been a long time coming for David but as those who have seen him first-hand will testify, it is no surprise to see him deliver on his potential this week. With a possible tie against Neil Robertson to come, he will have his work cut out in the next round, but it will be fascinating to see.
A rainy Crucible this Sunday
Meanwhile on table one, 17-year-old Luca Brecel enjoyed what must have been an incredible moment for him as he walked out into the Crucible arena for the first time as his match against Scotland's Stephen Maguire got underway.
The early stages however would prove tough for the youngster as Maguire raced into a 4-0 lead, taking the second frame on the black while also adding the fourth on the colours after Luca inadvertently potted the blue while attempting to pot the yellow, leaving a free ball.
After the interval though Luca began to show the world what he can do, a break of 116 ensuring that he would become the 28th player to have made a century break on their Crucible debut, as he finished the session 6-3 down. While few will fancy Brecel to turn the scoreline around, he has at the very least kept himself in contention going into tomorrow.
Away from the table, I headed out during the session to take a few photos around the venue and was surprised to see a sign advertising the fact that the tickets for next year's tournament will be on sale from the 14th July 2012, remarkably early compared to previous seasons and a day for everyone to put in their diaries.
I also managed to bump into Paul Mount who took the opportunity to show me Jimmy White's new iphone app, assuring me that aside from him and Jimmy himself, I was the first person to see it. Paul demonstrated the app which contained several high definition videos of Jimmy demonstrating various practice routines, as well as an extensive interview with the Whirlwind, leading referee Michaela Tabb posing the questions. I'm told that the app is currently with Apple and will be released during the next couple of weeks, so keep an eye out for that one.
Afternoon Session
The start to the 2012 World Championship continues to be dramatic following a 10-6 win for Chinese talent Cao Yupeng.Resuming 5-4 ahead, Cao made a terrific start by taking the first two frames to lead 7-4, before extending his lead after the interval to 9-6.
Following a nervy 16th frame it appeared as though Mark had done enough to reduce the gap to 9-7 as he potted the final black, only for the cue ball to go in-off into the yellow pocket, handed Cao the match.
Following the match, Mark told the assembled press:
"That was probably the worst run of the ball you will ever see in two sessions of snooker, Terry [Griffiths] kept saying to me it'll turn, but it just didn't turn and the white was nowhere near the pocket until it took a big bounce and rolled off, I think that summed up the way the match went, I just didn't perform."
"I was more impressed with him [Cao] in the first session, the way he started the match considering he was bound to be nervous, first time at the Crucible. I maybe underestimated him a little bit early on and he put me 3-0 behind, which turned out to be a turning point because to give someone who is obviously a good enough player like him a three frame start is not good enough for me."
"It's very disappointing. It turns a pretty decent season into a mediocre one, losing first round here sets you back quite a bit. I didn't see that performance coming because I'm hitting the ball quite well. I never got anything going out there at all, I never got any rhythm going and that's all credit to the way Cao started the match because he put me under pressure from ball one, I didn't really expect that. Maybe I still have a bit of maturing to do to appreciate that these players coming through are maybe a little better than I think."
"If ever there was a ranking position that was false then it was that one [81] because he played like a seasoned professional there and he made a few good breaks towards the end of the match. There are a lot of people coming here for the first time who crumble and he is definitely not one of them. If he keeps going on that track then he has got a very, very bright future."
"He kept pushing the boat out and going for long shots and kept leaving nothing. The amount of times he went for balls at 100 miles an hour and got away with it, can be a bit frustrating."
There were further comments of course that have been widely publicised, which can be read over at Sporting Life here.
UK readers can view the press conference here.
Elsewhere, Shaun Murphy and Jamie Jones played an entertaining session of snooker as the 2005 world champion finished up with a 5-4 lead overnight. To his credit, Jamie (sporting the quiff to end all quiffs), acquitted himself well on his Crucible début and remains well in contention heading into the second session.
Evening Session
Following the controversy of Mark Allen's comments, attention turned to the evening session which saw Neil Robertson and Stephen Hendry resume their matches, both holding commanding leads following their respective opening sessions.
Having watched the memorable opening session between Hendry and Bingham yesterday, today I opted to see how Neil Robertson's game was shaping up against Ken Doherty, the 1997 champion with a mountain to climb from 7-2 down.
To his credit, Ken played very well tonight, indeed against many other players he could probably have been right in the match, but Neil Robertson is very much one of the men in form at present and wasted little time in taking a 10-4 victory with a top break of 72 tonight.
Neil told the press after the match:
"I thought Ken made a great match of it, 10-4 was pretty flattering. I was probably a little nervy in the first session yesterday but I settled quite well and the three centuries in a row established a pretty dominant lead. You have probably got to do a fair bit wrong to lose from there. Ken came out tonight and played really well so yeah, great to get through, he was one of the toughest players that I could have played."
"I was 4-2 up and could probably have been 4-2 down so it was nice to find some good rhythm at the right time. It was a disappointment last year losing in the first round, but it is nice to get through the second round and chill out for a few days."
"After the Masters my season has been pretty good, I've got to a final, made a couple of quarters. I have led into this tournament pretty well and feel great about my game as well."
On his last 16 opponent David Gilbert, Neil commented:
"I know he likes playing a lot of Call of Duty! One of my mates Matt Selt knows him quite well, I think he's one of those players who I think he admitted it earlier on today, hasn't practised as hard as what he should have done throughout his career and this year was probably his last go at being a professional and it is good to see him get on a good run and get through. I think that he held his nerve really well in that frame to get through 10-8 against Martin Gould. He's quite an attacking player so it will be quite a good game, I like playing those sorts of players."
"A similar thing with Martin Gould two years ago, when he went 11-5 up against me two years ago. It was like he was playing one of his mates at the club and I've got to be ready for that and be aware that that can happen. So long as I prepare as well as I can, I can go and play and see what happens."
"Any of the players who win one of the major tournaments coming in are going to be considered one of the favourites and maybe with Mark Williams and John Higgins not playing particularly well at this stage, that has helped my chances with the bookmakers point of view."
"It's nice playing this year without being the defending champion, I think I didn't handle that as well as I would have liked. It was nice to come in slightly under the radar, a few of the other players creating all of the headlines before the tournament."
"It was because of that stupid curse that everyone mentioned throughout the whole season that no first time player has ever defended it!"
"I think that was probably it and first time winners that lose the first round the following year as well was something that I didn't shake off my mind as well as I would have liked."
"I came up against an incredible player in Judd as well so everything was all wrong. This year has been completely different, I'm playing much better, I played much better leading into this tournament than I did last year. Last season I won the World Open at the start of the season, but my form throughout the rest of the season wasn't that great leading into the World Championship but this year has been the complete opposite really."
Within minutes, Neil was joined in the second round by seven-times world champion Stephen Hendry, who dropped the opening three frames of tonight's session before snatching an important 13th frame on the colours to halt the Bingham comeback in its tracks.
Stephen told the press:
"8-1 is a tough lead, obviously everybody wants to be 8-1 up but it's hard to get yourself up and have the same intensity as you had at the start of the match. I was pretty flat tonight and I think it showed by some of the balls that I was missing by sometimes embarrassing amounts, but I finished it off well. The frame before the interval was important and then I made a nice break in the last frame."
"After the first frame yesterday which was terrible from both of us, I played really well, obviously topped off by a maximum which I was delighted about."
"I didn't feel like missing at any stage, it's a great feeling, it doesn't come around too often for me these days!"
"[On a meeting with John Higgins in the second round] We've never played each other at the Crucible which is a phenomenal stat, I can't wait and I am really looking forward to it."
Asked on what he would read into John's performance in the first round, Stephen added:
"None whatsoever, many times when I was winning the World Championship the first rounds were 10-8, 10-9 and you come through. I think even last year he won the World Championship not at his best at any stage but he just refuses to go down. His B-game is probably better than 80% of people out there's A-game. He always refuses to get beaten, he is a phenomenal competitor."
"I suppose you have not got much to lose [as a qualifier], it's a different feeling, most of the pressure is on the other guy but I have had such success here that I still expect a lot of myself. It was very important that I qualified, obviously I didn't want to not even be here."
On his mid-week trip to China following his qualifying win against Yu Delu:
"I am used to going to China, I go to China maybe 10-15 times a year so it is not unusual for me to do it. It was obviously a strange time this week but it was just something that it was very important that I went at that time so I just did it."
"I was in north-east China this time playing pool, good practice for the World Championship playing pool all week! After the qualifier I didn't play one frame of snooker all week until I got back here."
Back again tomorrow for day three – what will happen next?