Day four from the Crucible sees the return of last season's beaten finalist Judd Trump, though with stories circulating that he is currently suffering the effects of food poisoning, it will be interesting to see just how he gets on against Dominic Dale…
Following a typical late night at the Graduate with fellow bloggers yesterday, I arrived at the Crucible at 9:30am ahead of a morning session which saw the start of two more opening round matches involving Judd Trump and Ding Junhui.
Having defeated Dominic at the same stage of the UK Championship earlier this season, many were tipping another comfortable win for Judd ahead of today, but shortly before the match, rumours began to circulate that Judd was suffering from the effects of food poisoning, something seemingly confirmed by various people on Twitter.
As he entered the arena, Judd certainly looked to be under the weather and this showed during the early stages of his performance as he fell 3-1 behind at the interval. Looking like he was almost about to pass out as he sat in his chair during the second frame in particular, to me it looked as though he would do well to limit the damage today and hope that he is feeling better in time for tomorrow's second session.
However, Judd began to look better after the break and eventually drew level at 4-4, before taking the last of the session to secure an overnight lead that had looked far from likely a couple of hours previously.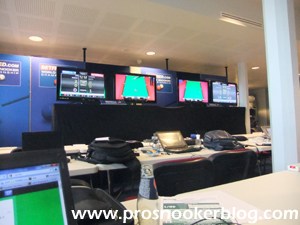 Meanwhile over on table two, eyebrows were also raised as Ding Junhui fell 5-4 behind against former quarter-finalist Ryan Day, a surprise given the recent form of the Welshman which has been far from impressive. Having taken the last frame of the session, Ding will still be favourite to progress when they resume tomorrow morning, but I thought that about Mark Allen following his opening session against Cao Yupeng also. Interesting.
Amidst following the action on the table this afternoon, myself and fellow blogger Snookerbacker had the pleasure of spending a lot of time talking with former BBC commentator Clive Everton who is with us in the media room. Always an interesting person to talk about concerning snooker both past and present, it was nice to know that he had heard of PSB and amazingly, heard good things about it.
Following a break of around an hour or so before the afternoon session, Ronnie O'Sullivan resumed with a 7-2 lead against old rival Peter Ebdon and was able to come through a 10-4 winner today as the frames were shared between the two.
Ronnie told the press shortly after his match:
"All credit to Peter, he's a top player and the winner of our last tournament in China where he beat some unbelievable players. I don't think that anybody has had a harder draw than Peter had in China. To draw Peter first round was not the easiest of draws and I knew it was going to be tough."
"You just have to be solid, I tried to take my chances. If I missed a few balls, I didn't get down on myself, so just hoping that the next time I was at the table I could do something and get some points on the board."
"It's each match at a time really, there is no point in getting carried away. I've had a decent season so it would be nice to win a few matches here."
"I enjoyed playing it, my attitude was good, it has been good all season. Even though I have not been playing great, I have not been beating myself up about not playing great which is what I always do. I have worked on that side for the last year or so. I am definitely much better mentally, my game is still not brilliant but at least my mind is allowing me to give 100% and get what I can out of the match so I am pleased with that side of it."
When asked about his new haircut, Ronnie explained:
"I just watched it last night and thought 'Jesus what is going on with that' and decided to do something about it!"
Shortly after Ronnie's interview, Peter Ebdon came in and explained:
"I had plenty of chances yesterday and it just didn't happen for me. I seemed to be coming awkward on balls all the time, I was hampered or came straight on the balls. I think there were at least five, six, seven occasions yesterday when I was in amongst the balls, went into the balls and ended up on nothing."
"Ultimately it is very disappointing because I don't think that Ronnie has had to play that well to beat me. I think certainly he is going to have to improve a lot in his next match and it's obviously not a very nice way for me to end the season because I felt great. My preparation has gone really well, I am timing the ball well and I just had a horrible day yesterday when anything and everything that could have gone wrong for me, did. I really feel that if I could have won this match, I could have gone a long way in this tournament."
"Obviously I am boosted by the fact that I won in China and I played well out there. As I said a few days ago, I think whoever is giving me my draws is off my Christmas card list for sure."
"It's just one of those things, bitterly disappointed, very, very disappointed."
"You can't write than man off [O'Sullivan], he's an absolute genius. He is one of the greatest players of all time. As we saw in that match, even though he didn't play particularly well, there were four or five occasions of just sheer brilliance and inspiration. He is just fantastic to watch and a great player. A really tough draw for me."
Following this, Peter became very distressed and upset, referring to the death of his father last year and speaking about his diet amongst other things. It was a very uncomfortable five minutes or so and one wishes him well for the future, hopefully he can receive the support that he needs going forward from here, both on and off the table.
Meanwhile, Joe Perry was in the process of building up an 8-1 lead at the end of his first session against Graeme Dott, another quite incredible score from is increasingly becoming a tournament for the qualifiers in comparison with previous years. Indeed Graeme was only able to avoid the dreaded whitewash by taking the final frame of the session, leaving him facing a tall order tomorrow.
It looked to be a real struggle for Graeme out there, summed up by a pot success percentage of 69% at the mid-session interval.
With so many of the qualifiers doing well this week, I wonder how much this owes to the fact that they come into the tournament just a week after qualifying for the tournament, as opposed to the usual 6-8 weeks. Certainly they have the momentum with them in comparison to the seeded players and it will be interesting to see just how far they can go in the event.
With an hour between the afternoon and evening sessions I decided to venture out for food, making the mistake of hitting the local KFC where not only was the card machine out of order, but the food was not of the best standard either.
Undeterred, I returned to the Crucible for the evening session as Stephen Lee and Andrew Higginson got their matches underway, while world number one Mark Selby gets his campaign underway against Barry Hawkins.
Shortly afterwards however, news came through of a statement from Mark Allen, apologising for his comments made during Sunday's press conference following his defeat to qualifier Cao Yupeng. Click here to read that statement.
On the baize however, at the time of writing Andrew Higginson holds a surprise 8-6 lead against Stephen Lee, shrugging off the disappointment of dropping the final frame last night to leave himself leading just two more for a maiden Crucible win. Given his excellent form so far in 2012, many had previously backed Lee to make a tilt for the title at this tournament but so far he has failed to fire.
Mark Selby is also underway, bad neck and all, against Barry Hawkins, the world number one currently trailing 3-2 after the mid-session interval. Given Barry's ability and experience, I can see that going very close.
With the qualifiers making such an impression this week, it is interesting to consider that the record number of seeds to have fallen at the first stage of the Crucible is eight, which last occurred back in 1992. Will that be beaten in 2012?
A hilarious moment in the pressroom this evening as Chelsea defeat Barcelona to reach the final of the Champions League, Chelsea fan Neil Robertson runs into the media room, clenched both fists and screams "get in you beauties!" at the top of his voice. To say he was giddy is something of an understatement!
Also with every right to be giddy tonight is Andrew Higginson, who has become the last qualifier to move into the last 16 at the expense of the much-fancied Stephen Lee this evening. Andrew told the press:
"I'm over the moon to get through. Stephen has probably been the most consistent player over the past three or four months, he has been the best player in the world in my eyes and to get one over on him is an achievement in itself. I am thrilled."
"I had a little bit of a blip around the UK Championship, the Welsh Open and China, but that is understandable, the standard of the game now. But when you win an event [PTC5], beating John Higgins in the final, it was a massive thing for me and I took a lot from that."
"You can look ahead in the draw, but Jamie Jones wasn't gifted the match, he won the match. Everybody expected Murphy to get through and all of the seeds but as I just said, the standard of the game is very, very high. Jamie deserves to be where he is because of the way he played, he played very well, he is coming at the rankings so he deserves it."
"We have played a few times, I played him in Galway, it was a really good game. I know I am in for a tough match, but he will be as well."
"It's fantastic, just to play here, you see some of the pros who have been playing here 15 or 20 years, Hendry is 26 years or something. Just to play here is an achievement, it is only my second time here and when you walk through the curtain it is fantastic, so to actually win and to look up and see your friends and your family who have come up to support you, it just makes it that little bit more special."
"In my eyes, I should have been here a lot more but the thing is the standard of the game, I've not really played badly, but players have played very well and deserved to beat me."