Three days on from the shock announcement from Stephen Hendry that he is to hang up his cue in professional competition with immediate effect, here are my reflections on the seven-times world champion and of the impact that he had on the sport for me as a fan…
Writing this blog for coming up to four years now, I have always believed it important to be as impartial as possible, not only because you never know who might be reading it, but also for the integrity of the site. It is particularly frustrating to turn on the television on for a football match for example, and find that one of the commentators is a former player of one of the teams and so obviously wants that team to win!
I have always wanted fans of all players, of all styles and of all eras to be able to visit the site and keep up to speed with all of the latest snooker news, results and everything else, without a particularly feeling of bias towards any player and have tried to do this as best as I can.
Like anyone however, I am only human and as such I have my favourite players, in all sports, and snooker is no different.
For me, my favourite snooker player was Stephen Hendry. Growing up in the 1990's, he was the player who dominated the sport, who never seemed to miss, who had an aura around the table and who established himself as for me, the sport's greatest ever player.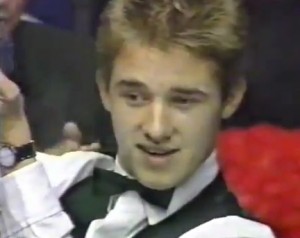 Two things in particular struck me, the first was his bravery. Who can remember that do or die brown against Jimmy White back in the 1992 Crucible final when trailing 14-9 in the last frame of the session? Or that blue with the rest against Steve Davis, in the UK final a couple of years earlier? The sheer courage and clarity of thinking when under the most extreme pressure was something that cannot ever be taught.
The second was his almost single-minded pursuit of perfection. I remember the likes of Jimmy White, Ronnie O'Sullivan and Mark Williams who would make 70 and then try to entertain the crowd with exhibition shots once the frame was won, but Hendry was different in that he always wanted to clear the table and to make the century break. While the others were more fun to watch and more popular with the spectators, there was something about Hendry's approach that I identified with.
Even during his final matches this week against Stuart Bingham and John Higgins, he was bitterly disappointed whenever he missed out on a century break and that is something that I love to see.
Since his announcement on Tuesday evening that he is to retire from tournament snooker with immediate effect, you will have no doubt read plenty of articles detailing his various statistics, the career prize money, the century breaks, the 36 ranking event titles and so on. And rightly so for his list of achievements is one unlikely ever to be matched by another player given the standard in the game right now.

For me however, as someone who started attending snooker events relatively recently in 2005, my most personal memories are perhaps not of his greatest victories, but instead of his recent struggles to stay in the top 16 and to win matches at the Crucible as the end of his career approached.
The most obvious is perhaps his agonising defeat to Nigel Bond at the 2006 World Championship as he lost out on a re-spotted black in the decider, the only Crucible match ever to have been decided in this manner.
Two years later however, there was to be something of a role reversal as drawn against the dangerous Mark Allen in the opening round of the World Championship, having already lost to him earlier in the season at the UK Championship in Telford. Trailing 6-3 after the opening session, this looked like becoming 7-3 as he needed two snookers on what I think was the blue, Hendry, not the first player you would back when in need of snookers, managed to get both and in the process, turn the match on his head, eventually winning 10-9.
This would be followed with a win against China's Ding Junhui, in the process ending Ding's hopes of superseding him as the game's youngest ever world champion, before then defeating Ryan Day to reach the one-table set-up for what would be the final time. Once there however, he found himself on the wrong end of a 17-6 hiding at the hands of eventual champion Ronnie O'Sullivan, despite actually starting the match well with an opening frame break of 140.
His best form however would probably come the year after as having edged through against Mark Williams in the opening round, he then produced what was for me probably his best performance at the Crucible in six or seven years to defeat Ding again in the second round. For that match Hendry once more looked like his old self, over a long distance against a top class opponent himself playing at a high level and reminding us all of the player that he once was on a consistent basis.
Perhaps inspired by the form that he had demonstrated, he continued in a similar vein during his quarter-final clash with Shaun Murphy, peaking when he produced what commentator Clive Everton would describe a 'marvellous moment', a brilliant maximum break towards the end of the opening session, his second at the Crucible and first in all competitions since 2001.
From there however, he struggled throughout the second session later in day, recording just one break over 50 as his opponent took control of the match, eventually winning it 13-11.
Despite that run, Hendry's gradual decline continued as he dropped out of the top eight for the first time since 1987/88. While Hendry had not won a title since 2005, up until this time he had continued to reach the business end of tournaments and remain at least to some degree, a contender, which as he has explained himself was crucial to his enjoyment in the sport.
Following that season however, Hendry was not to reach another full-ranking event semi-final, often having to settle for last 16 exits against the top eight players that he was now seeded to meet at that stage having fallen out of the very top tier. Dramatic, final frame victories came at the Crucible in 2010 and 2011 against Zhang Anda and Joe Perry respectively, but the heavy defeats that followed to Mark Selby in the following round each year can only have cemented his belief further that his best days were behind him.
With his top 16 place hinging on the result of Stuart Bingham in the last 16 against Ding Junhui in 2011, Hendry publicly contemplated retirement for the first time, but as it happened, Stuart would eventually lose that match in a decider, prompting the decision from Hendry to carry on for another year.
Fortunes were not to turn for Stephen however as a combination of his own inconsistency, the introduction of a rolling rankings system and the new PTC events, all contributed to his eventual fall out of the top 16 at the first seedings revision of the 2011/12 season.
Perhaps surprisingly, since his return to the qualifiers, both Stephen's form and attitude had actually noticeably improved. Indeed he lost just one qualifier and only narrowly missed out on a place in the PTC Grand Finals having enjoyed a stronger season in those particular competitions. To those of us on the outside, he had looked more relaxed than he had done in previous years and though his best days had gone, that perhaps he had come to terms with that and was prepared to just go out there and enjoy his snooker.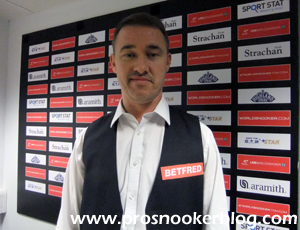 But that is not Stephen Hendry. As is now clear, while on a personal level I had seen all of the signs, I had interpreted them all in completely the wrong way. He had not relaxed because he had accepted his new status in the game as one of the supporting cast, he had relaxed because he had already decided that it was time to move on.
Hendry could have continued and remained inside the top 32 for a number of years yet, but while his game was still good enough to beat all but the very best, this was not enough for a man as driven and as addicted to winning as him.
Down the years people have often said to me that he should retire because of his results, but I have always replied that any decision has to be up to him and that he should not retire because people think that he should. For all of the heavy defeats, there have been moments such as the maximums, the deciding frame victories at the Crucible and more which he and his supporters have savoured.
Similarly, now that he has retired, now some have argued that he should carry on, but sitting in his press conference the other day it was striking just how relaxed, how relieved he looked. This was not a man who had any doubt in his mind, it was one completely at ease with the decision that he had taken and with the same clarity in his mind when he was at the table, potting that brown against Jimmy White.
So on a personal level, as a fan, both of Stephen and of snooker as a whole, I am feel honoured to have seen the victories that I have and last week in particular, that I was there with the best seat in the house for the 147 against Bingham, that I was there at the press conference when he announced his retirement and that I was there for the guard of honour that he was given by the Crucible crowd on Wednesday. Who else can say that?
As Stephen told the BBC on Tuesday evening:
"I was in the sport to win, not to just be one of the others. I wanted to be the best and for a little while I was."
Thanks for the memories Stephen!
For a great insight into the formative years of Stephen Hendry, please click here to watch the video 'Doing the Business' on YouTube.
The Stats (via World Snooker):
Born: January 13, 1969
Lives: Auchterarder, Perthshire
Turned Pro: 1985
Ranking Tournament Victories: 36 – Grand Prix 1987, 1990, 1991, 1995; British Open 1988, 1991, 1999, 2003; Asian Open 1989, 1990; Dubai Duty Free Classic 1989, 1990, 1993; UK Championship 1989, 1990, 1994, 1995, 1996; World Championship 1990, 1992, 1993, 1994, 1995, 1996, 1999; Welsh Open 1992, 1997, 2003; International 1993; Scottish Open 1997, 1999; European Open 1993 (Dec), 1994, 2001; Thailand Masters 1998; Malta Cup 2005
World titles: 1990 (youngest ever World Champion), 1992, 1993, 1994, 1995, 1996, 1999
Century breaks: 775
Maximums 147 breaks: 11
Prize money: £8.97million
Crucible record:
Appearances: 27
Matches: 90
Wins: 70
Centuries: 127
Maximums: 3
Prize money: £2.3million