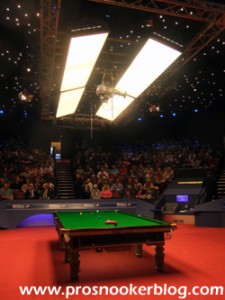 Day fifteen at the Crucible and already there has been a dramatic morning session as Matthew Stevens attempted to come back from 11-5 down against Ronnie O'Sullivan to make a match of it. Click below to see how he got on?
With the final trip to Sheffield awaiting me this morning (I am staying over now until the conclusion of the final), the plan had been to make an early start and head over for the start of the morning session, but as is often the case with me, sleep got the better of me and I decided to watch the action from home for a couple of hours.
Resuming 11-5 down following an outrageous six-frame streak from tournament favourite O'Sullivan yesterday afternoon, thoughts were turning to whether Stevens would be able to avoid losing with a session to spare, needing three of the eight frames in order to force an evening session.
To his credit, Matthew began well, taking the opening with a couple of good breaks, albeit the second started with a fluke following a misjudged safety shot from a very difficult position. It was first chance to the Welshman in the second also, but having got the balls opened nicely, he finished hampered on a red on 44 and while potting it, fouled the red with his cue. Fortunately for him, O'Sullivan failed with a long attempt and Stevens got back in to make it 11-7.
O'Sullivan earned the first chance of the day's third frame and following an early break of 50 took full advantage, before Stevens then took the last before the interval to make sure that there will be a session this evening, closing to 12-8.
At this stage I decided to jump in the car and head to Sheffield, finding on my return that O'Sullivan had turned the tables after the break, taking three of the four frames to restore his six-frame cushion at 15-9. By all accounts, the last couple of frames were full of drama, Stevens missing the pink off the penultimate red when in with a chance to clear for 13-10, while he also had a chance in the final frame before missing a straight-forward brown.
As a result, Matthew will return this evening needing to win the session 8-1, just as Ken Doherty did against Paul Hunter all those years ago.
Meanwhile, on Twitter I have raised the question as to how people would rate the tournament as a whole, with just two and a half days remaining. From a stories point of view I think that it has been brilliant, with the opening day 147 and subsequent retirement of Stephen Hendry, as well as the Mark Allen controversy, the Ding Junhui comments and also the number of upsets during the first week. The emergence of Jamie Jones in particular has been one of the real positives to come from the event.
On the table though, while the early upsets made for a great first week, as can often be the case, it can lead to a more one-sided second week and it is probably fair to say that there have not been too many classics, the Carter/Trump second round match excepted.
Still, there is time for that to change, as Stephen Maguire resumes 14-10 down to Ali Carter in the second semi-final, his hopes just about alive following a three-frame streak at the end of yesterday's evening session. Can the Scot complete the comeback or will the impressive Carter get the job done to reach a second world final?
A moment of real drama there in the opening frame of the day as trailing by 19 points, Maguire played a terrific snooker to leave Carter snookered on the final red, tight behind the yellow. Immediately it was evident that a number of points would be given away from this position and Ali duly missed with his first five attempts, rarely coming close.
On the sixth attempt however, Ali was to come so close to making contact with the red that referee Leo Scullion elected not to call a miss, meaning that Stephen was not able to have the balls replaced for a seventh time. This proved to be a crucial moment as Maguire failed with an attempted double to right-centre, before Ali produced a stunning pot on the red up into the yellow pocket, paving the way for a clearance.
With the match slipping away from him, Maguire produced a couple of impressive long pots in the next frame, only to see his hopes ended as Carter mishit a long red, only to fluke it in-off another on his way to a 16-10 lead.
As he did throughout the latter half of the match, Maguire dug in to take the next two frames and take the match to a final mid-session interval, before Ali wrapped up a 17-12 win in the next to book his place in a second World Championship final.
Following the match, Stephen Maguire was first through to the press to give his verdict on how the match went:
"Looking back on it I played ok to get to the semis but if you really look I was being given a lot of chances which I never got in the semi-final. So I wouldn't say I played great snooker to get to the semis, I just didn't perform there."
"There's always hope, he still needs three frames, I thought if I get the first two then I fancied the job to be honest, 14-12, pulling back from 14-7, but it was a long frame to go 15-10 and I just couldn't get that one frame to get back in the match and I think that made the difference in the end."
On the decision of referee Leo Scullion not to call a miss during frame 25, Stephen was quick to dismiss any suggestion that it was the wrong decision:
"It was the referee's call. I don't think it was a good call, I don't think it was a bad call. He thought it was a hard snooker, Leo is a top ref and a good friend, so fair play to him. It was a brave call to make."
"I was surprised but on the same hand I know how hard the shot was, I was actually hoping Ali hit it as I don't like winning frames when the guy misses, I don't like the miss rule and I was kinda hoping Ali hit it to get the frame going again. But it definitely wasn't a bad call."
"It's a tough one, it's just one of those things, I don't think it would have made a big difference because I've ended up doubling the red anyway and I actually thought it was in. If I had doubled the red then everybody would have forgot about the miss rule, so it made no difference anyway."
"It starts to hurt after a while if you get so close. That's a bad result. I don't really know how to take that one, it's a bad result, it's as simple as that. And then obviously the two finals that I have lost, I've had a lot of kickings, a lot of lows really. You get yourself geed up for the semi-finals or the couple of finals that I have been in and then it seems to have just taken a hit, after hit after hit."
"I think coming into the match, the first session I didn't give him enough respect. I just thought that I would go in and go for my shots, control the match. It never worked out that way but even at 5-3 down I thought it's ok, still first to 17, but sometimes the game doesn't let you. If you disrespect anything in this game I just feel as if it wasn't letting me get back into it, just because of the first session really. I don't think I played safe in the eight frames, I took a lot of hits in that match, the close frames."
"I just felt like a punch bag in some stages of that match. I must have lot at least eight frames either on the colours or with one red left, obviously it made a difference in the end there. I think it was all in the first session really."
"I missed a very big opportunity there, I'll get over it, I'm a big boy but I've definitely missed an opportunity there to get my hands on that trophy."
"No. I just think over 18 frames, Ali played, I wouldn't say he played well, he just…I let him off the hook so many times. Over the course and distance in the final, Ronnie isn't going to let him off the hook the way I did, and I think that will be the difference."
When asked if it had been like playing another Peter Ebdon, Stephen replied:
"It was, I played Peter a couple of months ago and it wasn't quite as slow. I can't say anything bad about him because he has beaten me over the first to 17, just a few shots where he could have killed a frame off and I ended up getting snookers or coming back to the table, getting back into the frame and then I was losing it after 20 minutes. I just wish he would take that extra shot on and make an 80 break."
"He turned down a lot, I dunno, you can't do that. If you are turning down shots when you are on 50, you are going to get punished. Everybody's too good these days, they will just clear up. It has worked in that match, fair enough. But it's not going to work in the long run."
Some time afterwards, Ali Carter came in to offer his thoughts on his victory, as well as the task still ahead of him in the final, the highlights of a fairly lengthy press conference are as follows:
"I'm delighted to be through, the job is not done yet though, I'm not just happy to be in the final so we'll see what happens."
"Stephen tried to stamp his authority on it. I think he thought he was going to beat me quite easily the way he started the match. I wasn't have any of it, I was up for it. He's a real tough match player, he's a great player, I played some real solid stuff. There wasn't any fireworks out there but I got the job done."
"I think when I was 10-6 in front overnight, then he started taking the match seriously and thought that I could actually beat him, because he totally changed his game, slowed down around the table, running round and trying to boss the match. By then it was a bit too late I think. It was a great match to be involved in, obviously he will be disappointed but he didn't play that badly. But my safety was spot on and I didn't get myself at it which is obviously what I have done in the past."
"I wanted to be 15-9 minimum [after the third session]. But like I said to my mates, if I had been 15-9, matches have been lost from 15-9, it's not as if you have only got to turn up to win. 14-10 I was a bit disappointed, but Peter Ebdon and my friends said that I'm 14-10 up in the semi-final of the World Championship, how bad is that? So I drew on the positives. I didn't sleep very well last night, I felt like it was all mine to lose today which is a tough position to be in, the weight of expectation is on you and to come through it and play real solid stuff is pleasing."
Asked whether he felt that he didn't do himself justice in the 2008 final, Ali explained:
"Big time, I didn't play at all in the final. The scheduling has been on my side this year, I've not had too many long sessions, I've won today in a short afternoon session. When I got to the final four years ago I was playing Joe Perry and won 17-15 in the night session so we finished at 11:30pm, did the press, by the time I got to bed it was 3 or 4 in the morning."
"And I was already gone anyway, a 10-9 in the first round, the maximum as well. That was me making the big time really, I hadn't done anything in my career before then to speak of. So it was all sort of bang, bang, bang on the chin and by the time I got to the final it was like where am I, what am I doing? I certainly don't feel like that today."
When it was put to him that Stephen Maguire had said that at times it was like playing Peter Ebdon, Ali replied:
"I thought why push the boat out, why go for low percentage shots. I don't think I played negatively by any means, if you look at my break stats, my 50+ break stats, I think I have made the most of everyone in the tournament. So for not going for shots, it doesn't really tell the story does it?"
In addition, Ali also discussed the foul and a miss situation in frame 25, saying that he was miss a right call given the difficulty of the shot. There were also extensive questions on the help that Peter Ebdon had given him as well as the subject of carrot juice (don't ask), which I am sure that you will read elsewhere!
For a man who has not only struggled for results this season, but also with his health generally, it is in many ways a remarkable story that he has reached the final, but with the victories and performances that he has had, he has certainly earned a second chance to lift the game's top prize.
Can he go all of the way against potentially Ronnie O'Sullivan in the final? It is a tall order, particularly given his 0-12 head to head record against the three-time champion, but the way that Ali has played this week and the focus that he has shown should give him real encouragement.
The evening session proved to be a quick one as expected, both players trading tons before O'Sullivan wrapped up a 17-10 victory in the next. Following his victory, Ronnie spoke to the assembled press, the highlights of which were as follows:
"That was hard, I got off to a great start, he pegged me back, then I had a brilliant second session and then he come out this morning, first shot slotted in a long red and I was just hanging on there today, I felt that I wasn't the better player today but I managed to stick in there. I knew there were going to be some points in the match where it would get a bit pressurised, there was still a long way to go, there is a lot of tension out there sometimes it can just be a matter of one or two balls and I think that was the difference this morning, I managed to nick a couple of those frames."
On facing Ali again:
"That first final I was there for the taking to be fair but maybe Ali got…big occasion, world final, I think maybe he learned a lot from that, he has won a lot of tournaments since then, he is a top three, top four player over the last 3 or 4 years. I know he has had a funny year this year but he has shown a lot of strength of character to be able to come through that and reach a final. Certain players are suited to the Sheffield Crucible, Ali is one of them, Matthew is another, Judd is another one. they just have the right temperament, technique and balance and game to do well here."
On his mental state and future in the game:
"I have been working on my mental side with Dr Steve Peters, it hasn't been easy. I must admit, I still don't find it easy. But he has helped me massively. I have been just competing really, it's not easy. I don't even know how I am in the final to be fair. I know it might come across that in spells I play really well but some of these players that I have played, they are just so aggressive, you need to be on your game to win and that is a lot of pressure in itself, managing your own expectations and managing those of everybody else, it's sometimes difficult. I've just done my best, it's all you can do."
"He has helped me lots, but this still is the last throw of the dice for me to be fair, I've come here, I've wanted to have a good season, I've had a couple of lean years, it wasn't easy on and off the table. so to be able to come here this season and perform, compete and still show that I am one of the best players in the world was my aim really."
"I don't intend to stay in the game long, even though I feel in a much better place I have made that decision that this might, might, be my last time playing in this tournament, I might consider having a good long break, a couple of years off or whatever. I've weighed up the plusses and minuses, I am quite comfortable with that decision. So there is no better way for me than to have a good run at Sheffield, get to the final, if I win it great, absolute bonus. If I don't make it then at least I can say I have gone out on a high really. It's all good."
"I've had a fantastic time and it has got to come to an end sooner or later. I don't want to drag it out too long, I always said I'd like to go out on a high and I think getting to this final has been great, I'd love to go on and win it now. Like I said there are a lot of plusses and minuses and I have weighed up my options."
"I'm not saying it's a guaranteed but I think now is as good a time as ever. I know it might be a bit crazy for people thinking that I'm finishing now, but people close to me know what is going on. I've always not been afraid to show how I feel, I feel in a good place to be able to say that. I've weighed up lots of things."
Answering whether he could live without snooker:
"Yeah, absolutely. I'd still like to be involved in some way. But it's a lot of pressure involved being a top sportsman. I'm not sure I want to be sitting here in another ten years deluding myself, even if I was still winning world titles. It's just choices you make, you weigh up the goods and the bads, I just think you know what, all of the people closest to me know what I have been going through, I'm in a good place but sometimes you have just got to live life a little bit, maybe do a bit of Strictly Come Dancing or something!"
He also was keen to congratulate his opponent Matthew Stevens today, saying that he did not know how he has not won the tournament yet, while he added that he felt it is a 'good move' for Ali to have Peter Ebdon in his corner this year.
Following Ronnie into the press room was Matthew, who told us:
"The first session was a bit poor really, 5-3 to Ronnie but second session he come out, I won the first two frames to come back to five each and didn't get a shot after that really. And that was 11-5, I didn't pot a ball for 50-odd minutes, it's tough to play against and 11-5 overnight, I came out and pushed him to 12-9 and again I've made a good break-off, he's knocked a long red in and made 80-odd and that set me back a little bit. When he's in that form he's going to be tough to stop. I gave it everything but it wasn't good enough on the day."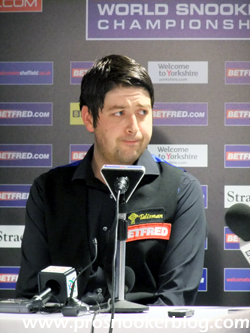 "There's not much you can do really, I played a perfect break-off, he potted a long red and that was it really. I was pleased with the way I stuck in there, 11-5 I could have easily thrown the towel in and lost 17-6, 17-7 or something but I gave it everything I could and I was pleased the way I stuck in there."
"It's been a tough few years but I feel as if I am back on track now. I will have a good month off now and look forward to next season. I feel as if I am playing well and am really excited about the coming years."
"I can't see him doing it but you never know with Ronnie. If he did retire as world champion, what a perfect way to finish I suppose. But I think he loves the game too much, he loves the buzz out there no matter what he says, he loves it out there. But if he does decide to retire it's good for all of the other players!"