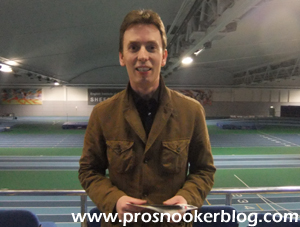 Ken Doherty, one of snooker's most experienced players, has joined the board of the World Professional Billiards and Snooker Association (WPBSA)…
Former World Champion Doherty was co-opted as the second Non-Executive Player Director at a WPBSA board meeting during the Betfred.com World Snooker Championship this week. He will join six times World Champion Steve Davis to advise on a number of playing matters.
Irishman Doherty is the only player to have won the World Championship at junior, amateur and professional level. He turned pro in 1990 and over an outstanding career he has won six world ranking events. The Dubliner conquered the Crucible in 1997 when he beat Stephen Hendry in the final to capture the world title. Doherty is still going strong on the main tour and is ranked number 32 in the world.
WPBSA Chairman Jason Ferguson said: "We are delighted that Ken has agreed to join us and we look forward to working with him. Over the past two decades he has been a fantastic ambassador for snooker and has always played his part in promoting the highest standards in our sport. Ken is extremely popular, well respected by his fellow professionals and brings a vast amount of knowledge to our table.
"The sport of snooker is going from strength to strength and the WPBSA continues to play a vital as it expands rapidly worldwide. We have a strong management team in place and as we make decisions we keep open dialogue with our playing members, both Steve and Ken help us provide this vital link."
Doherty said: "I'm delighted to join the WPBSA board. I hope my experience as a player will help when it comes to keeping at heart the interests of the players as a whole when key decisions are made in terms of changes to the tour. I look forward to working alongside Steve Davis and the other directors to help develop this great sport that we have."