Following a few days to reflect (and to get back to the day job), following this year's World Championship, here are my final thoughts on what was an eventful, if not classic tournament as Ronnie O'Sullivan lifted his fourth world crown in Sheffield…
My 'eighth Crucible' so to speak, this year was a little different in that after my taster in 2011, I was lucky enough to be given media accreditation by World Snooker from what proved to be a dramatic day one of the event.
What was interesting is that on a personal level, this gave me another perspective on the tournament and meant that I almost had to follow the tournament with two hats on, a media hat and a fan hat, which are not necessarily always the same thing.
In terms of the media side, the stories were almost endless, one journalist I recall describing it as 'the tournament that just keeps in giving' which perfectly encapsulated that feeling.
The drama began even before the tournament with Mark Williams' controversial comments about the venue on Twitter, before on the opening Saturday, Stephen Hendry immediately set the tournament alight with a brilliant maximum break against Stuart Bingham as he marched into the second round.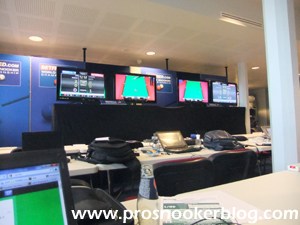 The stories kept on coming the following day with Mark Allen's post-match outburst the following day following his shock defeat to Cao Yupeng, as well as his rather curious apology in the subsequent days, while pre-tournament favourite Judd Trump was then stricken by food poisoning ahead of his opening match against Dominic Dale.
While Judd was able to survive that clash, a record-equalling eight seeded players were to fall at the first-round stage including fancied men such as Allen, Stephen Lee, Mark Selby and Ding Junhui.
While a number of qualifiers impressed however, arguably the most noteworthy was that by Jamie Jones, who perhaps for me as a snooker purist as much of anything, was one of the major positives to come out of the tournament. Having seen Jamie improve consistently as the season has progressed, seen him qualify with wins against Andy Hicks and Ricky Walden at the Academy, then see him take out 2005 world champion Shaun Murphy on the big stage was special. Somehow as a fan, it is always rewarding to see young players like him who I have followed as a name on a scoresheet or seen at the qualifiers for years, even interviewed at this season's UK Championship, now delivering on the biggest stage of all.
It wasn't just his run to the quarter-finals that impressed, but the fact that in all he hit seven century breaks on the way, six of 127 or higher, and invariably at important times during his matches. While he was disappointed with his safety game following defeat to eventual finalist Ali Carter, at 24 and now up into the top 32 for the first time in his career, you can be sure that we will be seeing a lot more of Jamie on our screens over the next few years.
One man who we will not be seeing a lot more of, on the table at least, is Stephen Hendry, who despite an opening match 147 and a 13-4 defeat of defending champion John Higgins in the second round, elected to announce his retirement from tournament snooker following his quarter-final exit. You can already read my full reaction to that story here, but again, to have been in the room as the announcement came was something that I will not forget in a hurry.
With all that, you could be forgiven for wondering why then I began by describing the tournament as not a classic. Don't get me wrong, there were a number of truly memorable moments as described above, as well as Ali Carter's dramatic comeback in the second round to defeat Judd Trump. In terms of really close matches however, overall they were relatively few and far between. Matches that on paper looked like they might be thrillers, proved to be comprehensive.
It was also an inevitable consequence of the upsets in the first week, that the second would prove less thrilling, indeed I find that there is always a balance to be struck between first-week upsets and a top-drawer second week and perhaps this time around, just a few too many of the 'top' or 'form' players made an early exit for me.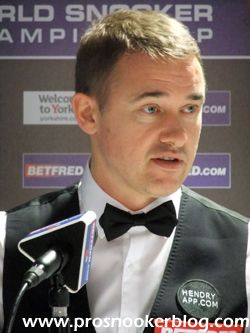 Two who did not exit early were Ronnie O'Sullivan and Neil Robertson, who would meet in a match which many around the venue were describing as effectively the final. While it is not something easily said without being disrespectful to the other players remaining in the competition, I was among them.
Pre-tournament I had expected Robertson to come through that potential match-up on his way to the title, but with O'Sullivan looking as focused and as in control of his emotions as he did from ball one in the tournament, as he stormed away in the second session of that match there was very much a sense of inevitable about the outcome of not just that match, but of the tournament.
Of course that is to take nothing away from Ronnie whatsoever, who was a thoroughly deserving winner of the tournament, while runner-up Ali Carter too was a rightful finalist, having demonstrated against Judd Trump and Stephen Maguire in particular that he is strong enough both tactically and mentally to come through those sorts of matches against more fancied men.
Off the table, my thanks as ever go to everyone that I was able to speak to during the 17 day marathon, in particular to World Snooker for the media pass, to fellow bloggers such as Snooker Backer, Roland from Snooker Island and David from Snooker HQ, to the players, to Betfred who once again proved themselves to be excellent sponsors, to Hector and the others in the media room, to Statman Chris Downer, to the various players that I spoke to and many, many more.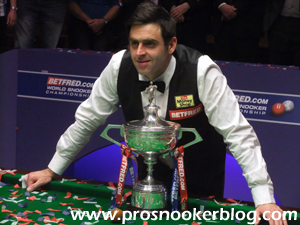 Thanks also to everyone who read the blog and followed me on Twitter throughout the tournament. There were a few technical issues with the server change mid-way through the tournament unfortunately, but the downtime caused following Stephen Hendry's announcement proved to be the straw that broke the camel's back so to speak and forced me into that. Now on the new server, the site is a little bit slower than I would like at present, but rest assured it is being worked on.
But enough of all that. That was the 2012 World Championship and indeed the conclusion of the 2011/12 snooker season. See you all for the new campaign…
…which starts tomorrow with the Q School!