Today is the final day of the first UKPTC event of 2012 and at the time of writing we are down to four as Jack Lisowski, Mark Williams, Andrew Higginson and Stephen Maguire have made it through to the semi-finals. Click below for a round-up of the day's action so far, as well as the news from the semi-finals and final…
Click here to view the latest results from the event
While yesterday proved to be a day of upsets, order was restored early on in the last 16 as each match was won by the higher-ranked player, beginning with Mark Williams who saw off amateur player Allan Taylor 4-0 in under 50 minutes to progress to a quarter-final with Ali Carter, who also won this morning without the loss of a frame against Jamie Burnett.
At one stage it looked as though another whitewash might be on the cards as Ali raced into a 3-0 lead, but it was not to be as Williams fought his way back into the match, eventually winning four frames to come through in a decider.
Mark Williams watches as Stephen Maguire downs Andrew Pagett
Next up for him will be Jack Lisowski, who after a performance against David Grace which his opponent described on Twitter simply as 'lampshades', got one over on flatmate Judd Trump in the quarter-finals with a 4-3 win to reach the last four of a PTC event for the first time since PTC5 last season.
On that occasion Jack lost to Andrew Higginson and again the man from Widnes is on a run here, defeating Dave Harold and then Alan McManus in a deciding frame to join him in the last four. There he will face Scotland's Stephen Maguire, after the former UK champion also survived a decider to come through against Barry Hawkins. Catching the closing stages of that match, Barry had the first two chances but was only able to make 36 points before Stephen pounced to book his final place.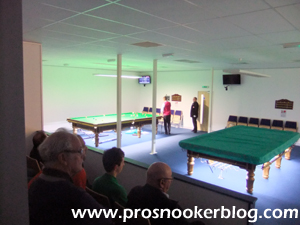 The closing stages of Hawkins v Maguire unfold in the corner…
Aside from the results, it has been another busy day at the Academy, though noticeably calmer than the past two, as it always is as the players are whittled down. It was good to have a brief chat with Mark Williams earlier, having a laugh as he tweeted about friend Andrew Pagett while watching him against Stephen Maguire, while Terry Griffiths has also been recounting a few old stories as the morning progressed.
I also had a chat with Robert Cutajar and his son Andy from Malta, who were visiting the Academy this weekend for the tournament, details of which will follow on the site over the coming days…
Time to go and catch some of the semi-finals…or not, as the famous ice cream van arrived at the Academy to bring us welcome supplies. As I walked back into the Academy with my cone and a flake though, I saw that Jack Lisowski was on the verge of completing a terrific 4-3 victory against Mark Williams to move into his second PTC final, almost two years after his first against Tom Ford back in 2010.
Jack was not to be denied and soon to join him in the final was Stephen Maguire, the Scot recording a 4-1 victory against Andrew Higginson to move into the final.
While waiting for the final to get underway, the conclusion to the Open golf championship helped to pass the time, watching on Paul Collier's laptop with Judd Trump and Jack Lisowski also looking on as Ernie Els took the title. There was also news from World Snooker as to the all important points to be deducted at the first cut-off (see here), while we waited for the start of play for the final.