Following on from part one yesterday, today I bring you the second half of my interview with Rod Lawler as the man with the most wins so far this season looks back at the first half of his career, offers his thoughts on the dangers of so-called burn-out, and also offers his perspective on his style of play…
Click here to read part one
PSB: What were your memories of that spell in the mid-1990's when you reached the final of the International Open and had the last 16 run at the Crucible, knocking out a couple of world champions on the way…
RL: Yeah, I also won two WPBSA tournaments that were non-ranking in Finland and China so it was one of my best ever seasons, really good memories. I was playing a young John Higgins in the final of the International Open and John got the better of me, but it was great to play him. I played Stephen Hendry when he was the number one at the time which was great.
Obviously at the 1996 World Championship I beat the likes of Dennis Taylor and John Parrott, two former world champions and then I got on a plane and won the first time that I went to China and then I won in Finland, both WSA tournaments.
They are good memories really and I know that getting those days back again is going to be very difficult, but to be fair I think I am playing as well as I have ever played, even though I am 41 years of age. I'm certainly playing no worse now than I have ever played so hopefully there are some more good memories like that in the future.
PSB: For me, my age I remember snooker from around the mid-90's really, from the first half of your career, are there any other particular memories or tournaments that spring to mind for you?
RL: Yeah I mean qualifying as a pro, I think I was 18 when I beat Joe Swail when I was the British under-19's champion and Joe was the English Amateur champion at the time. I beat Joe 5-2 to qualify and that was a tremendous result and one memory.
Then the first time that I played on TV I got to the quarter-finals of my first ranking event and I think I lost to Mike Hallett in the quarters. And then obviously I would say beating Stephen Hendry when he was number one in the world. Stephen for me was the best player we've had in the game and to beat him when he was number one in the world on a centre table at a TV stage was a tremendous achievement. They are the types of things that I remember really.
PSB: You spoke earlier about playing John Higgins in the International Open final, was it obvious even back in 1996 that he was going to be something special?
RL: Yeah it was obvious how good John was, it was blatantly obvious that he was going to be world number one, world champion, he was that good, you could see it.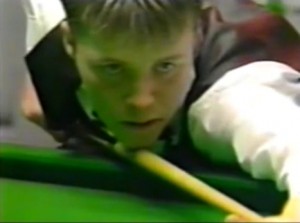 A young John Higgins
Basically I did one or two things wrong early in the match and John was just gone, that's how good he was and still is. It was very obvious then but I'd just love to be able to play the likes of John and Ronnie O'Sullivan and Mark Williams in the TV stages more and to be honest I think I will play them more. I'm playing a lot more competitively now than I think I have for five or six years.
PSB: I was going to ask, have you got any particular aspirations or targets now in your snooker career?
RL: I have never been one for that you know, I have never been one to set targets and try to work to them. I don't know whether that is a good thing or not but I have never wanted to disappoint myself when I haven't got to the target, so no I don't really have any targets.
I just want to continue to play the way I know I can play which I have been doing recently. If I can continue to do that, I know that my ranking at the moment is a false ranking because the PTCs over the last two years, with the lack of matches I won and the quality of the first round matches that I had to play, were the reason that I fell off the main tour.
My aspirations are just to continue playing really tough, competitive snooker for a good few years to come, to start reaching more TV stages of tournaments and whatever comes after that is all good really.
PSB: Yeah I do recall, in particular during the first season of the PTCs you had some horror draws didn't you?
RL: I think that I played Mark Selby twice first game, Robertson twice, people like Nigel Bond, Tom Ford and Liang Wenbo. Every time that I got my cue out of my case, I really did have horror draws. Then in the second season my draws were a little bit better, but were still tough draws, but I think that because I was messing around with my cue, I was on the backfoot as well.
Hopefully from this point forward I can be competitive in the PTCs because I do enjoy them. I do enjoy the best of seven format, playing three matches in a day, but I just haven't shown that on the table really, not until the first one this season so hopefully I can enjoy more of them this season.
PSB: Do you think it was more to do with the draws or was it the format?
RL: It was definitely the first round draws because I was getting on the plane with the people I travel with such as Dave Harold and Ricky Walden and every time I was getting on a plane to go to Germany or Belgium or whatever…in Belgium I played Barry Hawkins first time out, it was just ridiculous to be honest.
Rod in action during a PTC at the South West Snooker Academy
I don't think that I played a player outside of the top 32 until the second to last tournament and sometimes I would beat a guy like Tom Ford in round one and I would be playing Mark Selby in round two.
I do enjoy the PTCs, they are really good practice over the weekend. I enjoy going to Europe and playing in Poland and Belgium, these places where we are trying to grow the game. I do enjoy playing in front of the crowds abroad so it is just a case of trying to buck my ideas up really and playing my best snooker!
PSB: The other thing that I wanted to ask, obviously there are people who don't think that you are not the quickest player on the tour, is that something that bothers you?
RL: Yeah, I mean I realise that I am not the quickest player on tour but I'm not going to be am I at 41 years of age? I was a quicker player at 24 or 21 and now I have been on the tour for 20 years. When some of these younger lads have been on the tour for 20 years the same as me, or 23 years and counting, if they are running round the table in their forties then fair play to them, but we will wait and see whether they are because the chances are, a lot of them won't even be playing snooker then.
I'm proud of the fact that I am still competitive in my forties, I'm very proud of that. I have played snooker through its most competitive period ever and I'm still on the main tour after 23 years and counting.
At times I can slow up heavy and sometimes I can score relatively quickly. In all of the matches I have played this season, I think I have played 16, 17, 18 matches and I haven't been dragged off once yet.
Maybe sometimes I take my time over the choice of shot, but when I play it, I try and execute it positively. I don't play negative snooker and there are a few who sometimes get criticised for being slow and negative, and I don't think that I could ever be accused of being negative. It is just sometimes my games…I enjoy the safety side of it as well and sometimes it turns out to be a real battle.
I play with a lot of pride so when I am behind, I don't give in and those matches can last four or five hours. If that's the way then so be it.
So going back to the original question, it doesn't bother me if people think that I am not the fastest player, I know I'm not the fastest player. But I am really proud of the fact that I am still really competitive in my early forties and we'll see whether all of those players are playing at that standard then too.
PSB: I have been public before in saying that if they ever brought a shot clock or whatever into a major event then I wouldn't be writing this site…
RL: I played Liang Wenbo the other night in a match and I ended up winning 5-4 and it was a really good finish to the match. Anybody who would have watched that would have thought that it was really good to watch. It was really, both sides of the game, Liang was clearing up, then I was clearing up, then Liang won a frame from needing snookers and then I had a one visit in the decider. If it's just one player in and knocking all of the balls in all of the time, that gets a bit boring then doesn't it? We want to see competition, true competition.
Rod watches Patrick Wallace during their 2011 World Championship qualifier
There is a fine line, everyone sees a shot and plays it, Ronnie O'Sullivan sees the shot in a split second and that is why his individual shot time is so quick. Somebody like Peter Ebdon sees that same shot slower than Ronnie and is a lot more deliberate. I am obviously in the Peter Ebdon timescale and I don't deny that, but you do need variance.
The Jack Lisowskis and Judd Trumps are also brilliant for the game, for the youngsters to watch with the quick scoring and that, so you need both.
PSB: As you say, you talk about Peter Ebdon, his shot selection is actually very unusual, he's quite attacking isn't he?
RL: He is very positive, he will never refuse a shot that can get him in to win the match. But Peter might be playing Ronnie and taking 24 seconds a shot and Ronnie might be taking 17. Peter sees the shot at that pace and I am in that bracket with the likes of Alan McManus, Dave Harold, Fergal O'Brien, those types of players. We're all in that second bracket, we have to fight hard.
I am just trying to enjoy it now, I have been in the game a long time and have been on the verge of retiring. I know that I am going to retire eventually, sooner rather than later, so just trying to enjoy it really, every season and every tournament.
PSB: Having played so much snooker, so early in the season, obviously there are the likes of Mark Davis, Barry Hawkins, Ricky Walden who have been winning, everybody is going to have a dip during the season, do you think that there is a danger of burnout or is it just a case of picking and choosing your events?
RL: You are definitely right, I think that there is a massive danger of burn out for all of the players and I am in that bracket. I haven't really had a break since last season, after the World Championship I made the decision to go into Q School so I just carried on playing snooker for a month. I had to carry on because otherwise I wouldn't have got through.
As an example, this week we have got two weeks off now until the next PTC and now I won't play snooker all week. I'm actually going away for the weekend with the family. I am one of them players who will have breaks in the middle of the season and I will put my cue in a cupboard for a week or two weeks when I can and I don't play snooker at all. I'm not one of them who has to hit a ball every day and I never have been.
That's why I think now at my early forties, I can still play whereas other players my age have retired when they have fallen off the tour because maybe they have burned themselves out practising every day of their lives.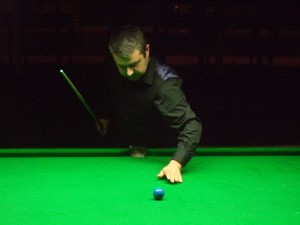 At the Northern Snooker Centre in 2009
I've always been a player that has tried to treat it as a job, Monday to Friday and if I can afford the weekend off, I will never play snooker at a weekend. Obviously if there is an important event coming up then I will play that weekend and I think that is why I have always stayed relatively fresh.
Plus I've never put myself under too much pressure, I sort of roll with it a little bit and I see how it falls and if it goes well for me, I don't get too high and if it goes bad for me, I don't get too low really. I handle the ups and downs.
But there will definitely be burn out for some players and it will happen to me at some point in the season, my results will get jaded and I think that all you can do is come away, rest and try to prepare properly for the next event.
PSB: Can you see a situation where you will skip a few PTCs for example, or is it just a case of entering everything because every point counts?
RL: At the moment every point counts because it is earning potential as well, but to be honest with you if I had a great season and I could afford to have a tournament off and it wouldn't affect me ranking-wise and it wouldn't hurt me wages-wise, then I would certainly consider that.
You do need to protect your form and to go into those UK Championships, World Championships, feeling fresh and up for it, you definitely need your batteries recharged for those.
But at this moment I anticipate playing in virtually everything to try and be competitive because you know yourself, if you miss one tournament then everybody quickly catches up with you.
PSB: From an outsider I have had the perception that like Stephen Hendry perhaps, players will peak in their mid-twenties before entering relative decline in their 30's, but you have players such as Marcus Campbell and Mark Davis now playing their best snooker heading into their forties…
RL: It doesn't make sense does it? It's a little bit like myself, I know I am playing the best I have played for five or six years and maybe that is down to a change of cue as well, but I do feel more competitive than I have for a long time.
Why is that? I should be better at 33 than at 40, but there is no rhyme or reason and for someone like Mark or Marcus, it is nice to see because they have been good servants for the game haven't they and are great players.
PSB: And Steve Davis too, he played so well last week to qualify for Shanghai, three 90+ breaks or something…
RL: It's brilliant. Every time somebody doubts Steve Davis he comes out and plays great the next event doesn't he? He played against Andrew Higginson who has played really well for three or four years, so every credit to Steve.
Steve Davis
But if you are a class player like Steve is, you don't lose it, it just must be harder to find, but when he hits his form, it's still as good as it has ever been, even at his age. He's an example for all of us, tremendous.
PSB: From your point of view, you have said that you are playing as well as you have in a while, but I always found it interesting, particularly in the old days so to speak, where you had that bracket of players such as yourself in the top 48 and then you had teenagers coming through and having to beat you guys to progress, it must have been such a learning experience for them to play people with your experience…
RL: Yeah exactly, we are playing a certain style aren't we and players like Judd Trump, I played him three or four times as he was coming through and we had some smashing matches. Judd must have been leaving the venue some days thinking what's all this about playing Rod Lawler? Obviously Judd was always going to get to the top of the game, where he is now and he just had to go through playing against the likes of myself, Dave Harold, Ian McCulloch and Marcus to learn his trade really.
PSB: Exactly, the youngsters wouldn't have played anybody with the tactical game of those players that you have just mentioned while they were on the amateur circuit and coming through, so it must be a big challenge for them…
RL: Yeah they won't have seen any of that sort of, hard, grizzled snooker and you don't want them to change their game. It's like young Luca Brecel, you don't want him to change his game, you just want them to be able to battle against that sort of play.
Once he can battle against it like Judd can now, then you are away with that sort of talent that those lads have got, the likes of Jack, Luca and Judd, they have got a hell of a lot of talent, so you don't want them to change their games, you just want them to toughen up and that is what Judd has done now. That is why he is so high in the rankings. It's our job to make sure they have a tough time, it's our duty to snooker! (laughs).
As always, thanks to Rod for taking time out to chat to me for this article and best of luck to him for the rest of the season. Like many, he will be in action again at this weekend's UKPTC2 event in Gloucester…