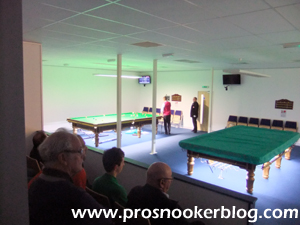 They might not have the most catchy of names, but the UKPTC tournaments are important all the same and tomorrow sees the first batch of professionals begin their quest to make it through to Sunday's last 16 stage of the season's second Gloucester event…
After a short break following a frantic early part of the season, the majority of the tour's professionals will be back in action this weekend at the second of four events to be held at the South West Snooker Academy this season.
Unlike the first event, unfortunately I will not be able to make it to Gloucester for this one, instead I will be there for events three and four later in the year, but as I ever I will endeavour to bring you the latest scores and results over the weekend from home.
So where to start? Of course this event takes on greater significance due to the fact that it is the final event prior to the season's first mid-season seedings revision and you can read about all of the implications and permutations up and down the rankings here.
Rankings aside, what other points of interest do we have at this event?
The most obvious is of the course the return of John Higgins, who armed with a new cue has already stated his aim of wanting to prove himself after what was by his standards a poor 2011/12 season. I posed the question on Twitter last month as to whether John would bounce back, or whether he would continue to slip slowly down the rankings and I found it interesting to note the responses, which were by no means unanimous.
Having elected to enjoy a prolonged break since his last professional outing at the Crucible in April, it is natural to wonder whether he will be up to speed from the off at this event, though the last time he returned from a period away from the sport after his six-month ban in 2010, he was immediately on the pace in winning the EPTC5 event in Hamm.
Of course back then the circumstances were somewhat exceptional as he had a real point to prove following his enforced absence from snooker, but as a player who I still believe to be a match for any other on the tour when he is fully focused, I would not rule out a good showing from the Scot this weekend.
Also returning after missing the first UKPTC of the season are Mark Allen and Neil Robertson, the latter in particular having performed strongly during the PTC events held last season, winning two of them.
Looking at the draw, Stephen Maguire could have been forgiven for expecting an easier draw than former world champion Graeme Dott having won the first UKPTC of the season, though like Higgins, Graeme experienced a tough season last time out and is in need of a confidence-boosting run. From there it does not get easier for Maguire, with a clash against his Crucible conqueror Ali Carter potentially in store if the Captain can see off the improving Aditya Mehta.
It is a similar story for event one runner up Jack Lisowski, who opens with a tough match on paper against Leicester's Tom Ford, with Mark Allen awaiting in the second, demonstrating the quirks of the seeding system in operation at this event. Remember the opening round match between Ronnie O'Sullivan and Mark Williams in one event last season?
Other potential matches of interest that stands out in the second round is a possible meeting between Peter Lines and his son Oliver, if they can come through against Liam Monk and Alan McManus respectively.
Michael White and Chen Zhe meet in what looks to be an interesting first-round match, while Steve Davis and Nigel Bond meet in a clash of two old heads, with a second round contest with Mark Selby potentially in prospect.
Of course there are many more interesting match-ups ahead as the snooker factory gets into full swing and I will endeavour to bring you all of the latest news on Friday night, as well as during the rest of the weekend here at PSB.