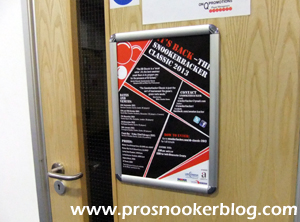 Following what was a hugely successful first staging in 2012, the Snookerbacker Classic tournament returns for 2013, with the first qualifying leg set to be held at the Northern Snooker Centre in Leeds next Saturday. Click below for more details on the event…
Organised by my fellow blogger Snookerbacker, the SB Classic is a tournament comprising five qualifying events, with eight qualifiers progressing to the Finals Day on 22nd February 2012, at the Northern Snooker Centre in Leeds.
Up for grabs for the two eventual finalists are free entries into the 2013 Q School, with the chance to follow in the footsteps of 2012 SBC Champion Martin O'Donnell, who of course took full advantage of his entry by coming through five matches at Q School Event One to earn his ticket on the professional circuit for this season.
For all of the details about the tournament, which sees the likes of Oliver Lines, Ben Harrison, Sanderson Lam, Gary Wilson, Kyren Wilson, Shane Castle and Reanne Evans take part, click here to be taken to the tournament homepage on SB's blog.
As was the case in 2012, the event is a fine initiative and in reality an important addition to the amateur calendar, offering both matches at high quality venues and an important financial incentive in the current economic climate. Martin O'Donnell took full advantage of the event last season and it will be interesting to see who will come through next February to book their place at the Q School.
It all kicks off at the Northern Snooker Centre next Saturday and you can see the full draw and schedule here. I'm sure that anyone who wants to go along and support the event is more than welcome, with Neil Robertson also set to perform an exhibition in the evening.
You can (sort of), read SB's take on the 2012 SBC here.