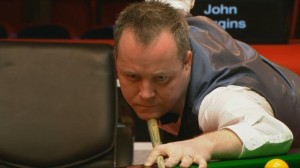 And then there were two. John Higgins and Judd Trump are through to tomorrow's final of the 2012 Shanghai Masters, following high-quality victories over Shaun Murphy and Mark Williams respectively in today's semi-finals. Click below for a round-up of the action on semi-finals day in Shanghai…
Judd Trump 6-4 Mark Williams
The day's first semi-final saw two-time former world champion Mark Williams, take on world number two Judd Trump, and it was Trump who got off to a flier, leading 2-0 by the time that Eurosport's TV coverage had even got underway with breaks of 62 and 82.
With a run of 53 in the third, it appeared as though Judd would stretch his lead to three, but a miss allowed Williams to steal the frame with a clearance of 79 to the pink and establish a foothold in the match.
Despite that blow, Judd's confidence did not appear to be affected, breaks of 76, 62 and 82 in successive frames limiting his Welsh opponent to just three points and seeing Trump move one away from the match at 5-1.
There was however to be a twist as off and running on 53 in frame seven, it looked as though victory was near for Judd, but a missed red allowed Williams to steal his second frame of the match with a run of 66, again to the final pink.
At this point the tone of the match suddenly changed, Judd's performance up until that point having been reminiscent of an exhibition, such was the quality of the fearless potting on display from the youngster. As Williams added the next two frames to close to 4-5 however, the pressure had now very much transferred to Trump, with the unwelcome prospect of a decider now looming large.
To his credit however, Judd was to settle any nerves that he might have been feeling at that point, breaks of 25 and 58 enough to give him the tenth frame and secure a 6-4 victory.
From Judd's point of view, it was probably the best that I have seen him play since his capture of the UK Championship in December 2011, and a win that leaves him on the verge of moving to the top of the provisional rankings for the first time in his career. More on that later.
John Higgins 6-3 Shaun Murphy
Turning to the second semi-final, John Higgins again reminded everyone of his class today with a fine performance to dispatch 2005 world champion Shaun Murphy.
The early signs were not good for the Scot however, as an erratic Higgins caught the blue from his break-off and made a couple of other mistakes as Murphy took the opener with breaks of 60 and 59.
Higgins though was to respond immediately, runs of 82 and 66 seeing him move ahead at 2-1, before Murphy then won the next two with a top run of 53 to lead once again.
In his first semi-final since the 2011 World Championship, Higgins showed little signs of nerves as he then raised his game, breaks of 70, 94, 135 (the highest break of the tournament to date), and 54 enough to see him surge to a 6-3 victory and a place in what promises to be an enthralling final.
It is good to see Higgins back to his best, indeed for me he remains the best player in the world when he is up for the fight and he has again demonstrated that he can never be written off.
Will he be able to repeat his Crucible success against Trump? It is tough to say, both played very well today and Trump, much like when he won his maiden title in Beijing, has allied his natural attacking game with some very effective safety this week, which will be crucial against Higgins.
I would marginally favour Higgins, but not by much.
World Number 1 battle
A number of people have asked me about the position at the top of the rankings recently with Higgins and Trump through to the final, we are now guaranteed a new provisional world number one after tomorrow's final, with either John or Judd leapfrogging Mark Selby at the summit of the rankings.
Of course the provisional list is not the official list (see my explanation here), and following confirmation from World Snooker that the points from the 2010 Shanghai Masters and World Open will be removed after this event, it appears that Selby will be safe for the time being, though Trump with victory tomorrow would close to little more than a couple of hundred points of the Leicester man.
Either way, it is going to be a very interesting battle to keep an eye on over the coming weeks…