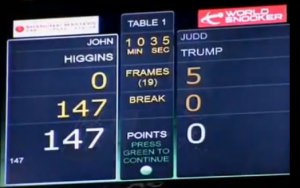 Judd Trump leads John Higgins 7-2 after a tremendous opening session of snooker at the 2012 Shanghai Masters final, but it was not all bad news for the four-time world champion as in frame six of the match, he hit the sixth maximum break of his career. Click below for more…
Click here to view my updated 147's page
Not since the 2004 Grand Prix has John Higgins made a maximum break, but in a manner reminiscent of Stuart Bingham when he did the same earlier this season at the Wuxi Classic final, trailing 5-0 he achieved the feat for the sixth time in his career.
You can watch the break here, a break which earns Higgins a £10,000 bonus, plus the high break prize of £2,000 and rather unusually, a box of gold pieces worth approximately £5,000 provided by the promoter East Asia Group.
The maximum aside however, it has been a tough session for John as Judd Trump has produced some terrific snooker to leave himself needing just three frames from tonight's evening session. He began with a maximum attempt of his own, eventually breaking down on 112, before breaks of 80, 74, 111 and 59 saw him five clear and halfway to a whitewash.
Following Higgins' max, the next two frames were shared, before Trump took the last with a break of 53, his eighth break of 50 or above in the match.
You can never write off John Higgins though…