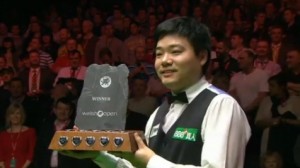 A winner of the Welsh Open as recently as this February, Chinese number one Ding Junhui remains without doubt one of the game's top players, but with his ranking having fallen from as high as number four in the summer of 2011, to number 12 at the time of writing, is Ding in real danger of dropping out of the top 16?
For the reasons outlined below, it might not be as crazy as it sounds…
When I first started PSB back in the autumn of 2008, one of my very first articles considered the question of what was next for Ding Junhui, the then 21-year-old having not reached the semi-finals of a ranking event for 18 months, following that defeat to Ronnie O'Sullivan at the Masters.
Having shone so brightly as a youngster, when he became only the second teenager after John Higgins to win three full-ranking event titles, the Chinese player was being tipped by some as potentially the next dominant force in the game, particularly following his win against O'Sullivan to capture the Northern Ireland Trophy in 2006.
That being the case, it was all the more surprising when he did suffer from a loss of form, culminating in him almost losing his top 16 place in 2009. Of course though he was able to survive, a gutsy fight-back against countryman Liang Wenbo at the Crucible, followed by a second UK Championship crown later that year reaffirming his status as one of the sport's leading players.
While questions marks over his temperament lingered, in the main Ding looked to have answered those, claiming his first Masters title in 2011, before then producing his strongest performance at the Crucible to date in reaching the last four, before losing a thriller with Judd Trump 17-15.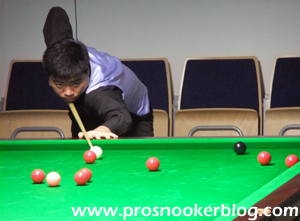 Adding his fifth career ranking event title at the Welsh Open last season, as well as capturing the Championship League for the first time, 2012 has hardly been a bad year for Ding, but yet perhaps slightly under the radar, his ranking has dropped eight places in little over a year. Why is this the case?
The first and most obvious reason is that last season Ding lost more points from his tally than any other player, having topped the one-year rankings back in 2009/10. That combined with a less prolific season last time out in terms of ranking points, has seen his ranking inevitably tumble.
Another reason is the PTC events, which quite understandably, Ding has chosen to miss more of than most. Indeed during the first two seasons of the PTC events, Ding chose to enter just 12 of the 24 events, making it as far as the last 16 on just four occasions, albeit winning one event in 2010. This season again Ding has chosen to miss a few PTC events, though he has chosen to enter the two APTC events introduced this year.
Arguably the biggest factor however, somewhat surprisingly given that he is a former winner of the China Open, is Ding's form in the various full-ranking events held in China. For a while this has often been a criticism levelled at Ding, in my mind unfairly as his record, particularly in Beijing where he is generally a regular in the final weekend, is actually fairly impressive.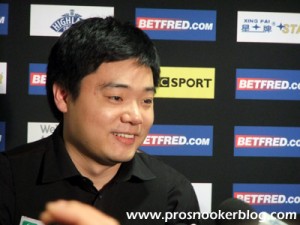 In more recent times however, Ding has definitely suffered on home soil, losing four of his last five opening round matches at the Chinese venues, to Martin Gould, Jin Long, Mark Davis and Mark King. While all dangerous players in their own right, all bar Jin having been in or around the top 16 during the last couple of seasons, it is perhaps surprising to see that Ding has lost to all of them, only forcing a decider in his most recent match in Shanghai.
Whether it is just mere coincidence that can be put down to strong performances by his opponents, or whether there is a deeper psychological problem when playing in his homeland is up for debate, but with five full-ranking events to be staged in China this year, Ding's results there must improve.
So returning to the original question, is Ding in real danger of the top 16?
I suspect that the initial reaction of most people reading this will be along the lines of 'what a stupid question, Ding is brilliant you idiot' and generally I would probably agree with them. It seems ridiculous to think that the Chinese number one and a man who was a ranking event winner as recently as February, will slip outside of the top 16.
Upon a closer inspection of the latest projected seedings list on which Ding has already slipped to as low as 12th however, it is interesting to note just how many points Ding has still to defend this season in comparison with those below him.
12th – Ding Junhui – 19280
13th – Ricky Walden – 12680
14th – Matthew Stevens – 15100
15th – Ali Carter – 13880
16th – Barry Hawkins – 12455
17th – Joe Perry – 11260
18th – Ronnie O'Sullivan – 8500
19th – Mark Davis – 9700
As is evident then, Ding has significantly more points to defend than every player below him and if we were to take off their respective 2010/11 totals at this stage of the season, Ding would in fact find himself down in 19th place.
From a purely mathematical point of view therefore, there is unquestionably a risk that Ding could fall out of the top 16 at some stage this season.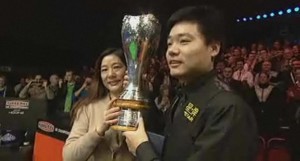 So will he?
While the numbers suggest that Ding has work to do this season and Ronnie O'Sullivan has proven that nobody is too good to drop out of the top 16, I somehow suspect Ding will do enough to retain his elite status for some time yet.
Ultimately Ding remains one of the best players in the world, certainly one capable of winning any event and one who could quite easily end any doubt by lifting a major trophy over the coming months. I also suspect that the tournaments coming up will better suit him compared to those already held this season, particularly those played over a larger number of frames.
What do you think?
[polldaddy poll=6632365]