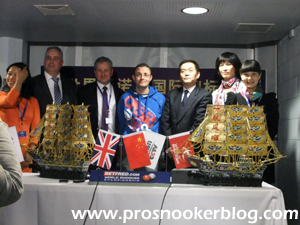 This Sunday sees the start of the 2012 International Championship in Chengdu, arguably the biggest tournament ever to be staged in China and dubbed by some as snooker's new fourth major.
As the final event before the season's second seedings revision there is of course added importance for some players, as already detailed here, though with a top prize of £125,000, you can be sure that everyone will be doing everything that they can to win it…
Click here to view the drawsheet for the event
Click here to view the latest projected seedings
Click here to view the order of play
Rather than running through the the four quarters of the draw as I tend to do, this time I am going to begin with the ever-controversial wildcard matches, of which there will be seven this year following the withdrawal of Pankaj Advani from the event, due to a dates clash with the World Billiards Championship.
Through to the venue stages of a full-ranking event tournament for the first time is Welsh youngster Michael White, who a little under the radar perhaps, is rapidly rising up the ranking list and after a tricky few years on the main tour, now finding the consistency to match his talent.
With a last 32 tie with reigning world champion Ronnie O'Sullivan in prospect, there was perhaps relatively little pressure on Michael heading into this week. Following O'Sullivan's withdrawal however, suddenly there is a last 16 place beckoning him, with the extra 800 ranking points and £5,000 to go with it, changing the complexion of that match entirely.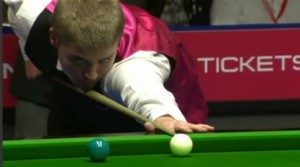 He could too have been handed an easier draw as while just 14 years of age, this will be the fifth tournament this year where opponent Lu Haotian will have featured as a wildcard, notably having produced a terrific performance to defeat Marco Fu in the Shanghai Masters recently. Already this year we have seen the likes of Jamie Jones and Sam Baird qualify for their first venues, only to lose out to wildcard players in China and given his relative inexperience at this stage compared to his opponent, I hope that Michael can avoid a similar fate.
Similarly, India's Aditya Mehta is also through to his first major venue and he will begin with a wildcard clash against China's Zhu Yinghui, another who has been a regular at this stage of the venues in 2012. With a win against Michael Holt to his name, as well as a victory against Dominic Dale in one of the APTC events, he too poses a very real threat to the professional player.
Elsewhere, Irish duo Ken Doherty and Fergal O'Brien will also both face wildcard opposition, in the form of Zhao Xinlong and Chen Feilong respectively. Interestingly, Chen actually recorded a 5-2 victory against O'Brien at the Shanghai Masters in September, so Fergal will be well aware of the threat posed by his opponent.
There will be an all-Chinese affair as Cao Yupeng takes on Wang Yuchen, who lost out 5-0 to Ryan Day in Shanghai, while Niu Zhuang and Lu Ning will provide the opposition for Jamie Burnett and Barry Pinches.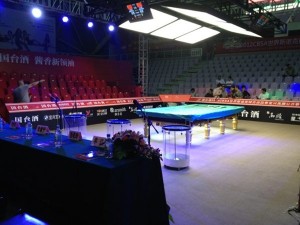 Turning to the last 32 draw and the leading protagonists, the tie of the round looks to be that between Mark Selby and Ali Carter, the world number one against the World Championship runner-up of both 2008 and 2012.
With potentially important ranking ramifications for both players, not to mention the fact that both are more than capable of going on to win the tournament, it will be interesting to see how their match transpires. Their previous head to head record is relatively even, though Selby has won their last four meetings in all competitions, including their ET3 semi-final in Antwerp just last weekend.
On recent form Ali would probably be the favourite, notwithstanding Selby's win at the Paul Hunter Classic recently, but Mark's performances in Antwerp last weekend were much improved and the Leicester man is due a run at a venue.
Elsewhere in that quarter, Stephen Maguire and Ricky Walden look to be the most obvious danger men, while Peter Ebdon is always a dark horse and already through to the last 16 with a bye against the absent Stephen Lee. All former ranking event winners in China, it is hard to choose a firm favourite from the group.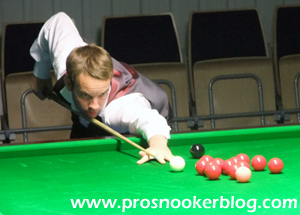 Elsewhere, our finalists in Shanghai were John Higgins and Judd Trump, who strangely find themselves in the same quarter of the draw this time around. Having performed as well as he did to capture the Shanghai Masters, if Higgins can reproduce that form in Chengdu, then it would appear fairly ominous for the months ahead, with his domination of the second half of the 2010/11 season still fairly fresh in the memory. An opening round tie with Cao Yupeng (assuming that he has recovered from a recent hand injury), or a wildcard, followed by a potential last 16 meeting with Mark Allen however would not be easy, before he even gets to Trump in the last eight.
Also lurking in this section is Stuart Bingham, who was of course sensational during Thursday night's Premier League action in winning all 12 frames against Mark Selby and Neil Robertson, with four centuries taking his winnings for the evening up to £16,000. While I always tend to discount Premier League form when considering the majors, due to the nature of that particular event, Stuart is obviously full of confidence at the moment and he will fancy his chances of doing some damage here.
With the absence of Ronnie O'Sullivan, the top quarter of the draw looks wide open, with Neil Robertson joined by the likes of Graeme Dott, Matthew Stevens and Ken Doherty, who will each sense the opportunity to go on a run here and secure much-needed prize money and ranking points.
For a former world champion, reigning Masters champion and one generally regarded as being one of the top four or five in the sport, Neil Robertson has not enjoyed considerable success in China, his strongest result being a semi-final at the 2011 Shanghai Masters. Indeed if this tournament were being staged within the UK, I would fancy him to reach the final but as it is, I am not so confident.
Of the others around him, Graeme Dott looks to be coming back into form after his World Championship nightmare, with quarter-final runs at the Wuxi Classic and Shanghai Masters already this season, while Ken Doherty, not as consistent as he once was, on his day remains capable of mixing it with the best. The same can be said of Matthew Stevens, though as he recently admitted, he has not really got started yet this season. Whether he find his form for this event remains to be seen.
Elsewhere, Ding Junhui and Shaun Murphy, who met just last week in Antwerp, are poised to meet in the last 16, as are Martin Gould and Mark Davis, who both still harbour hopes of a top 16 place at the end of this tournament. Standing in their respective paths however are Marco Fu and Mark Williams, both equally well capable of going the distance this week in Chengdu.
As ever it is going to be an intriguing week, with the slightly longer, best of 11 frame matches up until the semi-finals adding an extra dimension to the tournament, not often seen away from the UK. All of the usual quicklinks are now on the sidebar, while the projected seedings and drawsheet will as ever be updated throughout the tournament.
Predictions
SF: Williams def Robertson, Allen def Maguire
F: Williams def Allen