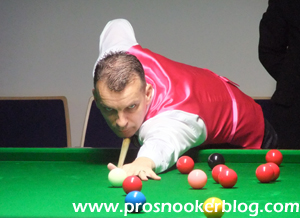 It feels like yesterday since the previous seedings revision following the International Championship earlier this month, but already the next cut-off is moving ever closer, coming after December's UK Championship.
In fact, for the majority of players on tour, this week's UK Championship qualifiers will be their last chance to add points to their tally for a crucial cut-off, which will determine the seedings for all of the remaining tournaments this season except the World Championship…
Click here to view the drawsheet for the UK Championship
Click here to view the latest projected seedings
Click here to view the points tariffs for events this season
Click here to view when points will be deducted this season
On 10th December 2012 following the UK Championship, the seedings list will be revised for the third time this season and will be used to determine the seedings for the Welsh Open, Haikou World Open, China Open and a potential ranking event which may take place in March 2013.
As now confirmed by World Snooker, by 10th December 2012, points from the 2010 EPTC3, EPTC4 and UK Championship will have been deducted and replaced by those from the start of this season up until that date.
As always, I have already removed those points from the appropriate column on my latest projected seedings list, to show the situation as up to date as possible…
Battle for Number 1
Heading into the UK Championship onto the back of strong performances at the two most recent PTC events, newly-crowned world number one Judd Trump holds a lead of 4,775 over Mark Selby, who is the only player who can mathematically topple him at this cut-off.
To be sure of retaining top spot in the event of Mark winning the tournament, Judd must reach the quarter-finals, while a last 16 run would be sufficient if Selby cannot capture the title.
If Judd were to lose his opening match, Mark would still require at least a run to the final if he is to reclaim the top ranking at this revision.
Battle for the Top 8
Turning to the battle for the top eight, the final spot is currently held by Mark Allen, who has a cushion of 2,520 points over nearest challenger Ding Junhui, with Ricky Walden not far behind.
As a minimum, Ding would need to reach the quarter-finals to stand any chance of passing Allen, while if Mark were to reach the last 16, nothing less than a run to the final would be enough for Ding.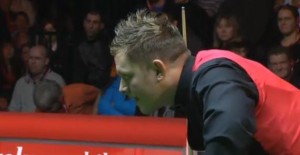 Ricky Walden and Stuart Bingham meanwhile would need to reach at least the semi-finals in order to stand a chance, while Graeme Dott and Matthew Stevens would need to win the tournament.
Next in line if a number of the above players run deep into the tournament is Scotland's Stephen Maguire, though a first-round victory for the 2004 York champion would be enough to all but assure him of remaining inside the top eight.
Battle for the Top 16 (17)
As ever, the battle for places in snooker's top tier remains as hard-fought, despite an additional place potentially being available due to the ongoing situation concerning Stephen Lee:
13th – Graeme Dott – 50580
14th – Matthew Stevens – 49780
15th – Ali Carter – 47760
17th – Mark Davis – 46190
18th – Barry Hawkins – 45995
19th – Ronnie O'Sullivan – 43740
20th – Martin Gould – 43510
21st – Peter Ebdon – 43505
22nd – Dominic Dale – 42275
23rd – Marcus Campbell – 41505
24th – Ryan Day – 41350
25th – Robert Milkins – 40210
26th – Tom Ford – 40140
27th – Michael Holt – 39835
28th – Marco Fu – 39810
So where to start with that lot?
Again, the first thing to point out is that I have prepared this piece on the assumption that Stephen Lee will not be participating in the relevant events, though of course this is still very much anyone's guess pending the result of the ongoing World Snooker investigation. I will therefore be talking about the top 17 below, rather than the usual 16.
While Graeme Dott is included, it would take a very specific run of results to see him fall below 17th, if he were to lose his opening round match. Namely:
Matthew Stevens to reach the last 16, Ali Carter the quarter-finals, Joe Perry the semi-finals, either Mark Davis or Barry Hawkins the final, with Martin Gould or Peter Ebdon winning the tournament.
Similarly for Matthew Stevens, it would take four from:
Ali Carter reaching the quarter-finals, Joe Perry reaching the quarter-finals, Mark Davis or Barry Hawkins reaching the semi-finals and either Martin Gould or Peter Ebdon winning the tournament.
Turning to 15th placed Ali Carter, his fate too remains very much in his own hands, though if he were to lose his opening round match, three of the following scenarios would be enough to put him
Joe Perry reaching the last 32, Mark Davis reaching the last 16, Barry Hawkins reaching the last 16, Martin Gould or Peter Ebdon reaching the final and Dominic Dale, Marcus Campbell or Ryan Day winning the title.
The most immediate battle then is the three-way fight between Joe Perry, Mark Davis and Barry Hawkins, who from 16th-18th are currently separated by just 805 points. What makes this scrap particularly interesting is that at the moment it is Joe who has the points advantage, but as the qualifier for the tournament, will on paper face the toughest task to progress to the last 16 stage.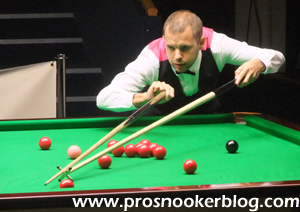 That said, Joe does crucially have just enough of an advantage to mean that if he is able to qualify for the venue stage, either Mark or Barry would actually have to reach the quarter-finals to surpass him, while Martin Gould and Peter Ebdon would need to make at least the semi-finals.
As far as Mark and Barry are concerned, putting aside strong performances from those behind them, at present it looks as though Mark effectively has to match Barry's result in York to hold onto the 17th position which somehow he seems to have made his own in recent times.
Speaking of the chasing pack, Martin Gould and Peter Ebdon must reach at least the quarter-finals to remain in with a chance of snaring that last top 17 spot, while mathematically those as far down as Marco Fu remain in contention.
The Top 32 (34)
As with the top 16 battle, this cut-off is affected by likely non-entries above and on the assumption that both Ronnie O'Sullivan and Stephen Lee will not be involved for the foreseeable future, find below the battle for the top 34:
32nd – Mark King – 35485
33rd – Fergal O'Brien – 34220
34th – Jamie Burnett – 33490
35th – Anthony Hamilton – 32980
36th – Stephen Hendry – 32435
37th – Jamie Jones – 32305
38th – Ben Woollaston – 32195
39th – Rory McLeod – 31325
40th – Michael White – 31280
41st – Liang Wenbo – 31065
42nd – Jack Lisowski – 30410
43rd – Xiao Guodong – 30385
Again, this is a tough one to sort out as with everyone down to 43rd placed Xiao Guodong able to potentially jump 34th placed Jamie Burnett with a run to the quarter-finals, there are a number of players potentially in the mix.
Indeed, with Peter Lines and Mark Joyce both examples of lower ranked players than these to have reached the quarter-finals of this tournament in recent years and it is hard to rule anything out.
For Mark King, who is the first player for me who realistically could find himself under threat, if he were to lose his final qualifying round match then a combination of a last 32 run from Fergal O'Brien, a last 16 run from Jamie Burnett and a quarter-final by either Anthony Hamilton or Jamie Jones, would be enough to see him miss out.
That said, Ireland's Fergal O'Brien is in a much more vulnerable position, with a last 48 defeat enough to open the door for nearest challengers Burnett and Hamilton to leapfrog him, the Scot needing one win and Hamilton two.
The man currently occupying 34th spot is Jamie Burnett and his nearest challenger is indeed recent UKPTC4 semi-finalist Anthony Hamilton, who would pass him with a single victory to reach the last 48 of the competition. Jamie Jones and Ben Woollaston meanwhile would need two victories to give themselves any chance, while the other chasers must at least reach the venue stages.
The Top 48 (51)
Another tier complicated by absences, at the time of writing it appears as though there will be an additional three spaces in this group, with Stephen Lee, Ronnie O'Sullivan and Stephen Hendry discounted. The immediate fight looks to be as follows:
47th – Steve Davis – 26140
48th – Gerard Greene – 26030
49th – David Gilbert – 25736
50th – Liu Chuang – 25560
51st – Jimmy Robertson – 25530
52nd – Yu Delu – 25316
53rd – Alan McManus – 24970
54th – Alfie Burden – 24545
55th – Anthony McGill – 24490
56th – Jimmy White – 23920
A difficult bracket to quantify this one, I have included all of the players above who are within a run to the venue of challenging 51st placed Jimmy Robertson. In particular though, those within a single win are Yu Delu and Alan McManus, who with just a single win could both potentially move up several places, putting Jimmy and Liu Chuang under pressure.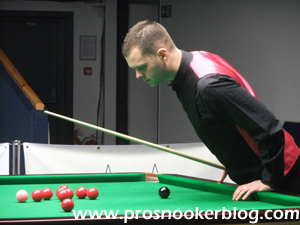 Alfie Burden and Anthony McGill both require at least two wins to threaten Robertson, while those below will need to win at least three.
Otherwise though, the race is a tight one and with such so little in it, we shall see how the second qualifying round in particular unfolds this Wednesday…
The Top 64 (68)
With Ronnie O'Sullivan, Stephen Hendry, Stephen Lee and Joe Jogia unlikely to participate on the main tour in the near future, there appear to be four places on offer inside the top 64 seeds.
Already all-but secure are Rod Lawler and Cao Yupeng, while Kurt Maflin and Aditya Mehta are the two most well-placed to join them. Their nearest challenger is China's Tian Pengfei, who with two wins this week would gain enough points to leapfrog the two above him, if they lost their respective openers.
With so many points on offer a the UK Championship however, a good run from almost anyone could see them move into contention…