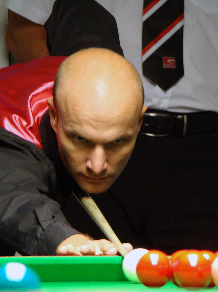 Today marks the halfway stage of the 2012 UK Championship qualifiers at the EIS, Sheffield and so far the headline story is the 147 break made by Andy Hicks today, during his second round match against Daniel Wells. Click below for a round-up of the action so far…
Click here to view the updated drawsheet
Click here to view the latest projected seedings
Click here to view my 147's page
Andy Hicks made his first maximum break in professional competition in 1994 and today during the final frame of his 6-2 win against Welshman Daniel Wells, he repeated the feat to seal his progress into the next round. A nice story for a nice guy, the break earns him the rolling 147 prize for qualifying events of £2,500, in addition to the £500 pre-television high break price, provided that the feat is not equalled this week.
Perhaps more importantly however, it was a good result against a player who himself recorded a strong win against Leeds' David Grace yesterday to move into the next round. Next up for Andy though will be a third round match with Mark Joyce, a quarter-finalist at this event in 2010.
Joining him is India's Pankaj Advani, who having seen off one former UK Champion in the form of Jimmy White today, will be hoping to defeat another tomorrow in six-time winner of this event Steve Davis. It was not a straight-forward victory today as all eleven frames were required to separate the two, however having already defeated Davis under this format at the recent International Championship qualifiers, he knows what awaits him.
Also through to the third round is Belgian Luca Brecel, who yesterday was involved in the match off the round as he reeled off three century breaks to defeat Scottish talent Scott Donaldson in a deciding frame. Adding the scalp of Leeds' Peter Lines today, he now faces Chinese player Liu Chuang in what on paper is a very difficult match to call.
On the subject of the tour's Chinese contingent, Chen Zhe, Cao Yupeng and Tian Pengfei have all successfully made it through to the third qualifying round, while at the time of writing Yu Delu is close to joining them, leading Paul Davison 5-4.
It has also been a good day for Thailand, as both James Wattana and Thepchaiya Un-Nooh advanced, while Dechawat Poomjaeng trails Rod Lawler 4-3 at present.
Elsewhere, there was a much-needed win for Sheffield's Adam Duffy, who following an excellent début season in 2011/12, has struggled for results thus far during the current campaign. There were also good wins for English duo Jimmy Robertson and Ian Burns, the former in particular coming through a dramatic match with fellow On-Q player Michael Wasley in a decider.
The action continues tomorrow as the race for York intensifies…