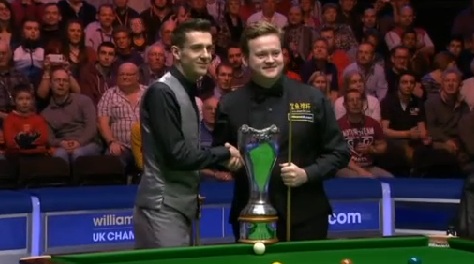 The 2012 UK Championship has been notable for its comebacks, but tonight there was to be no fairytale for Mark Davis as Leicester's Mark Selby earned a comfortable 9-4 victory to not only book his place in a first UK Championship final, but also ensure that he will return to the top of the world rankings after this tournament, displacing Judd Trump.
Click below for my thoughts ahead of what promises to be a thrilling final, as well as view videos from both Shaun and Mark's post-semi-final press conferences…
So this week's final will come down to a clash between two of the world's top four players as two-time Masters champion Mark Selby, will on former world and UK champion Shaun Murphy at the Barbican Centre in York tomorrow.
Whilst the respective abilities of both players are obvious and have both been there for all to see this week, from a personal perspective it is a particularly nice final to see as both are players, indeed people that I have a lot of time for. As those of you who follow me on Twitter will no doubt be tired of me saying, both have been kind enough to spare some of their time for me at PTC events for interviews (links above), this season and are in my view, two of the most professional players on the circuit. Entering almost all of the events open to them and always doing their share on the PR side, it is fitting that they are through to this week's show piece final.
But of course they are not through to the final by just being nice guys. On Shaun's side, he has had to survive a couple of real scares, notably against Luca Brecel who was within a couple of balls away from defeating the 2008 winner and against Ali Carter, who led 8-4 before Shaun produced a sustained display of brilliant potting to turn their semi-final on its head.
Of course Shaun has come back from deficits before in his career, but the onslaught of prodigious, fearless long-potting, that he made look routine during his run to the world title in 2005, that he produced to edge out an opponent who at 8-4 had a pot success rate of 93%, reminded me of a certain seven-times world champion who has occupied the commentary box this week.
I first noticed when I saw Shaun playing in the Premier League in Doncaster recently, funnily enough against Mark Selby, that he looked to be cueing particularly nicely and it is telling that his form has now peaked at the time of one of the year's most important tournaments.
On the other side of the coin, Mark Selby has not been too shabby on the scoring front this week either with five century breaks of his own on his way to the final. His run though will be remembered for the way that he battled back from 4-0 down against Neil Robertson in the quarter-finals, a turnaround that was particularly notable given who it came against.
For many seasoned snooker watchers at the moment, Neil is regarded as one of the strongest match players currently in the game, but the way that Selby dug in and emerged victorious was telling. Against even somebody like Ronnie O'Sullivan it might not have been all that surprising, but to do so against Robertson was reminiscent of the way that he was performing regularly in the majors two or three years ago.
Two contrasting styles then, who will come out on top this time?
It is a difficult one to call, with Murphy back to his attacking best, while Selby is also displaying the all-round game that took him to the world number one ranking in the first place.
That said, I like to make a prediction and my gut feeling is just with Selby this time, on the basis that his all-round game and greater ability to scrap it out will see him just about come on top, as he did in perhaps their most-notable previous meeting in the semi-finals of the 2007 World Championship at the Crucible.
We shall see, if Shaun can repeat the form that he displayed against Carter, then I don't think that anyone would be able to stop him, but that in itself is a tough ask.
Either way, we will have a deserving champion as another year of snooker (almost), approaches its end.
Who is your winner?