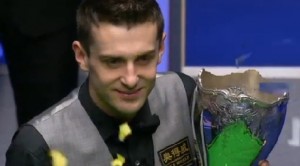 Congratulations to returning world number one Mark Selby, who has tonight defeated Shaun Murphy 10-6 to lift the biggest title of his career so far, the 2012 UK Championship in York. As well as the trophy, Mark takes home the first prize of £125,000 and heads into 2013 with a line drawn firmly under what has at times been a difficult year.
Click below for more…
In truth the 2012 UK Championship final will not be remembered as a classic, neither player found anything like their best form, with no century breaks between them and plenty of tension. In many ways it is not too surprising, indeed with all of the pressure that comes with a major ranking final, it is often the way and perhaps it was a little bit harder for the players today given that they are such good friends off the table.
Ultimately however, it was Mark Selby who was able to prevail, winning the final four frames from 6-6 as his opponent Shaun Murphy just lost his way in the closing stages of the match. The 2008 champion did have a chance to get himself back into the contest and close to 7-8, but from the moment that he missed what looked to be a straight-forward blue when attempting to clear, the writing looked to be on the wall for Shaun.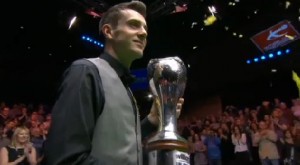 For Mark it represents surely the biggest triumph of his career to date, not just to win the title and secure his return to the top of the rankings, but to do so following a tough year which by his own admission has seen his confidence knocked following the neck injury that he sustained at the China Open towards the end of last season.
While he did not bring his A-game to York in terms of his scoring (though he did make five century breaks during the event), he brought all of the battling qualities that we have come to expect from him, describing it in his post-match interview as 'same old me' – but not in a bad way by any means.
With his confidence now surely restored and two of the game's biggest three tournaments already on his CV, Mark will no doubt be looking ahead to next year's World Championship now, though there is of course much snooker to be played between now and then.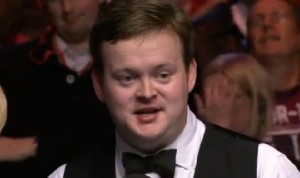 As for Shaun, a difficult day at the office, he certainly did not enjoy a favourable run of the ball this evening, but on balance I am sure that he will be happy with his work this week, the highlight without doubt being his performance against Ali Carter in the semi-finals to come back from 8-4 down to secure an unlikely victory. A regular in the last four of major tournaments of late, his time will surely come again before too long.
Next up – the penultimate European Tour event as the circuit moves on to Scotland. Stay tuned tomorrow for an extended blog about who has to do what in order to qualify for the Grand Finals next year, while after that come the Haikou World Open qualifiers as the snooker circuit rounds off 2012 in Sheffield.