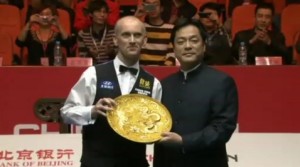 Another week, another drawsheet, as World Snooker have now released the qualifying draw for the 2013 China Open qualifiers, which will take place in Sheffield between 9-12 January 2013.
To view the draw here at PSB, please click here.
At first glance, there are the usual sprinkling of amateur players involved, including Gareth Allen, whose match against Tony Drago promises to be a fast one given the styles of both players!