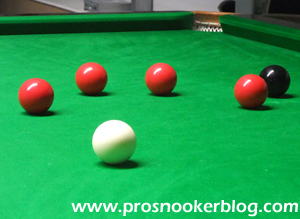 Shortly before Christmas, the news broke that from next season, up to eight full-ranking event tournaments will be staged with a new 'flat' 128 man draw, with everybody coming in at the first round, regardless of their ranking.
Arguably the biggest and most controversial change to professional snooker in many years, unsurprisingly many have had their say, some all for the move, citing the increased 'fairness' that it would provide, while others are far more sceptical.
With so many implications arising from the changes and factors that have been argued by those on both sides of the argument, below I try to pull those together, while trying to offer some conclusions of my own…
The Current System
As most people reading this blog will no doubt be aware, for a number of seasons now, the main tour has been made up of around 96 professional players, with the top 16 generally guaranteed to play at the 'venue' stages of full-ranking events as of right. The remaining players on the tour have competed for the other 16 spaces, through a tiered qualifying structure which has seen those ranked towards the bottom of the rankings, have to win up to four, (last season sometimes even five). matches to play at the venues.
In many tournaments, there is no prize money available in the first two rounds of qualifying, while in some overseas events such as the Australian Goldfields Open in recent years, there has been no prize money on offer before the last 48 stage.
The Changes
You can read a summary of the changes here at Eurosport, where Barry Hearn is quoted as saying:
"It is our intention to move to a flat 128-man draw for the majority of tournaments next season,"
"We want a level playing field and that is now scheduled."
"We have had to get consent from our promoters and broadcasters, and the BBC want to see how the UK goes on this basis before they agree to the World Championship."
"This comes with another big increase in prize money. It will be up to £8 million next season, but you will get nothing for going out in round one. Most of the top players I have spoken to are in favour."
In short, with the exception of the three tournaments (unwilling to alter their current, valid contracts), all events next season will move to a flat draw of 128, with the top 16 no longer seeded through to the last 32.
In terms of prize money, the philosophy would appear to be that anyone who wins a match, will receive prize money, whilst those who lose in the first round, will not.
It goes without saying, therefore, that these changes are of huge significance to everyone in snooker and that there are a vast number of considerations when trying to judge, from an objective viewpoint, whether or not they are good for the game.
So what are those factors?
'Fairness'
Back at the Crucible in April 2012 on announcing an increase in prize money for the PTC tournaments, as well as flatter draws for this season's German Masters and Welsh Open tournaments, Barry Hearn said the following:
"Most of you know my ideology of where I think this game should go and this is something that me and my colleagues have a passion about –  the idea that snooker is an out and out meritocracy, built around ability and opportunity. It's not built around over-protection of top players. It is built around the principle that players should be treated as justly and fairly as possible and that ability should be the only criteria for success."
"I do appreciate that because of existing broadcast contracts this will take time for the master plan if you like to come to fruition and that will involve the support of our broadcast partners who under current contracts have a guarantee of top players appearing at a certain stage of the tournament. I feel that this is very backward in today's world. With a tour membership of 99 players for this year and 128 for next year, we have got to show to the kids out there that when they get a tour card it means something."
"So this year we are going to start this transition and move towards and out and out level playing surface. And we start with the German Masters and the Welsh Open. Both tournaments this year, first round matches will be last 64 seeds, 33-96 that will play one game, but then play a second game against the top 32 players in the world, taking away the rather onerous task for the lower players of having to play four matches to reach the TV stages."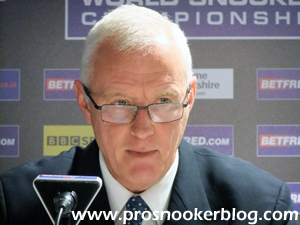 "If you are a top player, then you should be prepared to prove that you are a top player every time you take to the table. The German Masters and the Welsh Open are just the beginning. Mindful of our BBC contract, we will be looking to bring the UK Championship into a more open mode for the following season."
"To reflect our desire to make fairer tournaments bigger, we will start increasing prize money in those two events, the German Masters going up to €300,000, with a first prize of €60,000. The Welsh Open will go up to £250,000, a 25% increase, with a first prize cheque of £50,000″
"The biggest prize money increases in future will be held back for those tournaments which are seen to be fairer to the membership as a whole, so look for further significant increases in PTC events and PTC Finals in the years ahead."
"The PTC Finals will consistently be my number one choice in terms of increasing prize money. The fairest tournament of them all with 128 players going in at each event."
Barry has certainly been true to his word and from next season, the 'master plan' to which he referred to, will have become very much a reality, subject to the introduction of the money-based rankings the following season.
So do the changes promote fairness?
For sure, it is hard to think of other professional sports, where certain players are afforded as much protection as they have been in snooker, coming in at the last 32 stage, while others have to win up to four matches to even make it that far.
This system, in particular prior to the introduction of rolling rankings in 2010, meant that a top 16 player could sometimes do little more than consistently win their opening matches in tournaments, yet still retain a place in that elite bracket, while others lower down the list, could win two or three times as many matches and struggle to make significant progress for a number of years.
As Jason Ferguson recently put it:
"The players were guaranteed so many points just for turning up they could effectively win 2 or 3 matches in a season and hold their ranking position. Going back to my career I remember I was up to 23 provisionally with a couple of events to go, and I was going strong and probably looking like I was going to get in the top 16 that year, and it was so difficult to shift those people above you at that point. You were winning 3 or 4 matches in every tournament at least, and you've got people above you who would win one match in every 3 tournaments and stay above you. That can't possibly be right!"
With everyone coming in at the first round however, in theory the same opportunities will now be available to all. Each player at an event will be starting from the same place and on a level playing field, as has been the case with the PTC events that are so favoured by Hearn.
There will be some form of seeding system in place, with the top 64 set to face those ranked below that mark in their opening matches, but in terms of the amount of matches required to win a tournament, going forward the player ranked 128 will have to win no more matches than the world number one.
Increased Opportunites?
In theory at least, such a system will mean that for those ranked further down the rankings, the task of making it through to a venue should be that little bit easier.
Jack Lisowski recently likened the labyrinth of the qualifying rounds to that of having to win a tournament just to make it to the venue stages of an event. Under the new system however, he would have as much chance as anyone else to be there and to arguably showcase his talents on the big stage more easily than under the current set-up.
Take for example the Welsh Open tournament this week, which with a flatter drawsheet than we are accustomed to, has seen the likes of Pankaj Advani, Ian Burns, Michael Wasley, Sam Baird and Gareth Allen amongst others, make their mark on the big stage. Any sport needs to see new faces and to allow those outside the established names the opportunity to make a name for themselves.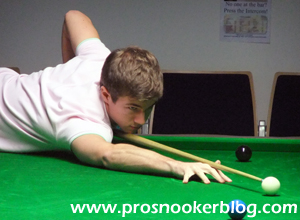 That said, it is arguable that there are drawbacks for the lower ranked players. Under the current set-up, those ranked further down the list, including for example those new to the tour for any given season, will begin their tournaments against players of a similar ranking. In theory as they progress through the drawsheets, the matches will become harder, offering some sort of learning curve to those starting from the bottom.
Under the new system however, rather than beginning with a tie against a player of similar ranking, they are now likely to be paired with the game's leading players from the very first round. While then they will have to win fewer matches to make it as far as the last 32 stage, the difficulty of those matches is, on paper at least, likely to be far higher. Is there a danger that the first round could see a larger number of one-sided matches than we see at present?
Another argument is of course that while the current system does not make it easy for those further down the rankings to make it through to the venue stages of events, nevertheless those who have proven themselves to be good enough, have been able to make that progress, regardless of the system. Take Luca Brecel, who made it through to the venue stages of the UK and World Championship last season from the very first round, while Cao Yupeng has achieved that feat on a number of occasions.
Holding over matches
While it is true to say that under the new system, everyone will be starting from the same round, upon closer inspection it is perhaps not quite the case that everyone will be starting on quite an equal footing.
Something that has been identified by players such as Mark Williams, is that as we have seen already this season, due to the risk of either the big names or local players crashing out at the qualifying stages of events away from the venues, a number of 'qualifying' matches have ultimately been held over to the venues, presumably at the behest of the television companies.
Of course holding matches over to the venues is not a new thing to snooker, indeed for many years some of the Welsh players have had their qualifying matches held over to the venue in Newport.
This year however, there have been some curious decisions taken as to which matches have been held over, the most obvious being that of Dominic Dale's last 64 match at the German Masters, presumably on account of his Berlin residence, meaning that top ten player Stuart Bingham was required to play in Sheffield.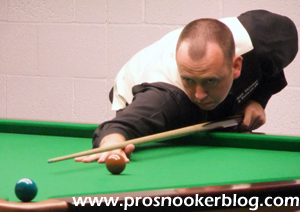 Similarly, Dale and other Welshmen such as Ryan Day and Matthew Stevens had their matches held over to the venue at last week's Welsh Open, while Ali Carter, Neil Robertson, Shaun Murphy and Stephen Maguire were required to qualify. With recent German Masters winner Carter losing his match in Sheffield, it was strange not to see the previous ranking event winner even at the venue, despite being a member of the top 16.
While then the draws have been flattened, in reality, are the new, flatter draws, going to prove as 'fair' as some would argue?
This was a pointed touched upon by WPBSA Chairman Jason Ferguson recently, during his interview with Snooker Island:
"So in principle that is what it is. It's quite basic and it has to be the fairest system of all. I think the situation is though that there are going to be times where let's say we have a new event in India. The likelihood is that we will want to hold over two of those matches for the Indian players. And I'm sure that that will eventually happen in China as well where they will want to hold over some of their best matches for the final stages. So we'll certainly have to accommodate for a few extra matches at the venue."
"Some of the players to be fair are raising concerns over that and asking whether it's fair or not because it's possible you could get the seeds in round 2 always playing at the venue. That is certainly a concern of mine as well, I think there are some issues there which we'll need to iron out. But the bottom line is that the players who win more matches will go to the top and the players who lose will fall by the wayside."
Prize Money Distribution
Another important consequence of the changes is that of the redistribution of prize money, which will impact upon every player on the main tour in some way.
At present, by virtue of being seeded through to the latter stages of events, the world's top 48 and in particular those ranked at the very top of the game, are effectively guaranteed a certain level of income. For example at the UK Championship, a top 16 player was guaranteed to take home £7,500, even if they were to lose their opening match.
Following the changes however, it seems likely that as with the PTC events now, initially at least, first-round losers will receive nothing, meaning that those higher-ranked players will no longer be guaranteed to take prize money out of a tournament.
As Dominic Dale recently told the Penarth Times:
"I can only agree with it if it is okay for everyone. If you look at tennis, where everybody starts in round one, you have to have a good prize money structure."
"Unless World Snooker can put prize money in round one, I'm not sure I would agree with it but I believe there will be player meetings to finalise the rules and see what they think in general."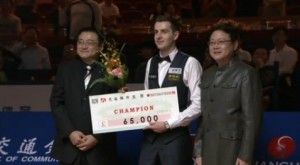 Of course, the other argument is that the new system promises to reward anyone who is able to win a match in a tournament, which is not the case under the present system. As Rod Lawler explained to me last year:
"I'm a believer that when you win your opening match in a ranking event, you should be on a prize and that prize should cover your expenses for that event, ie your entry fee and your expenses for that event."
"I can understand that at the moment there isn't enough money to pay too much in that round, but I think that there is enough money in the total prize fund now to filter some of it down to second round losers, because they have won 50% of their matches."
"The World and UK Championships when you are coming in at round one, you have got to win two matches to win any prize money and that's tough. It's a lot of pressure on the lads and I was there last season in that first round in both of those events and it is a lot of pressure to get some prize money out of them."
Another perspective is that the changes will look to further benefit those who are able to reach the latter stages of events, in other words, that due to the redistribution of prize money, a last 16 run will be more profitable in the future, than at at present, something touched upon by Neil Robertson at the BBC:
"The idea is if we progress to the last 32, last 16, we will be on guaranteed more money than we were in the first place."
Have the higher ranked players earned the right to guaranteed prize money, or should everybody start from zero, with the chance to gain more?
Money-list Integration
The financial impact of the changes also leads on very nicely to the next consideration, which is how the structure will tie in with the upcoming changes to snooker's ranking system.
When it was announced last summer that the current ranking list will switch to a system based upon prize money from the 2014/15 season, one of the main concerns raised was that it could not operate fairly, under a system where certain players are guaranteed income without winning matches, while others could win in the early rounds, without earning a penny.
As I explained at the time however, that change could not be viewed in isolation and now with the imminent changes to tournament structures, in this sense, the move to a 'money list' now looks to make a lot more sense than it did six months ago.
Practicality, Venues
With the size of the tour increasing to 128 from next season, with 64 first round matches to be played, this immediately begs the practical question as to where they will all be played.
It won't be the EIS in Sheffield, the unpopular venue which has hosted qualifying and PTC events in recent seasons, as explained at Snooker Scene Blog recently.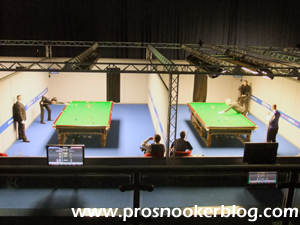 One would assume that for the immediate future at least, a facility will have to be found which can host some sort of pre-televised stage.
Longer term however, is the intention going to be to host all matches at a single venue, or at least the same city? This the case with tennis for example, which for some reason is so often compared to snooker by those looking to draw comparisons. Again, this is something that was considered to some degree by Jason Ferguson at Snooker Island recently:
"I don't think anybody can argue with the principle of what we're all trying to create, and that is a fair and open system. Now in practice there are some difficulties with that and if you look in terms of the numbers you've got in round one for example, we've been talking about:"
1. Creating a new venue or a substantially improved facility to house some qualifying rounds, but
2. that the events end up like a Wimbledon format, like we do in the Paul Hunter Classic and I'll just use that one as the example.
"When we go out to Germany for the Paul Hunter Classic, there are 128 in the draw. There's outside tables and then there's the main arena. I think the long term dream is that that is what we could create, and certainly that's what our operations guys now have gone out to look at."
While this sounds ideal on paper, is it a realistic goal to be achieved in snooker? With so many events in China for example, are those lower-ranked players, who are struggling with expenses to travel even to Sheffield at the moment, going to be able to manage regular flights far and wide, with potentially no payback if they are to lose in the opening round?
As Dominic Dale continued in his interview with the Penarth Times:
"The first few tournaments of the season are all abroad and it costs a lot of money in terms of entrance fees, flights and accommodation."
"You may find yourself shelling out almost £4,000 before you see any return on your money. I have known players during the season who have said to me it may be better to lose their qualifying round as they get paid quicker."
As suggested previously, it would appear that there is not enough money yet in the sport to offer prize money for first-round losers, so for any player going on a bad run at the start of the season, it could leave them in a very difficult financial position insofar as funding future tournaments is concerned. Could this in fact restrict opportunity, rather than increase it?
That said, at present there is of course no money available in the first two rounds of events, so it is arguable that the situation would be no 'worse' than it is now. Furthermore, the likes of Barry Hearn would I am sure counter that it is the winners that should be rewarded, not first-round losers, so for those who are able to win matches, they will have the opportunity to win money at an earlier stage and thrive under the new system.
History – earning protection
One argument that has been made against the changes is that for all of the talk of 'fairness', the effects will in fact be unfair on the current 'top' players, who have themselves started from the bottom and worked their way to the top of the game, earning any protection that they might now have. As Mark Allen is quoted as saying at News Letter:
"The top 16 are there on merit. We have not been placed there. Nobody suddenly wakes up and they are in the top 16, you have to earn your right. I have worked hard for it. It took me three years to get into the top 16 – it took Mark Davis close to twenty!"
"We have worked hard to get where we are and next year it is going to be a step back having to start in round one. At the minute, obviously all the details have not been released about what is going to happen next year but, from what we have heard, there is no benefit whatsoever for the top players."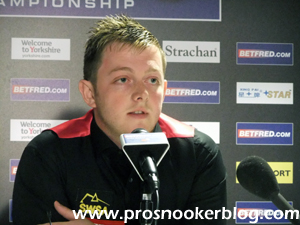 "The top players won't be seen as top players. There will be very little advantage. It is probably going to suit Ronnie (O'Sullivan) down to the ground if he does want to play again. He doesn't have to worry about his ranking, he can come in at the same round as everyone else and obviously he is capable of winning any of the tournaments."
"It is going to lend itself to people like Ronnie but I don't see any benefit to the rest of the top players."
From the point of view of those at the top of the game, this is understandable and given the effect that it may have on them, they can be forgiven for thinking along the lines of Ali Carter, who recently told the BBC:
"I'd prefer it to stay as it is because it's better for me. It might be fairer for everyone else, but I'm not everyone else, I'm me, and I'm in the top 16."
But on the other hand, it can be argued that this is exactly why the game is no longer in the hands of the players, that it requires someone in Barry Hearn's position, to be able to make decisions that will benefit the sport as a whole, rather than to serve and protect the top players.
And it is interesting to note that not all of the top players are against losing their protection, as John Higgins told the BBC:
"If I can't come through the 128 scenario flat system where I might be playing someone ranked outside the top 64 first, I don't deserve to win tournaments,"
Shaun Murphy is another who is firmly in favour of the switch, again he told the BBC:
"This for me is the landmark decision that should have been taken years and years ago," he said.
"For the first time ever the top players will be able to look everyone in the eye and say they are the top players because they have had to beat everybody else."
Unpredictability
Earlier I referred to the increased opportunities that would in theory be open to the lower ranked players, but could there in fact be a downside to this?
While the prospect of upsets and seeing new faces is in many ways an appealing one to those of us who follow the game closely, is there a danger that too many early shocks could prove a turn off to the more casual snooker viewer, who will typically be tuning in to watch the big names?
It is a fear that has been raised by some, particularly in light of the fact that Ali Carter for example, winner of the German Masters just a fortnight ago, was not present at the Welsh Open, having lost his last 64 match in a Sheffield cubicle.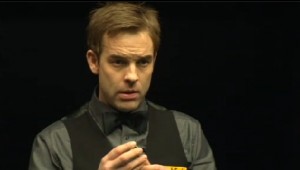 The television companies obviously want to have the biggest names playing in the biggest tournaments, which even with some matches being held over to the venues as already discussed, is not guaranteed. Where is the line to be drawn between equal opportunity and satisfying the broadcasters and sponsors?
Again, opinions are likely to differ from those within snooker, depending on how any particular person is affected, but as a viewer, I can understand why a string of finalists and early exits for the 'big names' could prove a problem. While serial winners are not always popular in snooker, they do carry an aura and there is always an added sense of occasion when the finals are contested between the elite players.
That said, would flat draws really result in such upsets? Looking at the PTC events, in particular those in Europe, in front of big crowds and broadcast on Eurosport, it is telling that even operating under flat draws and only the best of seven frames, the winners this season have been Mark Selby x2, Ding Junhui, Neil Robertson, Mark Allen and Judd Trump. Last season they were won by Neil Robertson x2, Mark Selby, Judd Trump and Stephen Maguire.
Not quite then, the list of unknowns that some might have you believe.
Conclusion
So with all of those arguments (and more that I will inevitably have forgotten), can we say whether the changes will be good for snooker?
For me, the main 'problem' for want of a better word, was summed up, again by Dominic Dale, during his interview with the Penarth Times:
"I don't mind the idea of everybody starting in the same round. If you were introducing a new sport that is exactly what would happen,"
"But obviously those who have been around for a while may think things are back to square one."
When attempting to take an objective view on the new system, inevitably the changes will be viewed against the backdrop of snooker's history, the current set-up and the protection that the current top players have previously 'earned'.
As with any imposition of change, some are not going to be happy, some are going to lose out because of it and some will raise objections, a number of them valid, others less so.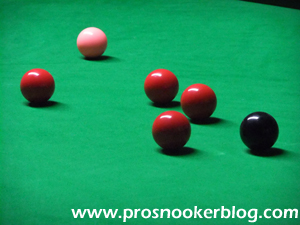 For me, not just in snooker, but in life, when considering any significant change, the most effective way to do so is by analysing the current system as a whole and taking the best elements from it, but at the same time starting from a clean sheet of paper. Tweaking and modifying what is in place can take you so far, but sometimes a fresh outlook and root and branch changes are necessary.
This is something that from the outside has not been done in snooker for many a year (as illustrated by the outdated and disproportionate ranking points tariffs currently in operation), but now, over the course of at least five years, looks to be being done.
Inevitably the transitional period of the next 2-3 seasons will not be ideal. 2012/13 has in itself has for me been flawed to some extent, with some players who having earned ranking points last season, starting this term on zero, while next season there will be a mix of events staged under both the new and old formats.
There will be complaints from those who have won their way into the top 16 on merit, which I can understand, but for the sport as a whole, in theory, everyone coming in at the same round, to me looks to be a more logical way of structuring the tournaments going forward.
But despite those, and some of the other reservations touched upon above, I am broadly in favour of the changes, which I feel will be good for the sport as a whole. I do think that they will help tour newcomers to make it to the venues more quickly and as the PTC events have already proven to some extent, the experience that they will be able to gain against the current top players will only accelerate their development further.
As I say, there are issues that will require further thought, mostly practical points such as where matches will be played, which matches will be held over and how financially viable the sport will be for those lower down the rankings, if in the future tournaments are all to be played at one venue.
But in principle at least, I look forward to seeing how the changes pan out. As much as a traditionalist as I am in many aspects when it comes to snooker, particularly when it comes to the game itself and the World Championship, I do not believe the history of the sport, should prevent a change which in the long run, could be for the better.
Either way, it's going to happen…
What is your view on the changes? Let me know on Twitter @prosnookerblog