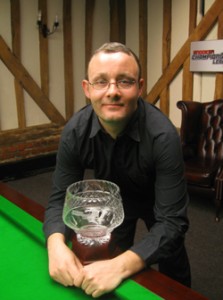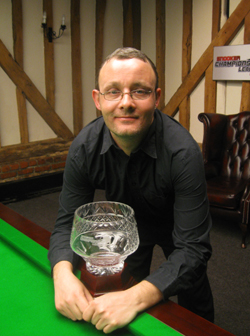 Following his victories at the UKPTC2 and Snooker Shoot Out events earlier in the season, this Thursday Martin Gould defeated Ali Carter 3-2 at Crondon Park to win the 2013 Championship League and make it a hat-trick of professional titles in 2013/14.
Click below for a round-up of how he did it, together with quotes from SightRight's Steve Feeney, who has been working with Martin during the course of this season…
Click here to view all of the results from the 2013 Championship League
Originally scheduled to start his campaign at the fifth group of this season's competition, Martin's participation was brought forward to the first event, following the offer of a switch with Joe Perry, who would come in the event at a later stage.
Though the first group in particular was loaded with some of the strongest players in the game at present, Martin showed well to reach the semi-finals, before going one better to reach the final of group two, losing out to Northern Ireland's Mark Allen.
A fifth-placed finish followed at group three, when Martin crucially defeated Mark Selby 3-2 in his final match to ensure his survival in the competition, before he again reached the last four at the next group.
At group five however, Martin was able to go all the way, defeating Joe Perry in another decider along to way to make the semi-finals, before then seeing off Barry Hawkins and Stephen Maguire with a top break of 139 to book his place in the winner's group.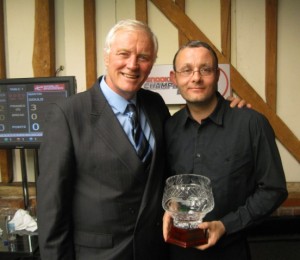 Matchroom Sport
Once there this week, Martin was able to win three matches to move into the last four once again, where he then whitewashed recent PTC Grand Finals champion Ding Junhui to advance to the overall final.
There he was to meet Crondon Park stalwart Ali Carter, in what would prove to be a close-fought contest, as demonstrated by a tight opening frame, won by Gould despite a break of 58 from his opponent. The next two frames were shared however, before Carter hit a break of 68 to force a decider.
Once again in this season's competition though, Martin was to finish strongly, a break of exactly 100 enough to secure the £10,000 top prize and another professional title this season.
Following his rise to the world's top 16 a couple of seasons ago, Martin for whatever reason struggled to maintain the level of consistency that saw him gain that elite status in the first place. To his credit however, he has enjoyed an improved campaign in 2012/13 and will be hoping to take confidence from his latest title into his final event of the season, the 2013 World Championship.
One of the factor's behind his improved run of late has no doubt been his relationship with SightRight's Steve Feeney, who had the following to say on Martin's victory at Crondon Park:
"When we first got together last July, Martin was defending a stack of ranking points from 2010. He had been going through a tough time in 2011, without a win for a number of events and as a result was set to fall outside of the top 16, under the new ranking review format."
"He had a great match with Marco Fu in the International Championship, but finding himself on the wrong side of a 6-5 result, the inevitable happened and he lost his top 16 place."
"We had already talked about the implications of temporarily falling out of the 16, what to expect as a result and the work needed to get back into it and more importantly to Win Ranking Events."
"It's a different game for a top 16 player back in those cubicles – the conditions, surroundings, expectations etc. You see many 'dogfights' and Martin has been a little unlucky to lose a couple of his qualifiers this season, but it has been great learning for him and his game is very strong now."
"Martin has applied himself superbly; I can see a new level of confidence and belief growing in him through our work. Our coaching sessions are very focused, and he is practising harder. He is more accurate now across his 'whole' game, and hungrier because he is winning and knows there are more exciting times ahead."
"Martin is an exciting player to watch – he wins the crowd with his style of play. Since we got together he has won his first ranking event (PTC2), won the Betfair Shoot Out and now the Championship League, in a highly competitive format involving the best 25 players in the game."
"Snooker is an accuracy sport, a game of skill and precision and the most accurate and consistent will win and rise to the Top."
"Martin has a fantastic temperament and talent, his whole game has improved as the results show, and a major ranking event win is waiting around the corner for him."
"Looking back on the Championship League, I can remember saying to Martin in the Players Room –
"To be the best you've got to consistently play against and beat the best – get stuck in and let's go win this and earn you a place in the Premier League."
"He's done exactly that and I am so pleased for him. His favourite Ribeye and Jack Daniels sauce will be my treat after our next session!"
Having lost his qualifier for the China Open back in January, Martin will next be in action at the final qualifying round for the all-important World Championship next month. As ever, I will be at the qualifiers in the Badminton at the EISS, to see how Martin and all of the other players get on.