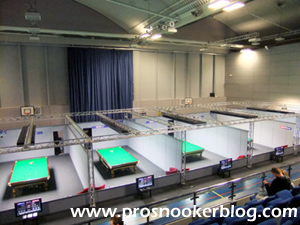 So then, with the drawsheet now available for the all-important World Championship qualifiers, already opinions are forming on the various potential match-ups and meetings in Sheffield.
Click below for my immediate thoughts on the draw and some pointers to look out for during the next fortnight…
Click here to view the drawsheet for the World Championship qualifiers
Held in the Badminton Hall at the EIS Sheffield once again, the 2013 World Championship qualifiers will see all but the tour's top 16 seeds battle it out for the right to appear at the Crucible Theatre later this month.
With ticket prices relatively cheap and a mixture of high quality and tense finishes guaranteed, I would strongly recommend to anyone thinking of going along to watch the qualifiers to give it a go. I will be there on both weekends, as well as weeknights after work and I look forward to seeing some of you there.
Without further ado though, what can we glean from the newly published drawsheet?
Route One
Heading the draw are Thepchaiya Un-Nooh and Scott Donaldson, who will meet for the first time in the opening round on Saturday. Of the two, Un-Nooh is the more experienced and has a string of last 16 runs at PTC events to his name this season, as well as final qualifying round appearances at the UK Championship and Haikou World Open. For that reason, I would make him favourite to progress against his 19-year-old opponent, though Donaldson is not to be discounted, having run Luca Brecel very close at the UK qualifiers earlier in the season.
Either way, the winner will move on to a tie against Gerard Greene, who has tumbled down the rankings after a disappointing season which has seen him win just three matches in full-ranking events, two of those coming at the start of the season in June.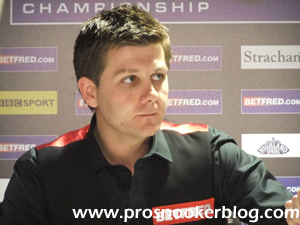 Next up is Leicester's Ben Woollaston, who has had a curious season in that he has won just two matches in full-ranking events, yet has shone in the PTC series, reaching five regular event quarter-finals, in addition to the last eight at the recent Grand Finals in Galway. Having made it through to the final qualifying round for the Crucible last year, Ben will be hoping to get back to winning ways over the longer format matches and make it to the televised stages of the event for the first time.
Potentially standing in his way will be Ryan Day, the three-time Crucible quarter-finalist hoping to make it back for another assault at the title. It has been an uneventful season for Day so far, with the Welshman often reaching the venues, without being able to progress beyond the last 16 of an event, but perhaps his quarter-final run of a year ago will inspire him to make it back to the Crucible once again in 2013.
Route Two
Kicking off section two are Zhang Anda and Passakorn Suwannawat, two relatively evenly matched players, though Zhang has had the stronger season of the two with a final qualifying round run at the Haikou World Open qualifiers being the highlight. Passakorn meanwhile has won just three matches, two of those last June, and will probably be second favourite to progress as a result.
Elsewhere in the section there is real quality, with On Q Promotions duo Cao Yupeng and Michael White lying in wait. With his last 16 appearance at the Crucible still fresh in the memory, Cao started the season well by consistently winning matches and moving up the rankings as a result, though it must be pointed out that his recent form has not been so strong, indeed he is without a match win in 2013.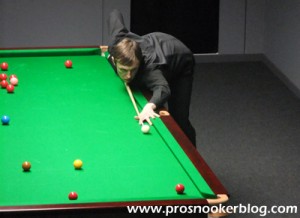 It has been a similar story for White, who since his 6-3 defeat to Mark Selby at the last 32 stage of the UK Championship in York last December, has won just one match in a ranking event and will be desperate to improve upon a shock 10-2 defeat to Yu Delu in his opening match of this tournament a year ago.
Whoever can come through will meet Andrew Higginson, who has been generally consistent at the qualifiers this season and of course defeated Stephen Lee on his way to the last 16 at the Crucible a year ago.
Route Three
Next up, Thanawat Tirapongpaiboon and Jamie O'Neill start us off in section three, a match that the Thai player will be fancied to win given his generally impressive form this season, certainly in comparison to Jamie who has won just two matches in 2012/13.
Whoever can progress will then meet Mike Dunn, who will be hoping to make absolutely certain of his main tour place for next season with a win in Sheffield. Having struggled for form during the past couple of seasons, Mike has recently shown signs of recovery with opening round wins in his last three ranking events and will be hoping for more this week.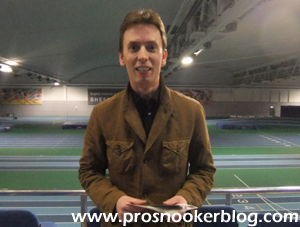 Also lurking in this section are Matt Selt and 1997 world champion Ken Doherty, Selt hoping to qualify for his first venue since the Australian Goldfields Open back in June, while Doherty will no doubt be desperate to make it back to the Crucible in a playing capacity, not just as an analyst for the BBC.
On his day, Ken can still produce and has generally had a solid season this time around, but he is not as consistent a force as he once was and had to rely on a last-gasp clearance against Anthony Hamilton last season to make it back to Sheffield. Still, he will be favourite to progress from this section.
Route Four
Starting out in section four are Michael Wasley and Sean O'Sullivan, two promising young players who both made it onto the tour via the Q School last season. Of the two, Michael has had the better debut season on the tour, however Sean has shown real improvement in recent tournaments and therefore this match looks to be one that could go either way.
Awaiting the winner will be veteran Thai player James Wattana, who is another without a win in 2013, though someone who often seems to save his best for the longer format matches such as those in the tournament.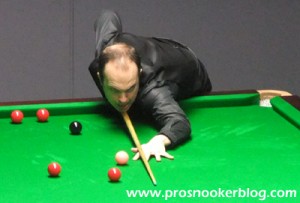 One player very much in form however is Jack Lisowski and the recent China Open quarter-finalist can be found in this section as he looks to make it through to the Crucible for the very first time. Having lost out to Steve Davis and Alfie Burden in his previous attempts, the signs are that Jack is now really beginning to establish himself on the main tour and he will be hoping to underline that belief in Sheffield next week.
Standing in his path if he can win his opening match will be Ireland's Fergal O'Brien, who will be hoping to make it back to the Crucible for the first time since 2010, when he lost out to eventual champion Neil Robertson in one of the most evenly-matched 10-5 matches that you could ever wish to see. Fergal's best run this season came back at the UKPTC3 event in Gloucester, when he made it through to the quarter-finals before losing out to Dominic Dale.
Route Five
Next up, Dechawat Poomjaeng and Michael Leslie get us underway in route five, a match that Poomjaeng will begin as favourite to win, having established himself as a consistent match-winner on the main tour over the past couple of seasons.
Whoever can make it through will then meet China's Liu Chuang, who too has won a number of matches this season and historically has a formidable record in this event, having twice qualified for the Crucible, most recently last season.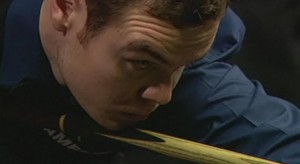 Also present here is Anthony Hamilton, who as mentioned previously was very unfortunate not to make it through to the Crucible last year, leaving an attempt to roll up behind a colour just short, effectively snookering himself and paving the way for a winning clearance from Ken Doherty.
A four-time World Championship quarter-finalist, Hamilton is more than capable of making it back to the venue again, though if he is to do so will have to find a way past Stoke's Jamie Cope, who will be hoping to qualify having lost out 10-7 last year to Liu Chuang, who of course he could meet again this year.
Route Six
India's Pankaj Advani will begin his campaign in section six with a match against one of the qualifiers from World Snooker's members round, potentially someone of the calibre of Joe Swail or Andrew Norman, two players not to be underestimated.
The winner will advance to a match against Sheffield's Adam Duffy, a player who thrived in the conditions last season with the local support and who enjoyed a strong debut season on the tour as a whole. For whatever reason however, 2012/13 has been a real struggle for Adam by comparison and he could find himself vulnerable here if he is not on top form next week.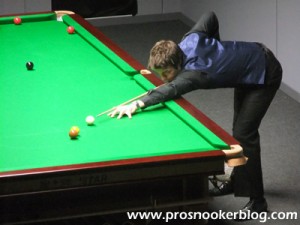 Elsewhere, both Mark Joyce and Michael Holt who complete this section have enjoyed consistent seasons this time out and I would expect one of the two to qualify, though it is worth noting that Advani did defeat Holt at the final qualifying round of the International Championship earlier in the season.
Route Seven
The ever-popular Tony Drago begins his latest bid to make it back to the Crucible for the first time since 2005 with a match against Egypt's Mohamed Khairy, who is without a win since he started competing at the Haikou World Open qualifiers just prior to Christmas.
Also in this section is Andy Hicks, who having struggled for results during the past couple of years, will desperately be hoping to get a win on the board and ensure that he will remain ranked inside the world's top 64 at the end of the season, therefore retaining his place on the main tour.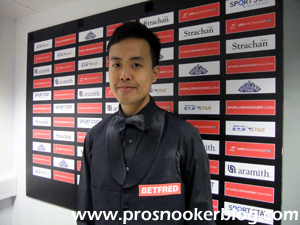 In terms of qualification however, it is hard to see beyond either David Gilbert or Marco Fu, who complete this section and could meet in a mouthwatering final qualifying round match. In Gilbert's case, he has twice made it through to the final stages in Sheffield, notably defeating Martin Gould early in the tournament last year, while Marco needs no introduction and is a consistent winner at the qualifying stages of events.
While I would make Fu favourite given his experience and temperament, if it does come down to a match between him and Gilbert, then I hope that this is one selected for live streaming as it could be one of the ties of the round.
Route Eight
Next up come India's Aditya Mehta and Welshman Daniel Wells, who meet in what I expect could be a very close opening round match in the competition. It feels like a long time since Wells won three matches 10-9 to reach the final qualifying round back in 2009, but he has shown signs of improvement of late and I suspect could give the impressive Mehta a run for his money this weekend.
The middle part of this section meanwhile is full of experience, with Alan McManus and Nigel Bond both looking to make it back to the Crucible for the first time in a few years. In Bond's case, from a statistical point of view he could tie either the all-time record either for the amount of matches lost in the final qualifying round of this competition, or the amount of times to have successfully qualified for the Crucible.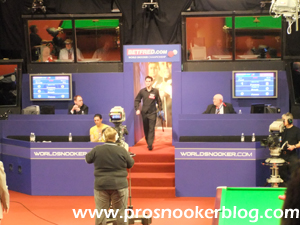 The seeded player though is Tom Ford, who should come into the tournament in good spirits having recently reached the semi-finals of the PTC Grand Finals in Galway, only losing to Neil Robertson in a decider. Having qualified for this tournament just once before back in 2010, can he do it again?
Route Nine
As we pass the halfway point in the draw, we come to what for me is the 'section of death' for want of a better word, with Luca Brecel, Fraser Patrick, Rod Lawler, Anthony McGill and Martin Gould all present.
Had the draw panned out differently, I could have quite easily imagined at least four of those players making it through to the Crucible, but as it is it will be only one.
Last season of course, Luca Brecel became the youngest-ever player to make it through to the Crucible, winning four matches to do so from the opening round.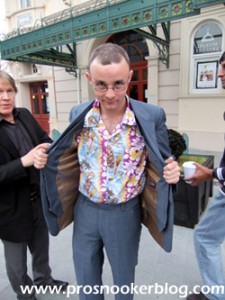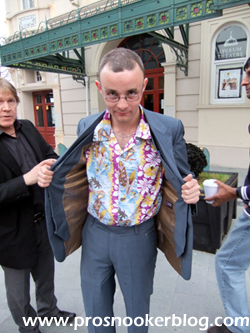 If he can win his opening match against Fraser Patrick however, he will then meet Rod Lawler, who has enjoyed a simply brilliant season, winning his first professional title and pulling himself up into the world's top 64, despite having started on zero ranking points.
As well as Lawler, Anthony McGill is another talent who has enjoyed a strong run of late, notably reaching the final of the Ravenscraig PTC event, while UKPTC2, Shoot Out Champion and Championship League winner Martin Gould needs little introduction as he looks to make it back to the Crucible for another time this week.
Route Ten
Starting off this section are Robbie Williams and Li Yan, in what promises to be a closely fought encounter. That said, on recent form, I would have to make Williams favourite, with his opponent coming into the tournament without a win since November, while Robbie has twice reached the third qualifying round of events in the same period.
Whoever can make it through will meet 2011 qualifier Jimmy Robertson in another tough match to call, with former quarter-finalist Liang Wenbo then awaiting in the third qualifying round.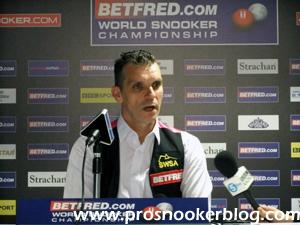 The seeded player in this section though is Mark Davis, who will have to put aside the disappointment of having to qualify for the tournament, despite being ranked 16th in the world and produce a strong performance if he is to make it back to Sheffield again. In itself I would not expect this to be a significant problem, as having narrowly missed out on an automatic place at venues on a number of occasions in recent years, he has never outwardly seemed to let this get to him.
That said, Mark's results of late have been indifferent, indeed he has won just one match at a full-ranking event since his semi-final run at the UK Championship before Christmas and he will need to improve if he is to make it back to the Crucible again.
Route Eleven
Next up, the impressive Ian Burns begins his first run at the Crucible with a match against another tour débutante in Joel Walker. On current form, the consistent Burns will begin as a warm favourite, though Walker has shown flashes of his potential at times this season, most notably at ET5 when he defeated both Andrew Pagett and Stuart Bingham in the early rounds.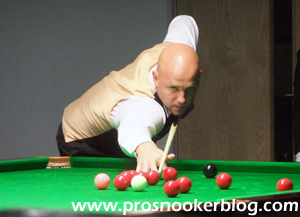 Elsewhere, China's Yu Delu is also present in this section and is another who has struggled in recent months, while experienced duo Jamie Burnett and Mark King could be set to battle it out for a place at the Crucible in the final round. If that were to happen, they would meet for just the third time, with King having won their previous two encounters, way back in 1999 and 2001.
Route Twelve
Opening up section 12 will be Liam Highfield and Simon Bedford, a difficult match to call with neither player displaying particularly consistent form at present, though both did excel in the Haikou World Open qualifiers, with Simon making it through to the venue.
Elsewhere, Barry Pinches will be looking to win a match at the World Championship qualifiers for the first time since 2010 and will fancy his chances of doing so, having enjoyed his strongest season in recent years so far.
One man who has not enjoyed a strong season however is Welshman Jamie Jones, who following his breakthrough quarter-final run at the Crucible a year ago, has struggled for wins during the current campaign.
Favourite to progress from this section then will be Marcus Campbell, fresh from his recent quarter-final appearance at the China Open in Beijing.
Route Thirteen
Chen Zhe and Sam Baird kick off the next section, Chen making his World Championship début to round off a quietly impressive maiden season on the professional circuit, while Sam will be hoping to rekindle memories of his 2011 run, when he won five matches before losing out to Mike Dunn on the final black.
A tough match to call, I could see that one going either way and whoever can progress will then be faced with a wall of experience, with Peter Lines, Rory McLeod and Joe Perry all present in this section.
A section from which I could conceivably see any of the three qualifying from, Joe nevertheless starts as favourite and I can see him out-scoring his final round opponent to make it back to the Crucible for an eighth successive year.
As a footnote, it should also be pointed out that Peter did defeat Rory 10-5 at the same stage of the event a year ago.
Route Fourteen
The next section sees Paul Davison begin with a match against a second qualifier from the member's round, with Alfie Burden awaiting in the second round if he can come through that one.
Underpinned by a series of consistent performances in the PTC events, Alfie has enjoyed an improved season in 2012/13 and will be hoping to embark upon a run similar to that of a year ago at the World Championship, though from his point of view hopefully with a better result than a 10-0 defeat in the final round.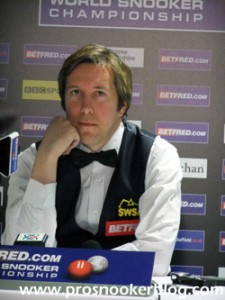 If he can win his opening match, he would then face a match against veteran Dave Harold in the following round, Dave having been generally consistent in ranking event qualifiers this season, while Dominic Dale then awaits in the final round, looking to make it back to the Crucible for a third successive year in 2013.
Route Fifteen
The penultimate section of the draw sees Craig Steadman and David Grace meet in a match that could just as well be played at the Northern Snooker Centre, given the amount of times that I suspect they will have met there down there over the years. Of the two, Steadman has had the stronger season to date, Grace having won just one match since mid-November, though again I could see it going either way.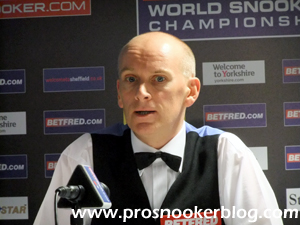 From there however, the section begins to get very tasty with recent PTC Grand Finals semi-finalist Kurt Maflin awaiting the winner, while former world champions Steve Davis and Peter Ebdon could meet in the final qualifying round.
If Peter can defy his recent run of poor form and qualify for the tournament, then he would do so for the 21st successive season, equalling the total set by Steve Davis which I know would mean a great deal to the 2002 world champion. Given his ongoing cue troubles however, this is far from a guarantee in 2013.
Route Sixteen
Rounding off the draw, either Tian Pengfei or Martin O'Donnell will provide the first opposition for Jimmy White in this year's competition, Tian having recorded a 5-1 win against Martin in the China Open qualifiers back in January.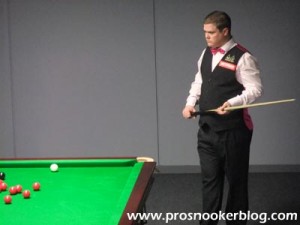 For Jimmy, he will be hoping to make it back to the Crucible for the first time since 2006, but to do so will have to improve upon the form that he has shown so far during what has been a tough season for the six-time runner-up.
Awaiting in the third qualifying round will be another Chinese player in Xiao Guodong, while the impressive Robert Milkins completes the qualifying draw and will be hoping to make it back to the Crucible for the first time since he was thrashed 10-1 by Mark Williams back in 2005.