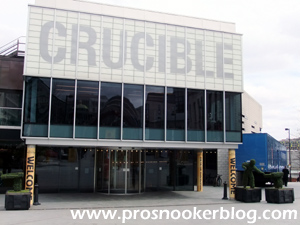 Day Eight at the Crucible saw yet another big name go out yesterday as world number one Mark Selby was sent crashing out by an understandably emotional Barry Hawkins, through to his first quarter-final…
After waking up following a rather strange dream which involved referee Michaela Tabb refereeing people doing their shopping at my local Tescos, I headed over to the Crucible for the latest instalment of World Championship snooker, on a day that would see several of the tournament favourites in action.
First up was Judd Trump, who resumed with a 6-2 lead against Marco Fu in a match that would could to a conclusion in the evening, or potentially sooner if Judd could repeat the form that he showed during the opening session.
As predicted by Shaun Murphy yesterday however, Marco was not finished yet and from 8-4 down at the mid-session interval, won three of the next four frames to close to 7-9 at the close of play.
More eyes however were on the afternoon session, as Ronnie O'Sullivan would resume his campaign for a fifth world title against Ali Carter in a repeat of the 2008 and 2012 Crucible finals. With blogs to write and other errands to run, I opted not to go into the arena to watch, but instead took the opportunity to stand at the side-curtain to take in the atmosphere of the player's walk-ons. Amusing, we were told by one of the cameramen not to leave early, as apparently somebody left after the third player was introduced yesterday and found themselves in shot during the walk-on of the final player!
In terms of the match, both players looked to be somewhat nervous, but it was O'Sullivan who took the early advantage, moving 3-0 up, before extending his lead to 5-1 after the interval. To his credit, Carter took the last two of the session to close to 3-5 and keep himself in the match heading into Sunday's second session, with all still to play for.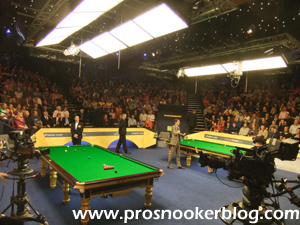 Over on table two meanwhile there was another upset brewing as world number one Mark Selby spurned a chance to lead 10-7 by missing a black to right-centre, allowing Hawkins to close to within one at 8-9. This would ultimately set in motion a Hawkins fight-back, which would see him take all but one of the remaining frames to clinch a 13-10 victory.
As the players came into the press area, Mark was disappointed, but in truth did not appear to be all that surprised to have lost, citing his poor form over the past year, notwithstanding his victories at the UK Championship and Masters events. He also spoke of 'burn out' which is something that I will be addressing in a separate blog post later in the day.
Hawkins meanwhile was understandably delighted, quick to thank both Paul Mount and Terry Griffiths for their help in turning him into a match winner here at the Crucible, while becoming visibly emotional when questioned on his achievement to make the last eight here for the first time.
"I'm lost for words at the minute. I'm obviously delighted, I've never been this far before, I've tried so many times and lost so many close matches so it is so nice to come through and win a match like that against such a tough opponent like Mark."
"It just means so much, this is the biggest tournament, everybody in it wants to win it."
"It's one of the best results of my life really to be honest (I can't believe I'm getting emotional, you would think I've won the World Championship and I'm only in the quarter-final, what a nutter!), so anyway best result of my life. Obviously winning the Australian was massive, but this is the one that everybody wants to do well in."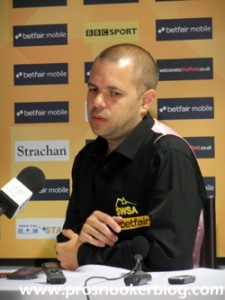 "I've been saying over the past 18 months, couple of years it is Terry [Griffiths], everybody with On Q Promotions works with Terry and he's a big help, working on the mental side of things, a couple of technical things but mostly it's upstairs you know."
"It has always been that way with me, I have always lacked self-belief, I never had confidence in myself, Even at times out there today I still get it coming in, but I just manage to fight it off better now. I feel like I am better equipped now. Terry has been a big help over the past two years and most of it is down to him to be honest."
"I think it's just nice to speak to somebody in between matches who knows what you are going through, who is experienced everything, who knows about the game and understands the game. It helps no end."
Following the daily trip to McDonalds post-match, I returned to find that Judd Trump had made a flying start to the evening session against Marco Fu, winning the first three to stretch his lead to 12-7, before claiming the next with a clearance to get himself over the winning line.
Post-match, Judd gave a very interesting press conference I thought, saying that he had expected Ding to come through the bottom half of the draw and saying that he was not surprised to see the likes of Neil Robertson and Mark Selby crash out of the tournament, having played so much over the course of the season already. It was a typically honest and engaging chat with a player who will now very much fancy his chances of going all the way this week, though he will not have it all his own way against Shaun Murphy in the last eight.
Over on table two, Mark King was in the process of building up a 6-2 lead against Ding Junhui, another surprising, but deserved scoreline on the balance of play. It was Ding who scored the heavier of the two with century breaks in the two frames that he won, but with the help of five 50 breaks, it was King who came out on top.
Out in the arena, it was clear to see that it was another match being played in a great spirit, one particular exchange seeing King in all sorts of trouble and snookered, only to send the cue ball around the table and avoiding making contact with almost anything! Following a number of laughs, notably when somebody decided to blow their nose on Mark's backswing, before he then played a brilliant shot, culminating in a handshake with an amused Ding Junhui.
Another upset on the cards then, but something tells me that we have not yet seen the last of Ding in that match…