While Barry Hearn as the chairman of World Snooker is the man responsible for commercial side of professional snooker, the man at the head of the sport's regulatory body, the WPBSA, is former world number 28 Jason Ferguson, who since his re-election to the board as chairman in July 2010, has overseen a period of unprecedented change in professional snooker.
Three years on, I sat down with Jason this week at the Crucible to discuss a number of subjects, including flat draws, money based ranking lists, the Crucible, burn out, snooker in schools, the amateur game, wildcards, and much, much more.
Click below for the first of two parts…
PSB: Looking back to 2010, Barry Hearn and yourself came back to snooker with what has been described as a 'five year plan.' Now, three years into that plan and about to start the fourth, how happy are you with the progress that you have both made so far?
Jason Ferguson: I think that we are delighted really. We have faced some challenges along the way, if you were to realistically look down at where we have come from and where we have come in that period of time, I don't think that people would have believed it.
It's not perfect yet by any means, but to think that we have gone from six events with £3.5m in prize money, to around £7.5m next year already, with things in the pipeline that we are working hard on, we are absolutely delighted. It would be nice to top that £8m by the end of the season, that will be the target for us to go for.
I have to say that the team we are working with are testament to what is actually going on. It's not just Barry Hearn, but also the input that Matchroom Sport bring in terms of the way that they distribute television. Without a doubt they are made for our business, the way that they operate. There's a whole team there within Matchroom Sport who do a terrific job and on top of that, what we are doing as a governing body to help develop the game properly, we are seeing some astounding results to be honest with you, particularly recently.
We have now got national governing bodies working within 87 countries around the world and also on top of that, they've all seen increased interest in participation, in competition and obviously our viewing figures are massively up as well.
The World Championship is a great time to take stock of where we are and where we have come to. We will be sitting down tomorrow and we will be having a chat about where we have got to at the end of another season. Amazingly the new season is about to begin, it's unbelievable.
PSB: In terms of Matchroom Sport who you mention, what do they bring to the table exactly?
JF: In terms of Matchroom Group, it's not just Barry and it's not just about selling television, it's about the way that they go about things, the way that they build a sport. They've got people in media, people in production, people working on profiling the sport properly. There is a whole team of people, probably around 200 people within the Matchroom Group.
Barry Hearn at the Crucible in 2010
This is what we bought into three years ago. I faced some criticism to say that there is a danger that we were selling the game down the river, but what we were actually doing was getting the opportunity to buy into that team, for a relatively small amount of money, when you compare what the returns would be already. It's a whole team of people and everybody in that team brings something to the party for snooker, so as I say it's a marriage made in heaven.
But on top of that, the way we have bonded as a team within World Snooker. Brandon Parker has brought a lot to the party in the European tour. He's also made a huge success out of the German Masters, you only have to turn the TV on when that is on and see 2,500 people and you can't get a ticket.
PSB: And seven tables in the arena next year!
JF: There will be an increase! I think that we are facing the most interesting year of snooker that we have ever seen. I think that some of the results in the World Championship this year are testament to what has been going on in the sport.
The thing is every player is playing all the time now. Gone are the days where 16 players were playing all year and the rest went to the qualifiers. You have now got tough competition in every round and I think that is what you are seeing now with some of the players that are coming through. Stuart Bingham, Mark Davis and Barry Hawkins, these players have been around a while, but just struggled to break through and I think that the one thing that they have benefited from is playing all of the time.
PSB: Obviously the new calendar is out now (provisionally at least as I'm sure that there will be some changes here and there), but how happy are you with that?
JF: I'm totally satisfied. Earlier in the year there were certainly some concerns about how wildcards were being introduced, a lot of concerns about holding matches over to final venues, because it does give people a bit of an unfair advantage.
So in the discussions that Barry and I had, I'd said from my side that we can support this, but there are certain things that we need to see. One is that we need to manage better the way that wildcards are being introduced. We need to make sure that it is fair for everybody We don't want to see preferential treatment for certain players, there has to be a level playing field for all players and where those matches are played is very important as well, the standard of the conditions. You can't expect the tour to be played behind closed doors.
Allan Taylor described his diary for next season as 'looking like it had acne'
The vision there from the WPBSA side was to ensure that arenas will be open, that people can come in and watch. Think of it this way, if a young boy qualifies for the tour and plays Ronnie O'Sullivan in his first tournament, his local club are going to want to bring a bus load. It's not fair to play that match behind closed doors. Let's get people in, let's show what snooker is and create some new stories. So we laid down what we needed in making that tour fair and I have to say, we are 90% of the way there in terms of getting everything that we wanted.
I am very happy with the wildcard situation, that came out of our negotiations in China. We have managed to put a better system in place for that.
PSB: No ex-pros, down to four per event, no repetition of the same wildcards at different events during one season…
JF: Yeah exactly. That was from listening to our membership. There were a number of players among the membership who were quite vocal about the way that things should be and fairness and I love good feedback.
A lot of people criticise Peter Ebdon for saying certain things some times, he is quite open in the way that he talks but he is a player who will take the time to write to me and outline the reasons why he says something and I respect that. There are other players out there who always attend players meetings and give good, constructive feedback.
Sometimes I hear a player complain about something, but you never seen them at a players meeting, you never see them around at the venues and they never turn up when you want them for something, so I get a little bit frustrated sometimes.
But the majority of players, the feedback that we have received, has been put into practice. I believe that we have delivered a fair tour for next year and I don't think that any player on the tour could argue that that tour isn't fair.
PSB: You are obviously restricted by contracts in places such as Shanghai and Australia, but in your head, how close are you with the calendar to making the ultimate vision in your head, a reality?
JF: Australia has another year to run under the current contract. There is always the opportunity to renegotiate.
Shanghai have expressed interest in changing their event. I have to say that we had already announced that those three events would remain the same and to be honest with you, it was more on the side of us saying that 'no we've announced that and we are going to run with that this year.' This is an interim year where we are bringing a new system in, let's not go too far forward otherwise we might a mistake.
So we've sat tight on those three events. Australia we'll be in talks with soon about renegotiation so anything could happen there and Shanghai I'll be seeing the promoters shortly. Again we'll be considering that going forward, but I have to say that the promoters that we have in Shanghai are some of the best that we have got on tour. It's a superb bunch of people, it's a great operation, so that's still possible.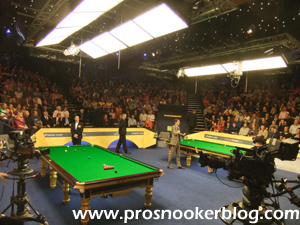 The Crucible – 'not broke'
The World Championship, you can't help but look in that arena and say that this is not broke. You just can't help but do that and that's why it will stay the way as it is and as far as I'm concerned it can stay in Sheffield forever. While we get the support of Sheffield City, we will continue to come back here because let's not underestimate, this is where our heritage and our history is.
I've just been in the arena and I was fortunate enough to play here three times. You walk out there, you don't realise how close the tables are to the audience, you can feel the atmosphere out there and particularly if you are cueing from the corner of the table where your opponent is sat down, you feel like asking him to move before you can play. It is so tight in the arena, it's a very special place, the atmosphere is amazing and the players feel it.
It's built up in such a way that you ask any snooker player, we've got qualifiers for the European Championships going on in Sheffield today, European amateurs playing under a new amateur ranking system which we introduced in our discussions with the EBSA. That will produce three tour players today and I am going to bring those three boys down here and I am going to take them into the arena and the first thing they will say to me is 'I want to play here' and there's no doubt about it, this is a magical place.
PSB: As you know, I was at the World Championship qualifiers last week, which has become such a big event in itself. Have you got any plans for those at this stage?
JF: Well at this stage, my view is that the qualifiers for the World Championship will remain in place at Sheffield. That is certainly what I would like to see and I think that would be the right way forward. This is the World Championship, which is played in Sheffield and I think it should start and finish in Sheffield.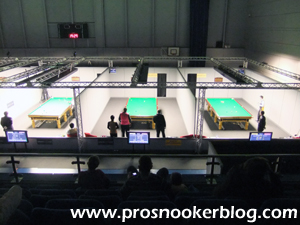 The World Championship qualifiers
I've really enjoyed this year that the qualifiers were so close to the final stages. I think just to have the event built up from day one of take off in Sheffield, it grew and the qualifiers grew as the event went on and then almost immediately we arrive at the Crucible Theatre. For me that is the way forward and the way that we should always play the World Championship.
PSB: Talking about flat 128 draws generally, obviously this is a big talking point ahead of next season. Can you talk us through the thought process behind that switch?
JF: If you were to give me a clean sheet of paper, three years ago, and you would have asked me to devise a professional tour, I would have written at the top of that page '128' and I would have said 128 players, everybody in round one. It's clearly the right way forward. There is not a single player out there who could say that this is not fair. It is the only fair system that we can use.
We know that our players have been used to some protection, that the players have earned the right to that and we take that into consideration in the way that we are slowly easing this in, but for me this will definitely create some unusual results. I think that it will probably create a few shocks, probably shocks to the outside world. For you and I who understand the game, not such big shocks because we know how many great players there are. And I think that it will bring in some new characters as well.
Not only that, but we've got so many events going on around the world in terms of qualifying and amateur development, that we know there are going to be some new stars come from new countries. We have seen how big this week our friend from Thailand has taken the world alight. In fact I contacted the President of the Thai Association on the morning Dechawat Poomjaeng had played his match and the media interest around the story, that he had actually played here and won at the Crucible Theatre, was amazing.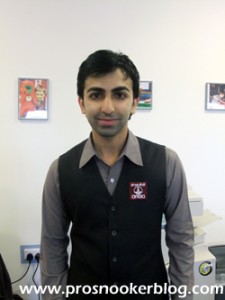 Pankaj Advani
What this new tour structure will do, it will allow more of that to happen. It will allow new players to come through. We've got two Indian players on the tour, Aditya Mehta and Pankaj Advani, who both had some good results this year. Pankaj has made the amazing shift from world billiards player, now playing on the world snooker tour.
The current system restricts these players if you seed players through. The only fair system to allow these players to compete on an equal footing, is a 128 flat draw where they get the same opportunity as the man who is sat next to them.
PSB: You talk about new ways for players to come on tour, have you thought of anything like an Asian Q School or something similar?
JF: I think in the longer term, I do see Q School as a great opportunity. Some players don't have the opportunity to play all year round, some don't have the ability to travel so much. To qualify for the main tour, Q School is a great idea because clearly you can start out and you can be on tour within a week. At least then for the next year you know what you are going to be doing. If you don't qualify, you can go back to work and that has got to be a good system.
And not only that, but it gives the opportunity to those players that fall off the tour the opportunity to get that back. Those players that fall off aren't necessarily the players that should fall off or deserve to fall off. 64 players is quite tight to stay on the tour, there is some tough competition in there. You finish 65 in the world, you are off the tour, it doesn't mean that you are not any better than the players that are coming on tour, it just means that you finished 65, you might have had a bad season, you might have had a whole host of reasons…
PSB: Rod Lawler obviously…
JF: Rod Lawler was a typical example, great player, been around many years, fell off the tour, was thinking about giving up, thought he'd try his hand in Q School, qualified for the tour and then won a ranking event. It's unbelievable, it's a great story.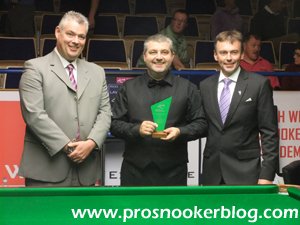 Rod Lawler, pictured with Jason at the UKPTC3 event in Gloucester earlier this season
So I do think that Q School is a great idea, but I do think that we do need to consider the longer term spread of Q School. I think again there is a strong possibility that we would have a Q School here in the UK, or I would like to class it was Europe, we tend to look at our development as Europe and Asia, rather than the UK and China, there is a distinct possibility that we would one day introduce Q School in Asia.
PSB: On the subject of the main tour, are we looking at 128 next season or is that a work in progress?
JF: Yeah there is some work in progress on the numbers and again we are just waiting for these last few qualifiers to get in, but the target number is 128. We are not far away from that and I think we are going to hit the target.
PSB: And how important is it to continue to support the other amateur tournaments, the European Championships, the IBSF and so on…
JF: Well it's interesting that you raise that actually. I'm going to let you in for a bit of a snippet now, which is not in the public domain yet. Yesterday, we brokered a deal to take our place within the World Confederation of Billiard Sports, which is the umbrella organisation which retains Olympic recognition for billiard sports.
So the importance of the IBSF, the European Association and the Asian Associations is one of unbelievable importance to what we do and there are many reasons for that. We have talked about already the qualifying tours that we have got going on within the national governing bodies for those countries, but we also have to remember that a lot of these federations are run by government offices, who have a direct relationship with the IOC and they have a direct relationship to the sports bureaus around the world, which have access to funding to develop sport. That is a key area that we have been tapping into within the last few years. I think we have got opportunity to take that to a whole new level.
If you look at the size of the grants coming from the IOC into other sports, like tennis for example, those are substantial amounts of money to develop sport. I believe by working in partnership with the IBSF, the national governing bodies and also dipping into this global structure under the umbrella of the WCBS, that we can actually take our seat one day, at the Olympic Games.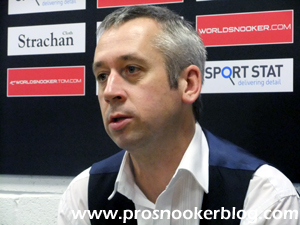 Nigel Bond – 2009 World Games winner (snooker)
We know that is a long, long way off and is the long term goal, but the short term goals that we can achieve along the way include opening up new funding, opening up new events and opening up new opportunities to develop snooker in countries that we have not done it before, or developing further in countries where we are already working.
That we are already seeing the results of, so I am keen to take the WPBSA along that road and I have to say that yesterday ,the WCBS accepted changes and brought in a new constitution, which allowed the IBSF and the WPBSA to sit side-by-side in the global development of snooker. That is fresh off the press and is a monumental thing for us.
We've had here the president of the World Pool Association, we've got here this week the UMB, which is Union Mondiale de Billard, which is three cushion billiards. So together there are 3 seats on the board of each for the WCBS and through the WCBS, we already have participation in the World Games which will go ahead in Colombia this year in July and we'll be sending 13 countries to compete for medal in the World Games in snooker.
PSB: So how are the players selected for that, by ranking?
JF: Players are selected by ranking. We've put an expression of interest out to our membership. The IBSF choose eight, we choose eight, together we sit down and we have to devise the countries that need to participate and there will be representatives from 13 different countries, the minimum is 12 to comply with the IOC charter.
That will be an exciting time for snooker. This is our showcase, the World Games is the second-largest multi-sport games in the world, it is second only to the Olympic Games and any sport that has Olympic recognition and wants to become and Olympic sport, or wants to retain that Olympic recognition, whether participated in as a sport or not needs to be in the World Games.
It is the key to the safe, so it is something that we have to do to develop properly. So we are very excited about that, very, very excited. It has gone down particularly well in some of the countries that we are looking to develop in, certainly the Middle East look upon participation in the World Games as a big thing and certainly in China and 90% of Asia view it as the starting point. In Asia there are substantial grants for athletes who come through that system and that is where we are trying to develop and give more opportunity.
PSB: It has a good spot in the calendar as well, it is not clashing with anything so there is no reason why players should not be able to compete?
JF: No, obviously we have been planning this for quite some time in line with our development plan and we have actually left the gap in the calendar and worked around it, because we want the ability for our host countries to be able to send their athletes to compete for these medals. It is very important.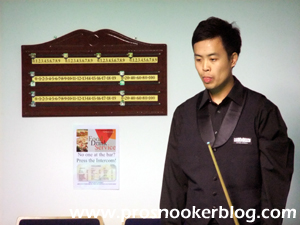 Marco Fu – 2010 Asian Games winner (snooker)
We're also involved with the Asian Indoor Games which goes on a little earlier this year and we are also pushing for the Asian Games which is very big as well in Asia. This is nothing new, but it is new to have this fresh approach, to be able to drive it, because when we look at cue sports globally, it is really us that has the resources and the staff and the team to be able to drive these projects forward.
That is my vision, that we will become the world leaders in cue sports, to actually develop our sports properly, as we have seen some of the other sports develop.
PSB: Last week as well you had the ladies day, have you got any plans for the ladies game?
JF: Yes I have, it is interesting because we are talking about this Olympic programme, the World Games and how we access funding and one of the key parts of that is our demographic. Let's look at the people who view our sport, let's look at the people that are involved in sports development and there is a very limited number of ladies, a very small number and that is something that I want to work with.
We've had a world ladies association that has been running for quite some time and it has operated and there have been some good people who have kept it going, but it needs to fall in line with the system that we are working with. It needs to fall into the national governing body network and operate through the regions throughout the world. If it does that, it could create a world tour of events.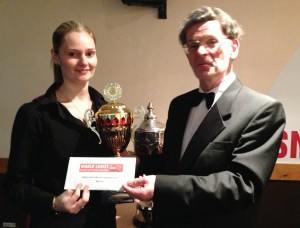 Reanne Evans claims her latest world title earlier this month
I am not saying that they are going to be massive events, but it could create a tour of events, which will allow ladies to compete at the same level as men. We have seen some great lady players, I was watching Reanne Evans in the Cue Zone yesterday. She hits the ball as good as anybody that is competing on our tour. There's no reason why ladies couldn't compete. One day I would like to see a lady playing here at the Crucible in the finals of the World Championship, it's not impossible.
PSB: We have spoken about flat draws, obviously the other hotly debated subject is that of money lists, rankings and so on. What is your view on that? Obviously the ranking list may become less relevant with flat draw, but there are still issues to be resolved…
JF: There are still issues with it. To be honest with you, it is one of the things that we'll continue to discuss with our membership this year, because there is a percentage of our membership which don't like the prize money ranking list.
From a commercial point of view, I see it first hand because I am in negotiations with governments, I am in negotiations with sports bureaux, national governing bodies, sponsors and TV companies. I am at the front end of it when travelling and I see what an advantage this can be.
I have already received offers from people who have wanted to put more prize money in, because they have wanted a bigger ranking event, so there's a very strong commercial ar0gument and I support that argument.
But on the other side of it, we need to make sure that it works and I think that's where your expertise will come in Matt because you are a genius when it comes to ranking lists. We have looked at it, we have broken it down, we've still got seeding issues in terms of the three events that aren't flat draws. If everybody was coming in, in round one in every event and you were starting with a clean sheet of paper, there's no reason why it wouldn't work.
PSB: I notice that for those events under the old system, that you will be awarding 'half money' for the seeded losers in those events…
JF: Yes, it is half money for the seeded losers first round which I think is the only fair way to do it. There are some issues with that. We will continue this year to have that debate and we will be calling a meeting shortly with our members to discuss that issue, amongst the other issues relating to the new tour structure.

It's going to be a bit of a shock to some of the guys this year, to be playing more matches and certainly some of the top players are going to have to go to the qualifying venues.
The money list will come in at the end of the next season, that's the target, but we need to make sure that it works. By the end of the forthcoming season, we will have two years points and we will be able to assess exactly if it works or if it doesn't work.
Personally speaking, I think I works, I don't know what your thoughts are, but I'd like to hear them.
PSB: To be honest at first I was quite sceptical, but the key thing for me is that you can't look at that change in isolation, you have to look at all of the changes together. One thing that struck me this week is that Ronnie O'Sullivan could win the world title two years in a row and still be ranked around 20th – that can't be right can it?
JF: That's certainly something that concerns me about it. Ronnie has taken a lot of time out this year, but because the increase in prize money at the World Championship makes it so much bigger, it does allow for a player to come back after a long break and still be highly ranked.
I have got concerns over that, I actually think that is an issue and the only way that can become less of an issue is if the prize money increases in all of the other ranking events and that's what we have got to do. I think that we have got to continue to look at pushing prize money up to limit that situation.
The other concern about the prize money ranking list is that it can devalue some of the tournaments. I think if you look at the Asian Tour at the moment, £50,000 prize money for those events, in comparison to £100,000 in a European Tour event. In ranking terms those events are really equal, but actually under the new system they will be differentiated and that is where it causes some problems.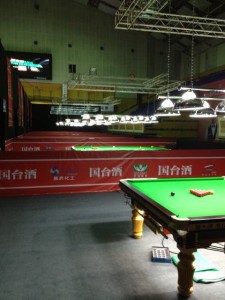 APTC1
It is something that we are going to have to monitor. I will be speaking to our promoters in Asia about increasing the prize money in the Asian Tour, because that's a conversation that is already underway.
We come back to that commercial argument, will this prize money ranking list increase the commercial value of our sport and I can honestly tell you that it will, without a doubt.
PSB: Because their name will be associated with the top prize and so on…
JF: Absolutely. Promoters will definitely look to push more prize money. If we look at this year, the prize money in the UK Championship and then if we look at the International Championship, that has dropped to number three. I know for a fact that this conversation is going to be had about why it is number three now and not number two. The reason for that is prize money.
It does create a situation where everyone can see what is going on, it is very transparent. But the other thing that it creates is a simple system that people can understand. Why has he got 10,000 points? Because he has won £10,000, it's really simple.
The current ranking system is really simple for people like you because you are really clever, but for people that perhaps don't have the information or wouldn't have the time to look up the information, they don't really understand the rankings system and I think that is certainly where Barry is coming from.
We'll continue to talk to our membership and take a view.
PSB: One thing that strikes me as being potentially confusing is the issue of exchange rates and making sure that it is easy to understand…
JF: It could be, but we will do it all in UK pounds and we will have to look at it like that, it's the only way.
Stay tuned tomorrow for part two of the interview, where Jason talks burn out, the possibility for players to pick and choose events, schools, new territories and of the danger of players being unable to complete next season due to the increased expenses on tour…