So the end is in sight and the 2013 World Championship final is no underway, as Barry Hawkins looks to complete mission impossible and take down the defending champion Ronnie O'Sullivan, himself going for a fifth Crucible crown…
16:51 – Having arrived at the Crucible at around 11:30am, I spent an hour or so typing up the quotes from all four semi-finalists (which you can read here), before nipping outside for a pre-final snack from the market. Whilst out there, I managed to catch a glimpse of Ronnie O'Sullivan disembarking from a rather flash looking Audi and sneaking into a side-fence, cunningly dodging the autograph hunters surrounding stage door.
On my return, I headed into the arena to secure the last of the media seats, sitting next to BBC newsreader Huw Edwards, though I must confess that as someone who does not tend to watch the news, I didn't recognise him until it was pointed out on Twitter!
As the action got underway, it was O'Sullivan who made the stronger start, breaks of 74 and 92 putting him ahead of an understandably edgy Hawkins, whose calm exterior was perhaps betrayed by a couple of missed shots early on.
Impressively however, Hawkins was to respond in fine style, a break of 88 seeing him halve the deficit, before a brilliant 81, made largely from blues with pink and black tied up, brought him level at 2-2 at the mid-session interval.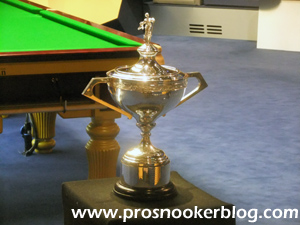 Barry was not to stop there, breaks of 45 and 50 seeing him into the lead at 3-2 on their resumption, marking the first time during the entire tournament that O'Sullivan has fallen behind. Indeed it was probably fair to say that already, he had applied more pressure to Ronnie than anyone else had done so far and attention turned to how O'Sullivan would respond.
We need not have asked, a break of 76, followed by runs of 113 and 100 to equal Stephen Hendry's Crucible record, seeing the defending champion finish a pulsating opening session 5-3 ahead.
During the entire session, both players were clearly not happy with the table, O'Sullivan in particular rubbing the cloth down around the centre-pockets on a number of occasions and they were caught on camera speaking about it on their way back to the dressing rooms at the end of the session.
21:33 – Following a couple of hours away from the baize, I returned to the Crucible media room to take in the second session of today's final, whilst also preparing a blog on the subject of 'burnout', which seems to be the talking point of the moment both at the venue and on Twitter.
As the action resumed in the arena meanwhile, it immediately became apparent that O'Sullivan was not at his best, three or four misses seeing his overall match pot success fall three percent to 92% as Hawkins reduced the deficit to 5-4.
With the first four frames before the mid-session interval being shared, it was Hawkins who again took the game to O'Sullivan on the resumption of play, breaks of 83 and a brilliant total clearance of 133 seeing him draw level at 7-7, again raising the question of how Ronnie would react.
The answer would prove emphatic, back to back centuries seeing him move two clear again at 9-9, in the process breaking Stephen Hendry's record for Crucible centuries, before he then took a thrilling final frame of the day to take a 10-7 lead into the final day.
Can Hawkins hit back? Time will tell, either way he has probably already surpassed the expectations that many had of him prior to the match, a harsh fact given that Barry is a ranking event winner this season and has beaten several world class players to reach this final.
He will though be trying his hardest out there and Ronnie knows that he will have to repeat today's standard, if he is to secure that fifth world title come Sunday evening.