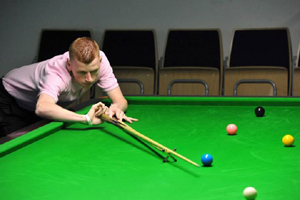 Since Barry Hearn came back into snooker back in 2010, there have been a number of changes to the sport, such as the introduction of PTC events and flat draws, aimed at helping to provide a level playing field and provide increased opportunities for players of all ages to shine.
With the changes, we have seen a number of new, young faces make it onto the main tour and another hoping to join them is 17-year-old Sean Hopkin, who you may recall as being the 'Shaun Murphy Scholar' at the 2013 Snookerbacker Classic tournament.
Click below to read more about Sean from the man himself, about how he first became interested in snooker and as to why any potential sponsor or manager out there should believe in his ability to make it in the game…
PSB: Hi Sean, for those who have not heard your name before, tell us a little about yourself
Sean Hopkin: I am a 17-year-old amateur snooker player, based in Nottingham.  My aim is to make it onto the main tour as soon as I can and I am now practising full-time to improve my game as much as possible!
PSB: How long have you been playing snooker? Is it something that you have always wanted to do?
SH: I started playing snooker when I was 9. I remember that my dad and my grandfather took me for the first time and I remember always flicking through the channels on the TV, hoping for snooker to be on. After I watched it I couldn't wait to get down the club and play myself.
After going a few times a week for about a year, I was addicted to the game and knew this is what I wanted to do in the future.
PSB: Who was your favourite player to watch on the television while you were growing up?
SH: My favourite player was always Ronnie O'Sullivan. When I first started to watch snooker on the TV,  I remember always asking my dad when Ronnie would be playing!
PSB: What are your biggest achievements as an amateur to date?
SH: My biggest achievement so far came recently when I won the Nottinghamshire under-21 Championship.
To win the tournament, I beat Toby Simpson in the final 3-0. With names like current professionals Anthony Hamilton and Michael Holt as former winners, the event is a really prestigious one in the area and I was thrilled to win it.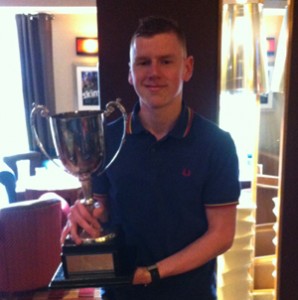 PSB: Tell us a little about your style of play, how would you describe yourself as a player?
SH: I am a right handed player. I like to go for my shots and to get amongst the balls quickly and make frame winning breaks. At the same time, I know when to turn down a shot if the percentages aren't in my favour.
I believe that when I'm under pressure in a match, that's when I play my best snooker. During last season when I was in a deciding-frame, I won a lot more than I lost. I enjoy getting the buzz from winning a very close match.
PSB: What are your plans for the 2013/14 season, have you got a busy tournament schedule lined up?
SH: My aim is to try and play in as many tournaments as possible. It would be fantastic to play abroad and get the opportunity to play professionals and gain lots of experience.
I'm also hoping to win amateur tournaments coming up and to try and build a name for myself as quickly as possible!
PSB: Speaking of amateur tournaments, how did it feel to be selected by former world and UK champion Shaun Murphy as his 'scholar' for the Snookerbacker Classic tournament last season?
SH: When I found out that Shaun Murphy had put me in the SB Classic, I was stunned! I really couldn't believe it.
Since then I have been up to meet him and it was a phenomenal day! After spending the day practising and learning from him, it opened my eyes even more and after just that one day, I knew the commitment that I would have to put in to become a successful snooker player.
He couldn't have been any more welcoming, he is a very nice bloke and I'm hoping to go back and spend another day with him soon!
PSB: Have you practised with any other professionals at all?
I do often practise with Michael Holt. He has brought my game on a lot and is always giving me some great tips to help my game.
I have also been to practise with Nigel Bond which has been good for me with all the experience he has, as well as Steve Davis which was a pretty great feeling.
PSB: Finally, to any potential sponsor or manager out there looking to help support a young player in the snooker world right now, why should they back you?
SH: Because for the past two years I have been practising so much and working very hard on my game.
I've not been getting involved with anything else other than snooker. I've been getting to the snooker club for 9:00am-10:00am, cleaning the snooker tables to allow my free practise and then practising for seven or eight hours a day.
I'm ready to show a potential sponsor what I'm capable of and let my results do the talking!
It's hard to put into words how much I want a potential sponsor or manager to back me and to see how much dedication I've got. If someone could fully support me with everything financially. That would complete everything and then it's up to me to practice as hard I can, to get the results my manager would expect.
I'm ready for the challenge ahead and hopefully someone will believe I have what it takes too!
If you want to know more about Sean or to get in touch with him directly, please feel free to drop me an email, or to message the man himself on Twitter: @sHopo147