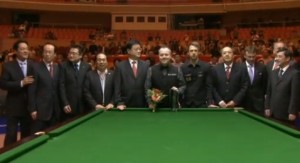 As the World Games are played out in Colombia, yesterday saw World Snooker release the drawsheets for the upcoming Shanghai Masters and ET3 tournaments…
Following a somewhat fragmented start to the 2013/14 season, which has seen a number of players elect not to enter the events so far in order to extend their summer breaks, it is good to see near full entry lists for both the upcoming ET3 and Shanghai Masters events.
To be precise, all bar 10 professionals have entered the events (including the likes of Stephen Hendry and Stephen Lee), compared to 32 for Australia
Indeed, for some players, it is fair to say that the season starts here, for example Stephen Maguire who did not enter either the Wuxi Classic or Australian Goldfields Open, or Judd Trump, who went out early in Wuxi before then skipping Australia.
So who will be missing? Most notably, Ronnie O'Sullivan will be in action at the ET3 event in Doncaster, but has chosen not to make the long haul flight to Shanghai Masters for the season's second full ranking event in China.
Stephen Lee remains suspended, with no further developments expected before September, while Grimsby's Stuart Carrington has also chosen not to enter either event.
As far as the draws themselves are concerned, the stand out tie from the opening round at ET3 is clearly the tie between Judd Trump and Ding Junhui, while Shanghai could potentially see recent ET2 winner Mark Williams have to beat either David Gilbert or Jack Lisowski to reach the venue.
I hope to be in Doncaster for the ET3 event, so will bring you all of the latest action from the venue during the tournament…