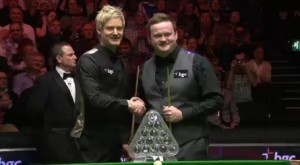 Keen observers of the tournament calendar for the 2013/14 season will have noticed a week's gap between the 6 Reds World Championship and the venue stages of the Shanghai Masters in September.
Not every player will have the week off however, as eight top 32 players, including defending champion Neil Robertson and Shaun Murphy will head to Hong Kong, for the fifth staging of the General Cup International event in Hong Kong…
Won by Issara Kachaiwong, Ricky Walden (who has also finished as runner-up during the past two years), and Stephen Lee previously, the event has steadily grown in recent years and in 2013, probably sees its strongest field yet.
This year's edition will be played over five days between 9-13 September 2013 and as usual, looks like it will begin with a round-robin format to whittle down the players involved.
Information on the event is typically limited, however you can see the full entry list here, as kindly provided by @Deco800_, who will no doubt be the man to follow for news from the event next month.