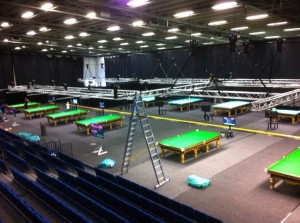 A reminder tonight that the qualifiers for the 2013 Shanghai Masters begin tomorrow (Wednesday), at the Doncaster Dome, for more information please click here to read my previous blog.
Judging by the above photo, posted on Twitter by @snookerservices, the set-up looks to be excellent at the venue, something akin to the set-up that we have seen at the EISS in Sheffield for the World Championship qualifiers.
I am planning to get down to the venue for the final round of these qualifiers on Saturday, as well as the subsequent Indian Open qualifiers and ET3 events at the same venue.
Hope to see a few of you there!