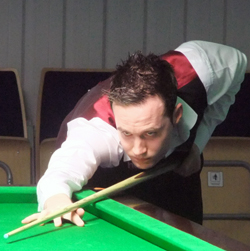 Day one in Doncaster and as became clear from a read of my Twitter feed earlier this afternoon, it was certainly not a day without intrigue, with much chatter over the matches involving Thai duo Thanawat Tirapongpaiboon and Passakorn Suwannawat, who both lost this morning.
Click below for the official statement from World Snooker on those matches, as well as a summary of the rest of the results. The latest projected seedings will be updated following this evening's final session…
Click here to view the latest results from the Shanghai Masters qualifiers
Following reports of 'unusual betting patterns' ahead of the matches that would be won by Ross Muir and Mohamed Khairy today, World Snooker have today issued the following statement:
"The WPBSA work with partners to monitor betting on snooker matches.
As a result of this we were aware of the unusual betting patterns regarding the matches between Thanawat Tirapongpaiboon and Ross Muir and Passakorn Suwannawat and Mohamed Khairy.
The WPBSA are liaising with the Gambling Commission to establish the available facts surrounding betting on these matches. A decision will then be made regarding any further action necessary."
As you will appreciate, posts and tweets concerning issues such as these have to be worded very carefully and in any event, I did not see either of the matches in question, so am in no position to comment. I will of course post any further updates as and when they may arise.
Moving on to other matches, today saw a first professional victory for Allan Taylor, who hit a top break of 82 on his way to a 5-3 win against Paul Davison. Another player, who like Allan is known for his connection with the Snookerbacker Classic events is Martin O'Donnell and he was also a winner today, taking the final two frames to edge out Australia's Vinnie Calabrese.
Players in the winning habit this season include David Morris, Gary Wilson, Scott Donaldson and Ian Burns, who all continued that trend today with victories to reach the second round of the Shanghai Masters qualifiers. For Wilson (recently interviewed here at PSB of course), the day was particularly sweet as he not only notched the only century break of the day so far, but also ended a recent run of deciding frame defeats to overcome Thailand's Noppon Saengkham 5-4.
Elsewhere, recent World Games champion Aditya Mehta maintained his winning streak with a 5-0 whitewash of Hammad Miah, while Craig Steadman ended the hopes of Chinese prodigy Lu Haotian of making it back to the venue in Shanghai.
The only amateur to win today so far was Welsh youngster Duane Jones, who recorded a 5-3 win over Scotland's Michael Leslie, while Sanderson Lam gave Chen Zhe a test before losing out by the same scoreline.
Finally, in a development unrelated to today's action in Doncaster, the ever popular Tony Drago is the latest professional to join the world of Twitter @Tornadodrago. Easily the most enthusiastic snooker player that I have ever had the pleasure to meet, I am sure that he will be good value in the world of Twitter and surely worth a follow…