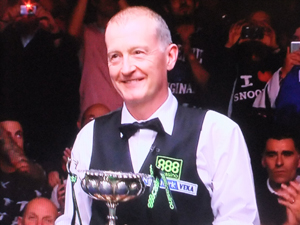 Six times world professional champion Steve Davis has tonight defeated Nigel Bond 2-1 in Portsmouth, to become world seniors champion for the first time in 2013 and take home the top prize of £18,000.
Click below for more…
Having twice finished as runner-up in the World Seniors Championship, Steve Davis tonight made it third time lucky with a 2-1 victory against defending champion Nigel Bond at the Mountbatten Centre in Portsmouth.
It was Bond who got off to the faster start by taking the opening frame, but Davis, who had made the highest break of the tournament's opening day yesterday, hit back with runs of 66 and 68 to take the title.
While Davis had earlier in the day attempted to downplay the importance of the winning the event, no doubt he will be satisfied to have captured the title for the first time and return to the winners circle. He looked somewhat embarrassed as MC John McDonald announced him to be a seven times world champion following his victory, but he was nevertheless the best player over the course of the last two days and at 56 years of age, has once again reminded everyone of his enduring class.
Credit to Nigel Bond also, who put up a strong defence of his title and like Davis, noticeably improved over the course of the tournament, following a patchy opening couple of matches.
It was also good to see Stephen Hendry back in competitive action, 18 months on from his retirement from the professional game. As was to be expected, he looked to be somewhat rusty, although when he was in amongst the balls, he looked as deadly as ever, as evidenced by a coolly taken break of 83 earlier. While he did show flashes of his best however, an erratic performance against Nigel Bond in the semi-finals brought his run to an end.
Overall, it was good to see some of snooker's legends back in action once again, although it must be said that over the course of the two days, the standard was not the highest, as is perhaps to be expected. There were more than a few matches that were rather heavy going, although as the tournament reached its latter stages and the strongest players come through, the action did improve.
Ultimately perhaps this is why it will always be difficult to sell an expanded seniors tour to the television companies, but for two days a year it is good to watch and the event is a successful edition to the calendar, so well done to everybody behind the scenes.
The action continues for the professionals with the AT3 event, which started today over in China.